A Kitchen With Shelves (and Shelves) of Personality
A shoestring budget didn't stop this homeowner from piling on the charm in her small Vermont kitchen. Take a look at how she did it in this story from HGTV Magazine.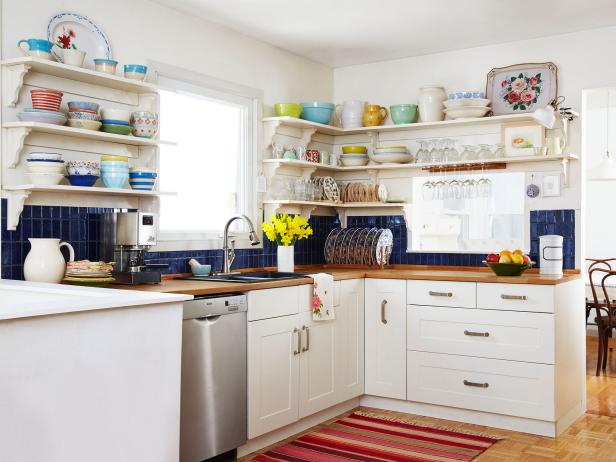 A Kitchen With Lots of Personality
David A. Land (Styled by Stephanie Hanes)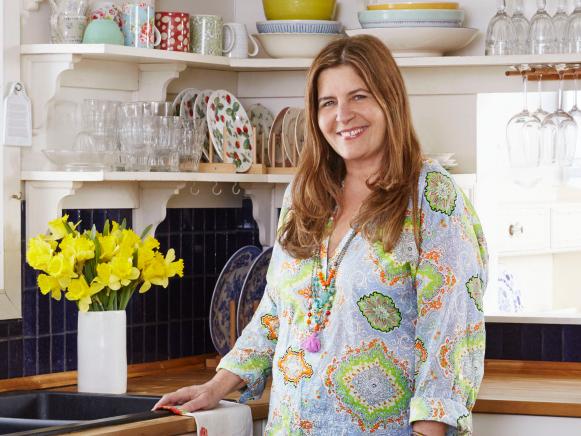 A Kitchen With Lots of Personality
David A. Land (Styled by Stephanie Hanes)
Meet the Owner
Tamar Schechner from Shelburne, VT
Kitchen story: When Tamar and her family moved to Vermont in 2005, they rented their home. Then it went on the market, and they snapped it up. They've been making tweaks to the kitchen ever since.
After a big move from Israel to Shelburne, VT, 10 years ago, Tamar Schechner and her husband, Ronen, had saved a little spending cash—$5,500—for a much-needed kitchen renovation. There was one thing Tamar had plenty of, however: beautiful dishes. "I've been making and collecting bowls, plates, and serving pieces for years," says the jewelry designer and owner of accessories shop Nest Pretty Things. "I'm crazy for anything with vivid colors and patterns." So instead of twisting herself into knots trying to balance splurges with cost-cutting moves, Tamar chose wallet-friendly cabinets and counters, then focused on filling open shelves with her favorite pieces. Part storage, part showcase, the shelves let Tamar change the look of her kitchen on a near-daily basis. "It's inspiring to see everything out in the open," she says. "Sure, things break occasionally, but I can always find something I like to take their place."
Tamar hates when a kitchen looks "choked up with cabinets," so she installed rows of 1-inch-thick laminate shelves set on curvy wood brackets from Lowe's. They're painted the same white (Crumb Cookie by Olympic) as the walls.
Stacks are usually no more than five bowls high to prevent a toppling disaster.
While many of her pieces are handmade or vintage finds from her travels, Tamar regularly uses everything she has. She also isn't a snob about where things come from or how much they cost. "I've never spent more than $20 on an item," she says. Some of her favorite places to find deals: Christmas Tree Shops, HomeGoods, and T.J.Maxx.
Mounted under a shelf, a wine glass rack made of wood offers easy, klutz-free access to fragile glassware.
White Shaker-style cabinets with nickel pulls, all from IKEA, offer plenty of room for cookware and plastic containers. Including the butcher-block countertops, the entire setup cost $2,500.
Clamped onto a shelf, this cute IKEA fixture illuminates the counter—handy for meal prep.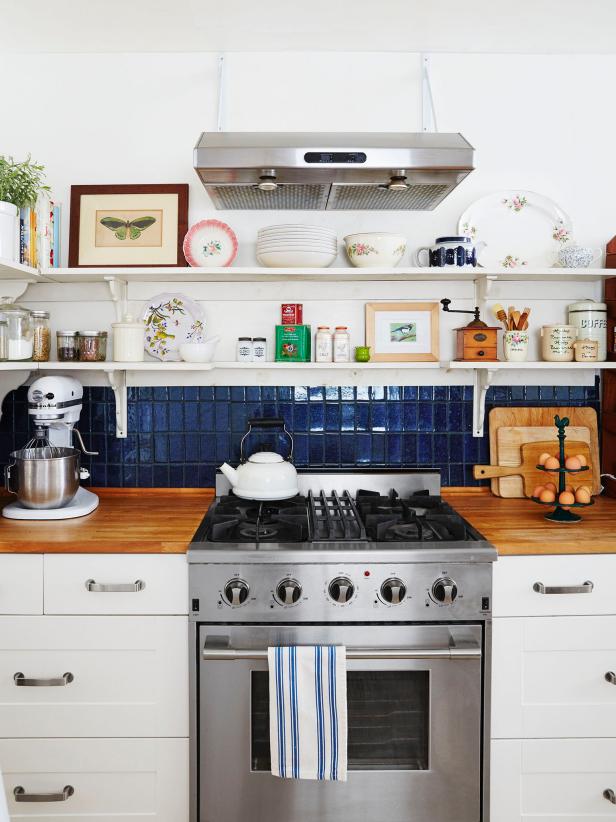 A Kitchen With Lots of Personality
David A. Land (Styled by Stephanie Hanes)
Keeping the kitchen's original navy tiles was one of the concessions Tamar made for the sake of her budget. "I don't love them, but I didn't want to sink a lot of money into changing them," she says. "And they do look pretty good against the white walls."
Tucked among the dishes, framed art makes the shelves seem more like a thought-out display.
Tamar admits she's neglected the IKEA butcher-block countertops—"We've never sanded the areas around the sink, and we should," she says—but she loves their timeless, neutral look.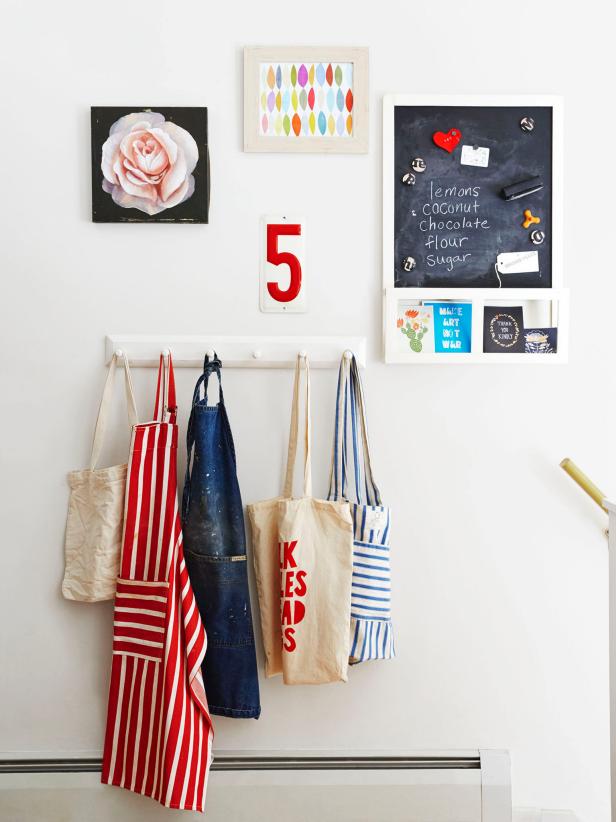 A Kitchen With Lots of Personality
David A. Land (Styled by Stephanie Hanes)
Once she did away with upper cabinets, Tamar found she had plenty of wall space for decorating. Here, she hung a painting of a rose from Christmas Tree Shops, a colorful print from Etsy, and an IKEA chalkboard. The hooks hold grocery totes and aprons.
Get a vintage digit with meaning. This 5 from Etsy represents the number of people in Tamar's family.