Smart Tween Bedroom Decorating Ideas
Tweens' tastes can be tricky. Get ideas for a tween bedroom that's both age-appropriate and cool.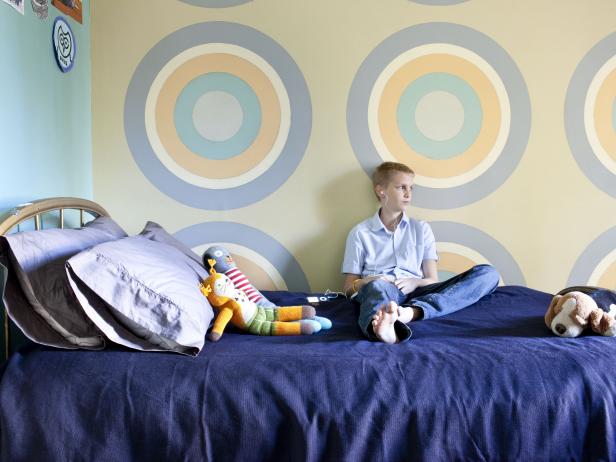 Tween Bedroom With Bull's Eye Focal Wall
The most impactful design elements in this tween bedroom are the graphic, modern bull's-eyes painted on the focal wall. Hand-painted by family friend and painter Lou Kregel, each bull's-eye has five accent colors. From the outside in, the C2 Paints are: "Chamomile" C2-153, "Larkspur" C2-313, "Solo" C2-128, "Calypso" C2-089 and "Hydrangea" C2-315.
Tween bedrooms are perhaps the final, uncharted territory of interior design. The stakes are high: This is a stage in life where individuality and coolness seem like everything, and a sense of personal place can help tweens as they transition into full-fledged teenagers. Parents know it's not as simple as choosing a paint color and a gender-appropriate theme - baby-blue baseball motifs and bubble-gum-pink walls won't do. One option is to take a middle road, sticking with ageless, gender-neutral shades of blue, green and orange. This middle-road option doesn't have to feel middle-aged. The key to a successful tween room is an anything-goes approach balanced with classic items certain to grow along with its no-longer-a-kid-but-not-yet-a-teenager occupant. Two excellent examples of tween spaces done right are the charming bedrooms of 9-year-old Camille Flurry and her 13-year-old brother, Ellis.
Mom, Amy and dad Alan are huge supporters of the local arts community and lovers of all things vintage. To decorate the family's 1920 Craftsman home in Athens, Ga., they've mostly focused on finding one-of-a-kind pieces from small, locally owned-and-operated shops. "We look to the cool vintage shops in downtown Athens for pieces with style but that aren't so precious either, because in the end they may be covered with stickers," says Amy, who often includes Ellis and Camille when searching out pieces for their rooms. "Plus, we know most of the owners and would rather support them than go to a big-box store." As far as what draws Amy to antiques, quality and longevity are at the top of her list: "I'm a fan of buying something that was made well and has been around a while, rather than buying new and disposing of it when it falls apart. It's a way of thinking and living that Alan and I both hope filters down to the kids. That's another reason we buy vintage. Plus, it's cooler."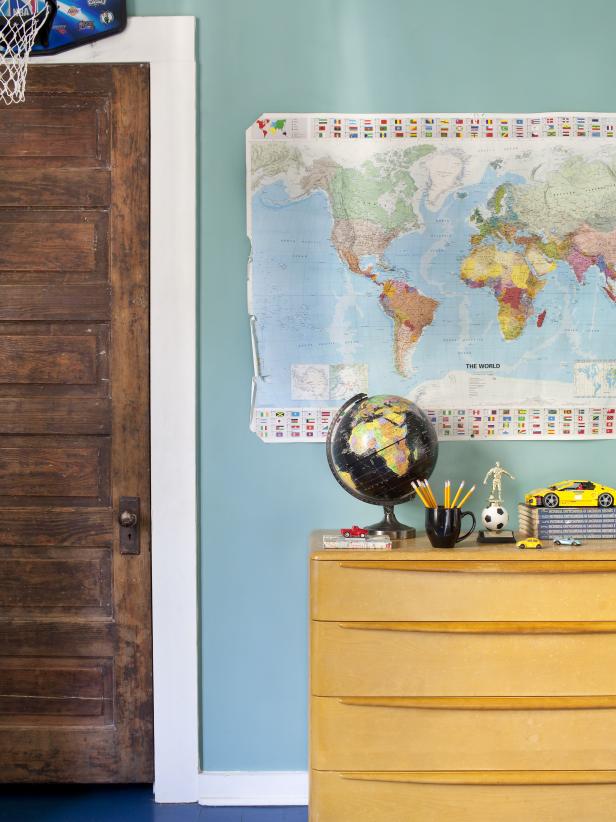 Tween Bedroom Decorations
This tween boy's bedroom is accented with classic accessories such as a map and globe. The midcentury modern dresser is a timeless piece he won't outgrow.
Since many tweens often change interests monthly, a well-curated mix of unique, interchangeable pieces is key. Furnishing tween spaces with vintage furniture may also ensure flexibility down the road. A midcentury modern dresser in Ellis' room would work just as well in any main area of the Flurrys' house, and Camille's hand-me-down vanity that originally belonged to her great-grandmother could work just as well in a guest room. But as children grow up and shed the "kid" title for tween status, holding on to some of their favorite things will come into play later on.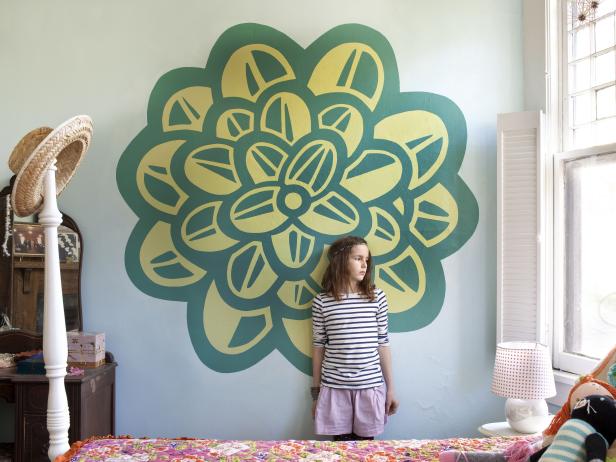 Camille's Room
Graphic, hand-painted wall designs are an excellent, non-committal way to add colorful, one-of-a-kind focal points to a tween's space. Once a tween outgrows the design, simply paint over it. Camille's design is a modern, graphic representation of a chrysanthemum that was created as a gift from local painter and family friend Lou Kregel. The design sports two Sherwin-Williams paint colors, blue-green "Restful" and yellow-green "Gleeful."
A connectedness to family history is an important element of tween room design, especially in both Ellis' and Camille's rooms. Many designers suggest having at least one item in every room that has been handed down from family members throughout the years. Mixing newly purchased pieces with those that were passed down from parents and/or grandparents creates a truly personal touch. Even better, it is a tradition that can be continuously carried down through several generations. For example, the canopy bed in Camille's room is the same bed Amy and her older sister slept in as children. "That bed has really made the rounds, first with Camille's cousin and now with Camille," Amy recalls. "It's still squeaky like when I was little, and even that inconvenience is part of its story. For Camille and her cousin, it was their first big-girl bed. And our house may not be its last stop because now there's that tradition." The hand-me-down tradition can always start anew with items given to children as gifts. Ellis' beloved black globe was a gift from his paternal grandmother. Perhaps 20 years from now, that same globe will end up in his son's room.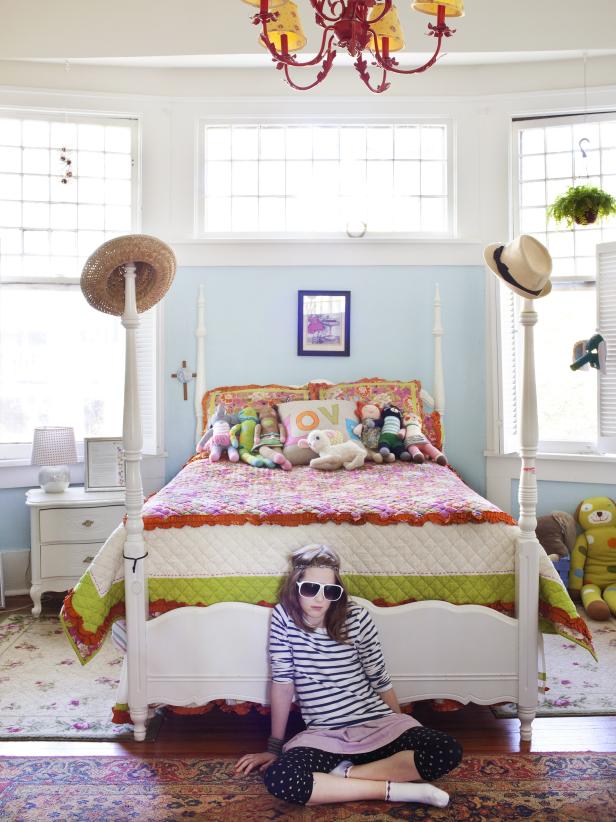 A Tween Girl's Bed.
Camille Flurry's Athens, Ga., bedroom is the perfect example of a tween room done right. To create a one-of-a-kind, eclectic, super-cool space, Camille's mom, Amy, combined handed-down family pieces with finds from local flea markets, vintage boutiques and art festivals. The white bed and nightstand first belonged to Amy as a child. She supplemented these finds with traditional area rugs from local stores. The chandelier is a budget-saver from a local lighting company that Amy customized with red spray paint to brighten Camille's room.
When it comes to choosing art for tween spaces, parents will get much more bang for their buck by choosing something unique, rather than mass-produced posters or prints from major retail chains. Local art festivals are an excellent source for picking up original works at affordable prices. Hanging above the bed in Camille's room is a print by Portland artist Emily Martin. "I bought it for $24 at a holiday market in Athens when Emily lived here some years ago. Now she is a well-known illustrator, and Etsy shop The Black Apple has her among their best-selling artists," says Amy. "I have continued to shop her store for postcards - they are frameable and inexpensive prints. They're moody but sweet, which is perfect for a tween room."
But as the focal walls of Camille's and Ellis's rooms show, art isn't limited to standalone pieces hung on walls. For a positive, powerful splash of color, Amy enlisted friend and painter Lou Kregel to add graphic impact to one wall in each of her kids' rooms. "Lou is a dear friend and an incredible talent whose repeat patterns are licensed for everything from CD covers to rugs," Amy recalls. "But she painted the kids' walls as a gift to us and the kids. Ellis' wall was painted with multicolored bull's-eyes. Camille's sports a giant chrysanthemum, which is one of eight like this one that Lou received permission to paint all over town, from the roof of a local coffee roaster's headquarters to a lunchroom at a public school to the side of a print shop." Lou Kregel's website includes a view of these and other designs.
Ellis' Room
One of the most important aspects of successful tween bedroom design is to reserve open space for activities. The basketball net and open space in front of Ellis' closet inspire impromptu Nerf basketball games between Ellis and his dad, Alan, who reports playing his fair share of basketball in his tween days, too.
Amy and Alan found another way to introduce color in Ellis' room without overwhelming the space: underfoot. "The floors in that room were not heart pine like the rest of the house and they were dingy, so we painted them a bold blue. That was 13 years ago. We kind of like the wear and tear, and haven't even done so much as touched them up." To paint wood floors, first sand the existing finish, then apply a coat of primer. Roll several coats of the finish color with a roller and an extender pole. The last step is to add a coat of sealer to protect the finish. Not just any paint and sealer will do; stick with paints labeled "porch and deck paint," and look for floor sealers that are labeled "clear," since many polyurethanes tend to dry with a slight yellow tone.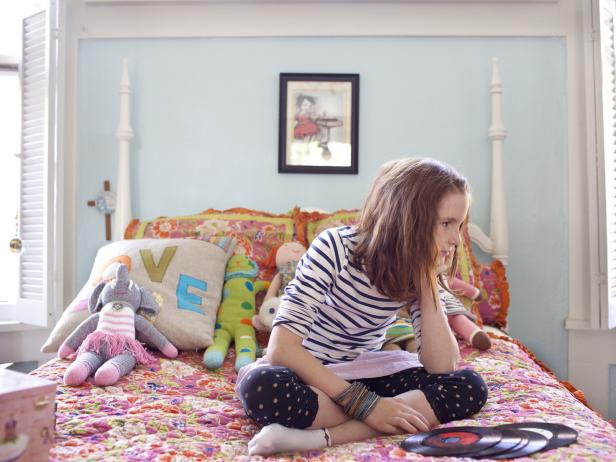 Tween Floral Bed
Mom and daughter share a common fondness for all things handmade. Amy creates custom couture creations from paper through her studio, Paper Cut Project, and Camille has filled her space with handmade accents. The poppy, floral bedding is from India Rose, the knit dolls are from Blabla, and the framed print hanging above the headboard is by Portland artist Emily Martin. Art festivals are an excellent source for finding original prints at affordable prices, as Amy found when she picked up this print for just $24 at a holiday market.
Tween rooms should always have some open, unobstructed space for simply hanging out. Whether it's Ellis and a friend shooting hoops into a basketball net perched above his closet door, or Camille and her girlfriends hula-hooping to Alan's old vinyl records, Amy notices the open spaces get the most use. "Ellis and Alan have long ended the day by a game of basketball with the Nerf hoop in his room. We've replaced it a few times and now have to give the backboard more support as the level of the game has intensified, but it's a kind of wind-down or time together that they enjoy," she says. And in Camille's room, Amy often joins her for spinning LPs. "We feel very welcome in their spaces," she says. "In Camille's, we like to lie in bed and listen to records, or I'll lie there in my old squeaky bed watching her hula-hoop to one of her records."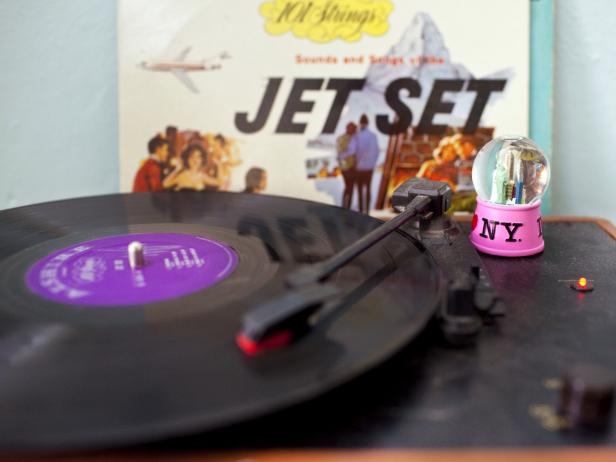 Old Is New Again
When it comes to technology of the 1960s and 1970s, the saying "everything old is new again" could not be truer for tween rooms. Record players and vinyl LPs are new discoveries for tweens, and fun nostalgia for parents. Camille often invites friends over to hula-hoop while listening to records. Her favorites are records from the 1970s that were handed down from her dad, Alan. Flea markets are the best source for finding old record players and records themselves. To ensure a record player is in working order, always test by playing an album in the store or boutique. Don't forget to inquire about replacement needles.
The bulk of daughter Camille's record collection is a stack of 45s from her dad's collection from his youth. Among them: "YMCA" by Village People, "Get Up Offa That Thing" by James Brown and, of course, "Le Freak" by Chic. From handed-down furniture to music appreciated as much by tweens as their parents, one thing is certain in the Flurry household: Vintage never goes out of style.
Antique stores and flea markets are great sources for finding one-of-a-kind items for decorating tween rooms.
To keep tween spaces from feeling too juvenile, stay away from using themes or color combinations that are often associated with nurseries or children's rooms.
Gender-neutral colors such as robin's-egg blue and blue-green are excellent choices for tween rooms. A few other less-expected tones that also work well are coral, blue-gray and violet, as well as muted greens such as celery and sage.
To make a tween's space truly unlike any other, incorporate handed-down pieces from family members into the design.
For rooms with active teens who are prone to bumping into furniture and scratching surfaces, search flea markets and thrift stores for pieces with worn-in, comfortably aged looks.
Painting wood floors with high-energy porch and floor paint can give a tween space a brand-new, super-cool look without major costs. The everyday wear and tear of the floor will add to the patina, giving it more character over time.