Small, Shared Kids' Room Storage and Decorating
An 8-by-10-foot shared Brooklyn bedroom for twins? Yes, it can be done with creative use of vertical storage space and multi-purposing tricks.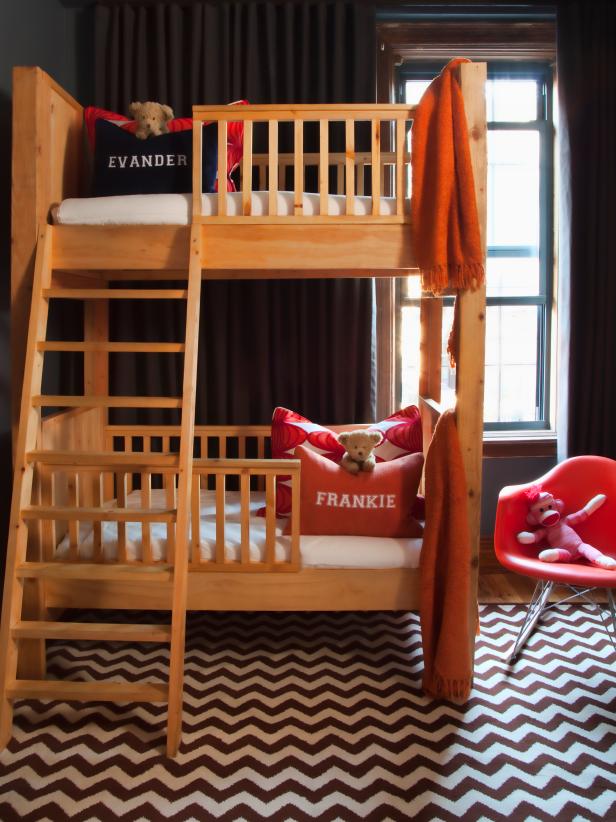 Contemporary Kids Bedroom With Wood Bunk Beds
If you're working with a small, shared kids' room, don't forget to utilize the vertical space.
If you're working with a small, shared kids' room, don't forget to utilize the vertical space.
As many young parents choose homes in the city over those in the suburbs, they cut out the problem of lengthy commutes only to encounter a new problem: lack of space. Space-saving solutions and decorating ideas with mass appeal are a must in the city, all the more so in making a small bedroom comfortable for more than one child. With the proper space plan, creative use of vertical space and multi-purposing tricks, even children's rooms with limited square footage can be as fun as they are functional.
Take, for example, the 8-by-10-foot Brooklyn, NY bedroom of boy and girl twins, Evander and Frankie Khan. By working with a designer, the twins' space has changed from cramped, colorless and cluttered to one that is equal parts energetic and efficient. This transformation was essential to keep up with the four-year-old twins. Packed with an overabundance of positive energy, the happy-go-lucky duo spends every minute of the day together — whether out and about with mom and dad, parked in front of the living room TV to watch cartoons, or sprawled out in their room, which serves as much for play as it does for slumber.
Creating a Clever Color Scheme
First up is the room's gender-neutral color scheme. While a hot pink bedroom would have been ideal for Frankie, it would have been too feminine to suit Evander. And while painting it navy blue many have been at the top of Evander's wish list, the room may have instantly turned into a masculine space unbefitting of sister, Frankie. The bedroom's unexpected combination of charcoal, red-orange and white is an excellent solution that is as equal a fit for a boy as it is for a girl.
Since the turn of the millennium, sage green has been the standard color of choice for tranquil, gender-neutral children's rooms. The mid-century modern classic, red-orange, is a high-energy alternative that is ideal for spaces that are geared towards activity. This tone can be overwhelming, especially in a small space; it's best to use it sparingly as an accent color through accent furniture, accessories or accent walls. In Evander and Frankie's room, red-orange appears in side chairs, a rocker, decorative vinyl decals, pillows and as the accent wall in their closet.
Another decorative element essential to a successful children's room — whether for a boy or a girl — is the use of graphic, easy-to-read shapes. From the patterns in the pillow fabric to the zigzag area rug, from a molded plastic rocker to framed art and vinyl decals, Evander and Frankie's space is packed with a plethora of rectangles, ovals, curves and squares. This is an excellent way to add visual interest to a space, especially if it lacks architectural interest.
Space Planning on a Smaller Scale
Furniture placement and space planning are the most important factors in creating successful flow to any room, especially in a small space shared by more than one child. Since playtime is important to development — both social and physical — leaving the center of the room open is a great choice. In order to create open space and still reserve enough room for studying or crafts, it's best to take advantage of all vertical spaces.

Bunk beds have long been the bedroom furniture of choice for parents with children who share rooms; this arrangement frees up horizontal space that would otherwise be used by additional beds. While twin bunk beds are more readily available, it can be worthwhile to seek out harder-to-find toddler-size versions. A major advantage to choosing toddler-size bunk beds over twin styles is the slightly smaller dimensions that free up a bit more square footage: toddler mattresses measure 27-by-51-inches and twin mattresses measure 39-by-75-inches. The extra 12 inches of width and extra 24 inches of length make room for an extra table or chair.
Closets are another area packed with vertical space which, when configured properly, can maximize square footage and eliminate the need for bulky storage-based furniture in the room. Frankie and Evander's closet is outfitted to hold as much clothing as possible while still reserving a place for homework and crafts. By setting aside this desk space, the room's interior remains more open so both Evander and Frankie can tackle their assignments or make crafts at the same time without crowding each other's space. In order to build a functional workspace as part of the closet design, a central vertical column of boxy, modern shelves made from MDF (medium density fiberboard) replaces the original contractor-grade shelf and rod system. The new shelves are not only for open storage but also serve as an actual desk; the lowest shelf falls directly at 23 inches, the standard height for a child's desk. To keep all of Evander and Frankie's hanging clothes concealed, yet within arm's reach, double hanging rods are installed from the outside edge of the central column to the interior walls on each side of the closet
Featuring Functional Elements
Functional elements that add architectural flair were another large factor in the design of Evander and Frankie's shared bedroom. Many designers have argued that beds should never obstruct windows. In the twins' bedroom, this rule was broken — but with great results — due to the addition of floor-to-ceiling draperies across the entire exterior window wall. Since the window had an odd position on the right side of the wall, proper placement of the bed was difficult to determine. Symmetry was achieved by covering the entire wall with custom, ripple-fold draperies, and centering the bunk bed on the drapes instead of on the narrow, tall window.
The drapes are also functional. Not only do they help block the light to aid in proper napping for the twins, they help insulate the room and reduce noise pollution from the busy Brooklyn streets just outside the window. Lastly, the soft folds of the fabric just behind the bed create a clean, continuous line that runs from the floor directly up to the ceiling.
Another show-stopping element of Evander and Frankie's room is their main storage system: six ready-made kitchen cabinets dressed up with red-orange vinyl decals in the shape of deer in the forest. While the unit serves as the room's main focal point, it also conceals toys that would otherwise create clutter. All of these ideas combined result in a single space where both Evander and Frankie can play, sleep, study and create things together. While this room may still be short on space, it's now abundant with style.