How to Give a Basic Toddler Bed a Designer Look
Some simple do-it-yourself tricks can take toddler beds and bedding from basic to stunning, designer-caliber showstoppers.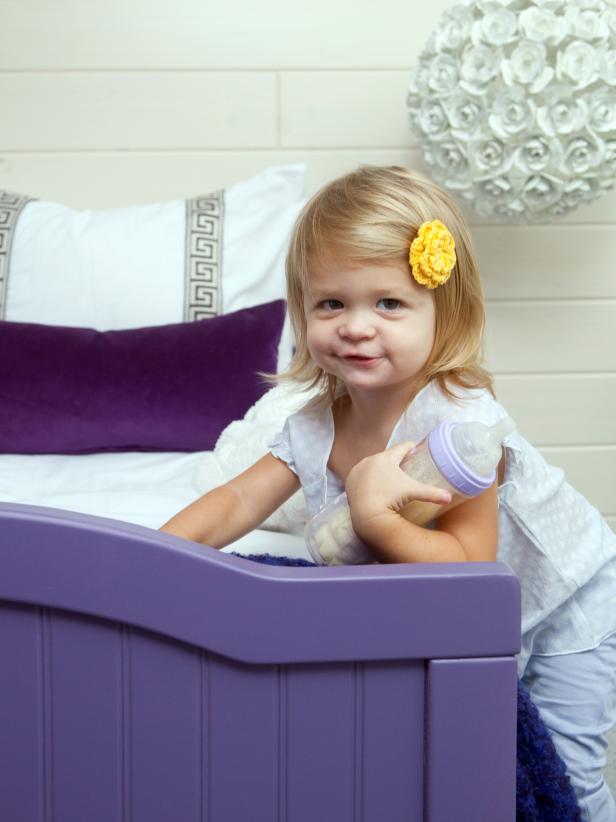 Girl Leaning Against Purple Bed
"If you have an infant or young child, stack the sheets. Alternate rubber pads and sheets, so when baby has an accident in the middle of the night all you have to do is take off the top layer and you are good to go! No more remaking the bed in the middle of the night!" -Facebook fan Beth Wile Meyerowitz
When it comes to toddler beds and the bedding with which to dress them, there is not a wide variety of choice in styles. Most big-box retailers carry toddler beds limited to primary colors, white and heavy wood tones, usually branded with characters from popular children's TV shows, books or movies. As far as bedding is concerned, most stores stock sheets and pillows in gender-specific hues such as blues and browns for boys, and pinks and yellows for girls. But this doesn't mean one-of-a-kind toddler beds and bedding are out of reach for parents. Some simple do-it-yourself tricks can take beds and bedding from basic to stunning, designer-caliber showstoppers.
Opting for a white toddler bed in a classic style offers a blank canvas with which to create something bolder and customizable with paint. Since toddlers are so active, proper paint application and finish are key. By renting an HVLP (high-volume, low-pressure) sprayer and choosing low-VOC paint in hardy finishes such as high-gloss or porch and deck grade, basic beds can be given looks that are both designer-grade and durable.
To put a sophisticated spin on toddler bedding, stick with solid-color sheets, duvets and pillows rather than branded or thematic styles that sport busy patterns. Solids can easily be dressed up and customized with the addition of decorative trim. As far as colors are concerned, white is an excellent option since it mixes well with everything and is gender-neutral. Another less-expected color for toddler bed ensembles is plum, which can be given masculine appeal when paired with brown or bronze, or given a feminine touch with white and violet. All of these ideas are on display in the sleeping area of two-year-old Madeline's room. For step-by-step instructions on how to give basic toddler furnishings a high-end, custom look, take some cues from this pint-sized decorista.
duvet
duvet insert
standard pillow
standard pillow sham
basic white toddler bed
iron
iron-on adhesive tape
glue sticks
glue gun
sewing machine
thread
pins
scissors
tailor's tape measure
HVLP sprayer
high-gloss porch and deck paint
Two-year-old Madeline sleeps in what appears to be a one-of-a-kind, designer-caliber bedding ensemble; however, the bed and bedding are big-box store purchases upgraded with simple do-it-yourself tricks. A durable paint finish on the bed plus decorative trim on the duvet and pillows instantly give tailor-made updates to basic, big-box toddler bedroom furnishings. Opting for ceiling-mounted pendant lights centered over nightstands and kept out of a toddler's reach is another way to bring a high-design look to basic store-bought pieces.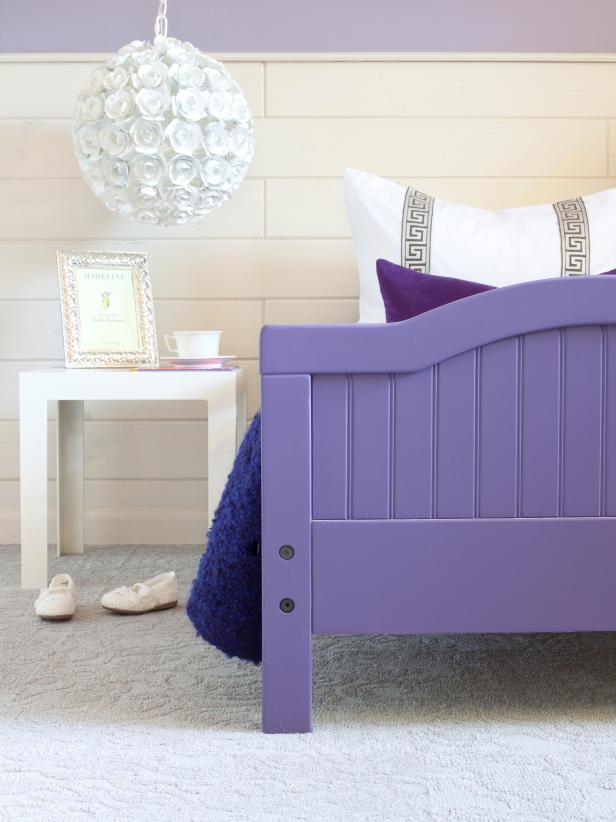 Purple Kids' Room With Round Rose Chandelier
This toddler bed has been customized with a sprayed violet paint finish. To give basic bedding a designer update, decorative trim was added to the pillows and a duvet cover, originally picked up from a big-box retail store. Hardy Crystorama pendant lights shaped as bouquets of roses were installed in the ceiling above plastic nightstands.
Assemble and Spray Toddler Bed
Choose a classic style of toddler bed in a white finish. Fully assemble the bed, then place it in a spacious, well-ventilated area where it can be sprayed. Use an HVLP paint sprayer to add two coats of glossy porch and deck paint to the bed. Tip: HVLP (high-volume, low-pressure) sprayers are rented for an average of $65 per day at most home improvement stores.
Once two coats of paint have dried, carefully examine the bed to ensure the overall finish is even and that there are no signs of overspray.
In order to add graphic impact to the solid duvet, use a tailor's tape measure to roll out the trim in the shape of a rectangle (Image 1). Hold trim in place with pins (Image 2). Once all four sides of the rectangle are equal, cut each corner with scissors at a 45-degree angle to create a mitered finish. Once all four pieces are mitered, attach them to the duvet with a sewing machine or by hand-stitching.
Once rectangular trim is sewn, ensure proper alignment by centering duvet so that the outside edges of the rectangular trim are just inside or flush with the sides of the toddler mattress.
When making the bed, check to make sure that the outside edges of the rectangular trim detail are straight and in line with the edge of the mattress.
Add Tape Trim to Pillow With Glue Gun
Dress up a standard white pillow case by cutting a piece of tape trim to size, then attaching with a glue gun and glue sticks (Images 1 & 2). For best adhesion, run a bead of glue along the inside and outside edges of trim. Tip: Gluing trim to pillows is ideal for those strictly used for decorative purposes (Image 3). For pillows that receive heavy use, it's best to sew trim either with a machine or by hand-stitching to ensure proper durability.
Add Tape Trim to Pillow With Iron-On Adhesive
An alternative way to add trim to a standard white pillowcase is to roll out iron-on adhesive tape underneath the trim, cut it to size with scissors, then adhere with an iron set on medium heat (Image 1). Simply place the iron on top of the trim and slowly move along from the top to the bottom of the pillow (Image 2). Lightly pull the edges of the trim to ensure proper adhesion. Tip: Iron-on adhesive tape is best for pillows strictly used for decorative purposes. For pillows that receive heavy use, it's best to sew trim either with a machine or by hand-stitching to ensure proper durability.
Add Coordinating or Contrasting Nightstands
To carry on the one-of-a-kind, designer-grade look, pair nightstands that coordinate or contrast with the color of the bed frame, yet do not match. Lacquered plastic nightstands in a neutral color, such as white, work well with any color bed or bedding.
Add Pendants Centered Above Nightstands
Once nightstands are in place, add a touch of the unexpected by hanging ceiling pendants. To ensure that the pendants are out of reach of toddlers, center the pendants on the nightstands with the bottom of the pendants spaced approximately 16 to 24 inches above the top of the nightstands. Tip: Since cords can be hazardous to toddlers, it's best to have ceiling pendants hardwired into junction boxes. This is preferable to using swag kits, which include chains or cords easily reachable by active toddlers. Pendants: Crystorama.