How to Decorate a Kid's Room
Tips on designing a kid's room with room for growth.
Don't add your fantasy into theirs.
Decorating a room provides a great opportunity for children to express their personalities, and can be a great opportunity for parents to learn more about their kids. "I'll ask a child what her favorite color is and the mom thinks it's blue and the girl will say red," says designer Sherri Blum of Jack and Jill Interiors. "One girl wanted a workstation in her room for doing art. Her mom didn't know how important art was in this girl's life." Blum assures clients that they will have final say but always tells them, "If you really want pink and your daughter wants lavender, we can redo your room in pink."
Don't spend big money on trends.
Only follow the trends if they work for you, your child's age and your home. For example, fluffy Flokati rugs are a tactile draw for children, but impractical when it comes to clean-up and safety.
Do get funky with accessories.
Accessories are a great way to introduce a trend, because they don't cost a ton of money. "Beaded door hangings — sure!" says designer Lyn Peterson. "Or punch up a bed ensemble with cute pillow cases." Blum worked with a 7-year-old girl who wanted a pink camouflage comforter. "The mother was really turning up her nose at it, and I could see that the girl wasn't going to love it for too long. So we compromised; we made throw pillows in pink camo fabric."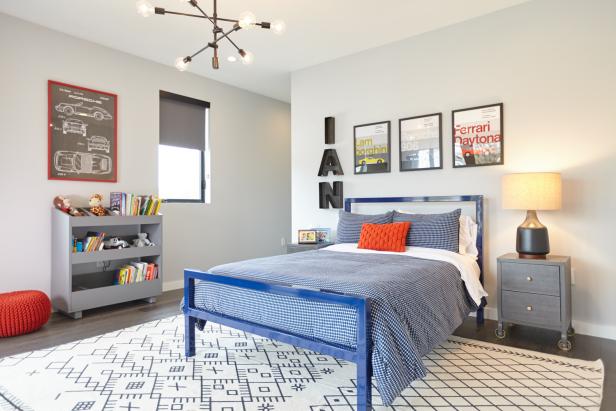 Gray Contemporary Kid's Room With Blue Bed
This stylish bedroom will easily grow along with its young owner. Switch out the wall art and toys as the years go by; the colors and chic furniture will always be relevant.
Kara Thomas
This stylish bedroom will easily grow along with its young owner. Switch out the wall art and toys as the years go by; the colors and chic furniture will always be relevant.
One of the biggest mistakes parents make is not thinking ahead, says Blum. "The little boy who's 4'10" now may be 6'3" in a few years," she says. "It's important to think ahead to the future needs of the child and the future needs of the room." Buy at least a full-sized bed if the room is big enough to handle it. Interior designer Ann Fox, based in Dallas, notes that homes there tend to have plenty of space, so she advises moving toddlers straight from cribs into queen-size beds.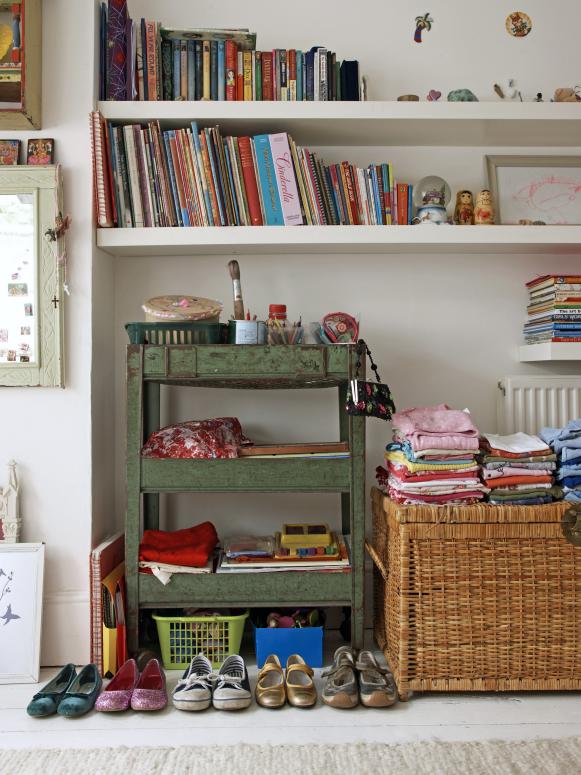 Organized Shelving and Storage in Kid's Room
Kids can acquire plenty of paper clutter on their own, too. Keep their bedroom and playroom organized by integrating stylish storage boxes onto bookshelves and cabinets. Extra-wide boxes can keep precious artwork and drawings stowed away for safekeeping, and magazine holders can double as coloring book organizers. With a proper place for everything, cleaning up and staying organized can be a breeze for little ones.
Often when a child goes off to college, their room becomes a home office or a guest room. Built-in shelves and even desk space are "great for a study or den," says Cathy Whitlock, a Nashville-based interior designer.
Bookcases or display cabinets are one of Lyn Peterson's three most important items to invest in for a child's room (the other two are the bed and good lighting). Shelving offers a place to display their stuff, and having plenty of space for books encourages kids to read.
Don't spend more than you can afford.
It's easy to get sucked into spending more than you planned, especially since kids don't separate "need" versus "want." Have your child make a list of all the things he or she wants for the room, from rugs to a lava lamp. Then, commit to the three most important and add the rest of the list as your budget allows.
Eric Perry, 2014, Scripps Networks, LLC. All Rights Reserved
With clean lines and plenty of clever storage, the HGTV HOME Voyage dresser in this kid's bedroom includes a flip-down media drawer for cable box or components, jewelry tray and cedar-lined bottom drawers.
Do buy a few, high-quality items.
Generally, there are three transitions in the life of a kid's room: The move from a crib to a big kid bed at age 2 or 3; the changeover from the toddler room to a kid's room from ages 6 to 12; and then another redecoration at age 17 or so.
"More kids are returning home after college now," Fox says. "So people are decorating for a mature young adult/guest room." With that in mind, it makes sense to spend money on high-quality beds or dressers. "Think ahead and spend the money to get good furniture the first time around," says Sherri Blum.
Give kids assignments, both to save money and to get them invested in their space. Blum taught one teenage girl how to make an inexpensive memo board for her room that looked like one in a popular catalog. "Teens can help paint a room themselves," Blum says. "For a child, you may take the light fixture down and have him spray paint it silver." Get kids to create artwork for the walls and frame it, or ask them to collect items that fit with a room's colors or themes (say, seashells and sand dollars that can be made into a shadow box, or fill a glass jar that can be turned into a lamp).
"It's shocking how many people don't put their kids to work," says Fox. "Utilize summers to have your kid gut the room and go through everything. I worked with one 18-year-old who still had Bambi videos in his room." Ask your kids to sort through their stuff and look at what they can give away or sell, so rooms don't become over-crowded with stuff.
Your child's room will be a strong memory for them some day, says Fox. "I had an orange and purple and hot pink room in the 1970s. How is your child going to remember his room?"