Genevieve's Design Tips: Kids' Room Makeovers
In episode six, the Design Stars create rooms for their most demanding clients ever: kids. See what Genevieve says they did right, did wrong and how she could have done it better.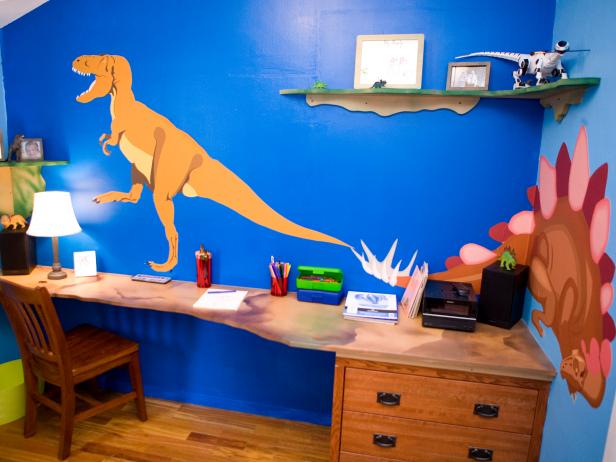 Boy's Room With Dinosaur Theme
Designer Genevieve Gorder has a bone to pick with this room design. "My fear with this room is that the child will love it today but outgrow it tomorrow, and that's a waste," explains Candice. "Quality core pieces like the dressers are great starting points; they'll last forever and transition easily. I would have liked to see the theme established with more attention to the temporary accessories in this room rather than the more permanent construction elements."
I gotta be honest: I'm not usually a fan of the overly decorated children's room. In a world of overbranded and licensed items for kids, rooms that take on a simple concept like dinosaurs, Barbie, etc., make me mad. In this case, however, I'm pleased.
Antonio dug into this young man's love for dinosaurs and thought dimensionally, colorfully and, most importantly, playfully. By punching out the headboard from the window in a series of stacked rocks, and ending with a footboard of stone, I think he thought like a child and that any dinosaur-loving boy would absolutely dig this. A bit contrived? Yes — this isn't a room that will grow with anyone, blue is a predictable color for a boy and the dinosaurs do look a bit like cutouts.
I would've liked to have seen a variance in scale with the dinosaurs. Knowing how well Antonio can paint, I'd rather have seen him hand paint these critters. This would've given them more presence and created a bit more energy in the perimeter, whereas now it feels a bit flat. An area rug to soften the area around the bed and a set of quilted drapes to block the light from the window and add some texture to that focal point would have been great additions.
Don't Forget About Function
Boy, did this room need some help. I think Lonni hit a number of home runs this week in her redesign of this young man's bedroom. Let's start with color. By removing the aqua rug, dated '70s brown furniture and grey high-water curtains, the room has lifted in spirit and opened up to what seems like a larger space through hardwood floors, open shelving and window rolls.
What were the misses this week? I think the wall tones work well and the strong graphic on the desk wall is perfect for a young man who loves baseball. However, the "home plates" look a bit like actual homes at this angle and it is a similar solution that she used in last week's house with the chevron pattern. Lonni does these patterns really well, but I'd like to see the other manners in which she can create a focal point beyond this same solution. While the open shelving really lets the space breathe, it also limits what this young man can store. Where is he supposed to put all of his clothes? We lost a dresser and gained a small end table with drawers and a large open-shelved unit. Aesthetics are great but the function isn't completely there. While the window rolls are a huge improvement over the sheers, they share the same issue in that they let all the light in. For a bedroom, I don't think this is ever a good idea.
Lonni could have improved the space even more if she had added a few things. An area rug to ground the sleeping area and add separation from the study area. Fabric would also add a lot to this small space, both acoustically and aesthetically. Because the space is so narrow, and this client is still pretty young, a masculine daybed would add a bit more function to the space for entertaining purposes. I think the overhead lighting could be a bit more sophisticated and the wall to the side of the bed could use some wall decor.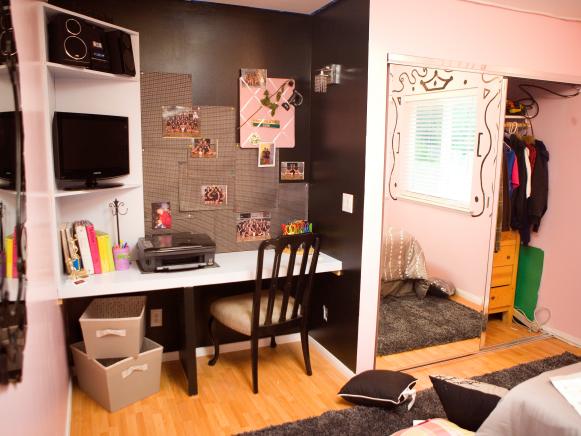 Girl's Bedroom With Mirrored Closet Doors
According to Genevieve Gorder, this bedroom needs some serious help. "A white upholstered hollow-core door as a headboard and layers of white bedding would have added comfort and a sense of dreamy luxury," says Candice. "Acoustical ceiling tiles wrapped in pink cotton to fill the area above the desk would have been a more striking and practical treatment."
This is a situation where I think I may actually like the before better than the after. What happened?! I think the chandelier is the only thing that is working for me here, and what a fun client to have. Here's where I believe Jason stumbled a bit. Let's begin with the bed; this is the crown jewel of the bedroom. It should blossom, reveal layers and be the focal point of this room. What we have here is an unfinished bad idea. It looks to be several placemats tacked to the walls, along with a few boxes hung above them. The bed itself looks like it was bought as a cheap "set" from a store. The window ... I'm not really sure what that is. I'm guessing he was going for some baroque-like frame that would run around the perimeter of the window and add a sense of royalty. Unfortunately, it looks as though he has scribbled around the window with a black magic marker, not the effect I think he was going for. While the dark accent wall is a nice departure from the pink, I don't think the desk area is very functional at all. To begin with there is no closed storage, and with a bedroom study area, that is absolutely essential. You don't want to be dreaming of tasks you need be doing — a bedroom is a place of refuge. The grey rug adds some necessary texture but is dancing alone as the rest of the room feels very flat.
If Jason had approached this from a different angle and really focused his energy in and around the bed, I think we may have had a very sweet room. Pink is great, but there are so many different shades that sometimes it works better in a room instead of on the walls; it wasn't a large departure from where this young lady started. By creating a light neutral, perhaps a creamy dove grey on the wall, and then letting the bed pop in an explosion of delicate pinks and ivories, we could've achieved a more sophisticated treatment of the color she adored. By building a beautiful, tufted headboard that spanned the height of the wall he could've easily created that sense of luxury and grandeur that was missing. Floor-to-ceiling drapery with a clean box pleat would've increased that feeling and brought the eye over to the other wall from the headboard. Overall, this room was left unfinished.
Uh oh. What happened, Dan? We have a palette that went haywire and a fuchsia line that doesn't know what to do. Dan had a client that wanted an eco-friendly and more grownup space than her previous "too girlie" bedroom. What I think happened here is that Dan ran with the "green" factor and literally spilled it all over the walls. I think the floors look great, the painted dresser is really fun and the antique mirror in the corner is a nice way to reuse something old but that is where I think the successes end. I hate to be so honest, but let's get down to brass tacks — this is a competition and this is my job as a judge. The fuchsia and green combo is great in moderation but when it takes center stage in a bedroom it can be a bit hard to calm down at night. The headboard is a little confusing; while I like the concept of using an old gate, I would've used a large-scaled section of a gate and made it the entire headboard. Work the vertical on your headboards! Too many things just confuse the eye with the complications of all the bedding below. Make it big, make it simple and lead me down the beauty of the bedding and how it unfolds as the lovely flower that it can be. The fuchsia would be great as a coating on some accessories, furniture pieces (i.e., the desk chair) or all the flower pots. A mirror frame and a line that is nothing but a stripe around the room aren't proving their worth or intent. Dan lost me on this one.
The loft bed adds so much real estate to this bedroom. A good idea in theory, but the bed itself is too big for this small room. As you can see, the corner of the bed eats into the window and, while creating more space for the client, actually makes the room feel smaller. I love the desk space underneath the bed but wish there was a bit more lighting from overhead as well as a proper desk chair. The built-in bookshelves are a big success and add some necessary storage for this teen, while the red rug adds texture that the space needed. I feel that the wall of type and fabric strips is interesting but completely unnecessary. Perhaps just a few framed abstract paintings above the dresser would've summed up the industrial-loft concept more cleanly and easily. By adding a wall of fabric window treatments on the window wall, I think Torie could've achieved the same effect that she was intending with her fabric strips, but in a more sophisticated manner.