How to Make an Upholstered Headboard
You can change your headboard with the seasons with this decorating project.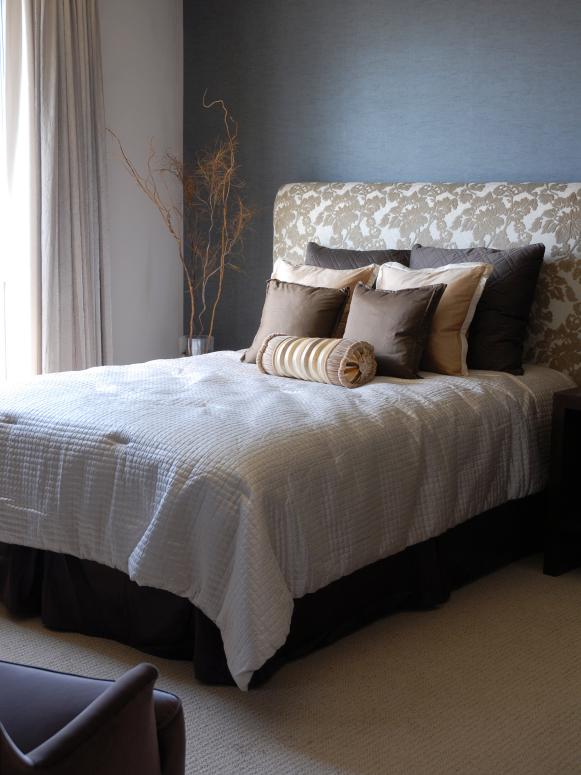 Neutral Bedroom With Brown Upholstered Bed
A gray accent wall and a soft brown upholstered headboard evoke a restful mood in this guest bedroom. Shades of brown continue the neutral palette in the bed's accent pillows.
foam core board
craft knife
fusible fleece
fusible adhesive
iron
pressing cloth
trim
glue gun
fabric scraps
fusible patterns
self-stick hook-and-loop tape
1. Determine the shape of the headboard, and draw its outline on the foam core board. Repeatedly score the outline with a craft knife until it cuts completely through the board.

2. Cut three layers of fusible fleece to the dimensions of the headboard, and align them on the foam core. Place a pressing cloth over the fleece, spray it lightly with water, and then press the fleece with an iron. All three layers will fuse at once.

3. Cut the fabric slightly larger than the foam core so that its edges wrap around the sides and onto the back of the board.

4. Starting in the center and working out to the edges, press the fabric onto the fleece.

5. Iron a strip of fusible adhesive to the edge of the fabric, remove the protective paper and fuse the fabric onto the back of the board.

6. Cut a piece of fabric about ½-inch smaller than the dimensions of the board. Fuse it to the back of the board so that it covers the raw edges of the fabric fused to the front.

7. Apply trim around the edges of the headboard with a glue gun.

8. Fuse pattern onto coordinating fabric. Cut out the pattern, remove the paper backing and iron the design onto the headboard, pillows, dust ruffle or other accessories.

9. Attach the headboard to the wall with self-adhesive hook-and-loop tape. Apply a little glue to the part of the tape attached to the headboard, and press it onto the part of the tape attached to the wall to make a more secure bond.