The Best Pillows for Side Sleepers
Sleeping on your side has lots of note-worthy benefits, like improving joint pain and helping with digestion. If you're a side sleeper, you'll need that extra neck and spine support. Check out our editors' top side-sleeper pillow picks.
Sponsored: Our editors independently choose products they love from the sponsors' product lines. Price and availability could change after publish date, and we may make money from these links.
If you wake up in the morning with lower back pain or if your partner hates your snoring, it might be time to change your sleeping position. Sleeping on your side is one of the most beneficial positions (along with sleeping on your back); it's known to reduce back pain, neck pain and acid reflux (if you sleep on your left side). Plus, it can improve blood flow and digestion and is the best position for those suffering from sleep apnea.
And, did you know there are a few ways to sleep on your side? Nearly half of adults sleep in the fetal position (curled up), while others sleep in log position (straight arms and legs) or prayer position (hands together).
Whatever your side-sleeping position is, you'll need a pillow that will support your neck and spine. Traditional pillows are meant for back sleepers, so if you're a side sleeper or want to train yourself to become one, a firm pillow meant for side sleeping is essential. Below, we share our favorite pillows that will provide that extra support your neck and spine need to help you sleep and feel better.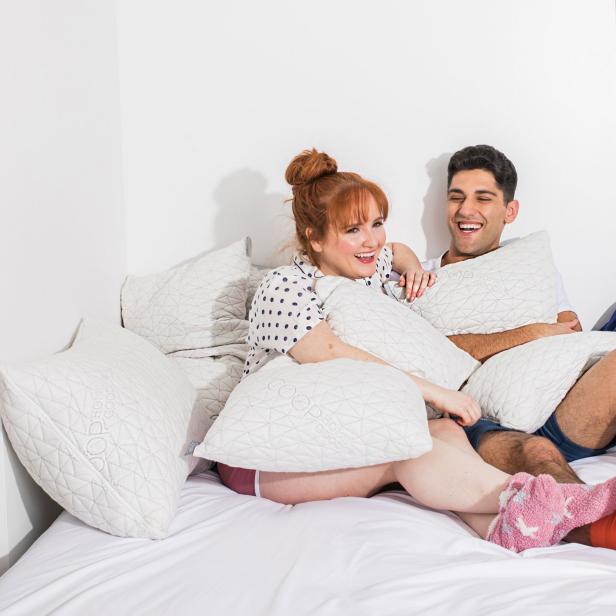 When you sleep on your side, the distance between your head and mattress depends on the broadness of your shoulders. You want your neck to be in a neutral position, so each person needs a pillow firmness specified for his or her body type. Coop Home Goods' adjustable pillow allows you to easily unzip and add or remove filling as needed. (Yes, it comes with extra filling.) I tested it out and love how I can adjust it to my needs. When I first got it, it felt great, but I followed their instructions to fluff it in the dryer and I couldn't believe what a difference that made. It's somehow super soft but provides the firm support my neck needs. Plus, it makes a great pillow to prop up while reading or watching TV.

Other HGTV editors tested the pillow as well. HGTV managing editor Kayla Kitts says, "While I typically start out the night on my back (recommended by my chiropractor to ease my postpartum back pain), I always end up on my side," she explains. "I've used pillows for back and stomach sleepers, since I've always considered myself one, but knew I needed to try a true side-sleeper pillow and test the difference. Enter the Original Coop Home Goods Pillow. A word of warning: Be prepared to spend a few nights breaking in the pillow and getting the foam 'just right'. The first few nights I didn't remove enough foam and woke up feeling hungover. After removing almost half of the foam insert, I understood the rave reviews. That night was magical, and the morning after? Bliss. No headache. No neck or shoulder pain. No fog. And while I topped it with my silk pillowcase for the ultimate night's sleep, the ultra-breathable and super-soft Lulltra (polyester and bamboo-derived viscose rayon) case would be incredible on its own."

HGTV editor Laura James says, "The first night I slept on the Coop Home Goods Pillow, I woke up with a headache and realized the amount of filling it comes with was way too thick for my comfort. The coolest part about this pillow is that you can customize it to your (or a visitor's comfort if using in a guest room) by adjusting the filing. I removed about a fifth of the filling, re-fluffed it and then started sleeping like a baby and didn't wake up with any more headaches. I like that this pillow doesn't lose its shape as easily as a traditional pillow — it's the perfect combination of firm and soft, perfect for supporting my head and neck as a side sleeper. I also appreciate that it's hypoallergenic, breathable and machine washable. I also love the price tag!"
Buy It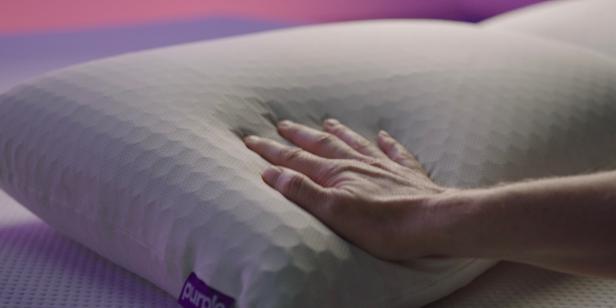 $159 (One Pillow) | $286 (Two Pillows)
Laura also tested the Purple Harmony Pillow. (You can see her full review here.) She says, "The most unique thing about Purple's pillow is that it uses a patented purple Grid™ Hex material instead of traditional filling. It's constructed in a honeycomb pattern that you can see and feel through the outer fabric; it feels and wiggles almost like there's a block of unbreakable Jell-O inside the pillow. For me, the best part about this design is that when I lie down, the pillow compresses just where I need it to and always bounces back to its original shape. It maintains its shape over time, too, and it does not require constant fluffing due to the filling shifting around as traditional pillows do. It's also hypoallergenic, machine washable and breathable, thanks to its moisture-wicking cover. I don't find this to be a huge deal, but the pillow will sometimes leave a hexagon pattern imprint on my cheek in the morning. The price of the pillow is steep compared to others we've tried, but Purple does offer a 100-night trial and a one-year limited warranty as well as free shipping and returns."
Buy It
More Bedroom Buys We Love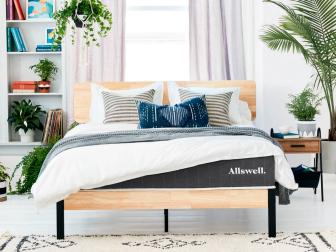 The average person spends up to one-third of their life asleep. It's time to find your mattress soulmate.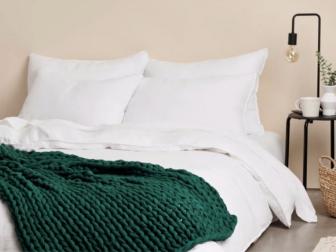 Check out our favorite cooling weighted blankets under $300 that are best for hot sleepers and hot summers.
We tested silk pillowcases with a variety of fabric weights and price tags to come up with our tried-and-true picks.