A Bright and Bold Bedroom Makeover
Watch this space from HGTV Magazine come back to life with lighter walls, a new rug, stylish furniture and punches of pattern.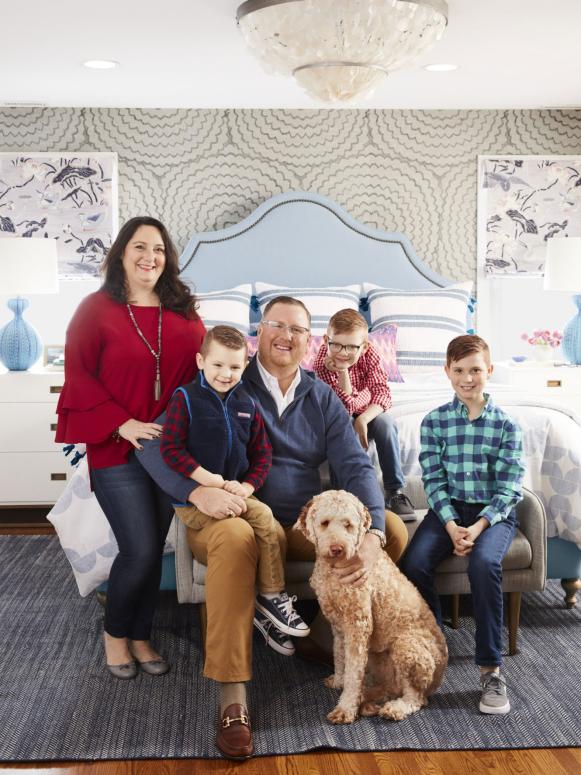 Meghan and Patrick with (from left) Gavin, 5; Connor, 7; JP, 9; and labradoodle Bentley.
David A. Land
Meghan and Patrick with (from left) Gavin, 5; Connor, 7; JP, 9; and labradoodle Bentley.
Decorating your bedroom isn't usually a priority when you're a working couple with little kids. Just ask Meghan and Patrick Martin, who moved into their Needham, MA, house four years ago with three children all under age 6. They put the heavy bed and dresser set they'd gotten as newlyweds in the room — then left the drab olive walls and window treatments as is. "It was just a place to sleep," says Patrick.
But with their brood now bigger, they finally decided "to change the look from 'dumping ground' to 'sanctuary,' " says Meghan. They called on local designer Dina Holland, who painted the walls delicate gray; swapped in a pretty powder blue upholstered bed from Serena & Lily; and jazzed up one wall with bold, swirly wallpaper. "We never hung out in our old room," says Meghan. "Now it's so inviting, it's not unusual for everyone to pile in here to watch a movie — the only time it's not a peaceful place!"
Courtesy of the homeowners
Wallpaper: A chill space can still have energy. Coordinating with the soft gray on the other walls (Balboa Mist by Benjamin Moore), designer Dina covered the wall behind the bed with Schumacher wallpaper in giant silvery blooms. "In our old home, we were too worried about resale to put up wallpaper," Meghan says. "But this is our forever house — wallpaper it is!" The birds-and-branches fabric on the windows is also by Schumacher.
Rug: Tossing the tired tan rug and putting in a smaller flat-weave one by Annie Selke's Dash & Albert showed off more of the white oak floors, making the room feel brighter and bigger. The navy plays off the blue in the bedding and the lamps from Visual Comfort.
Light: "At first I wanted a big dramatic chandelier, except we would have had to push our low ceiling up — not worth the money," says Meghan. She got the impact she craved with a flush mount capiz shell fixture from CB2.
Bench: The room's former bench was more of a haphazard storage spot than a seating area. This mid-century style by West Elm, with its sleek silhouette and thicker cushion, is a much comfier place for a morning calendar check.