What You Should Know About Your Shower
HGTV Magazine enlisted some expert help to dish out must-know tricks and useful tips to keep your shower running smoothly and looking shiny and clean.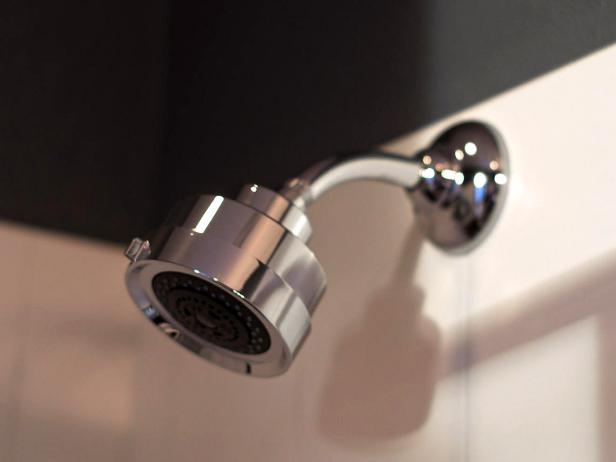 Squeaky Clean Shower Head
There are many things to stay on top of when it comes to managing your home and that list includes your shower fixtures. HGTV magazine has called in the experts to help you keep that shower head running clean and clear!
Photo Credit: HDR Homes, Denver Parade of Homes-Wonderland Homes
If your shower could talk, here's what it would tell you:
Some Faucet Finishes Are Better
For a shiny showerhead that needs little maintenance, choose a chrome or satin nickel finish. Both are more resistant to mineral deposits and stains than fixtures with matte finishes, such as oil-rubbed bronze.
Abrasive cleaners can eat away at grout, creating cracks that collect dirt and mold. Instead, scrub tile with a soft nylon brush and baby shampoo mixed with water.
Give That Drain Cleaner a Second Thought

Most clogged drains are caused by (you guessed it) hair! A drain cleaner can help, but repeated use can erode your pipes. Instead, try a mini snake. The long, thin piece of plastic has little barbs at the end that grab gunk and pull it out (from $2, at hardware stores).
Got a leaky faucet or showerhead? The culprit is probably a worn-out or loose cartridge (the cylindrical stem behind the shower's on/off handle). Turn off your water supply, unscrew the handle and mounting plate, and twist the cartridge to tighten. If that doesn't help, get a replacement from the fixture's manufacturer. You should be able to swap it out on your own.
Weak Water Flow? Check the Showerhead

Before you blame your home for low water pressure, inspect the showerhead for mineral buildup, which can block the spray jets. You can remove buildup with a lime and calcium solution such as CLR (about $5 for 26oz., at drugstores), but your best bet is to buy a showerhead with rubber-tip jets, which you can wipe with a cloth to break up deposits.
It's Worth It to Squeegee

Water can leave behind minerals that create a whitish haze over glass doors and tile. The longer the minerals sit, the harder they are to remove. So a quick squeegee after the last shower of the day will make cleaning easier in the long run.
3 Smart Ways to Get Rid of Mold

Steam: Tackle growth on grout and tile with a tool that emits a high-powered blast of steam, such as the Steam Shot Hard Surface Cleaner ($40, bissell.com).
Fan: An always-damp shower is the perfect breeding ground for mold. If you have a ventilation fan, run it while showering, and leave it on for 20 to 30 minutes after you're done.
Bleach: Curtain liners hang on to mold especially well. Once a month, wipe them down with a solution of one part bleach to 10 parts water.
Meet the experts: David Drexler, co-owner, Drexler Shower Door & Custom Glass; Lon Libsack, owner/member, Shower & Bath Connection, LLC; Mike Reffner, group product manager, Moen