Explore the many options for creating a beautiful bathtub area.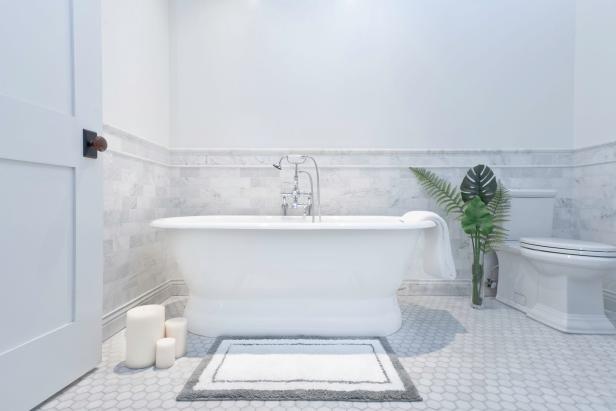 Pristine Bathroom With Freestanding Bathtub
Crisp white walls paired with marble tile creates a soothing atmosphere in this elegant bathroom. A freestanding bathtub with candles nearby offers a spa-like retreat.
In recent years, options have expanded not only for the shape and size of tubs but also for the materials used, including acrylic, stainless steel and other metals, slab stones and mosaics as well as traditional porcelain. The first step in any tub-design decision is to tour local models and stores to get a good idea of what's available to meet your needs. Here are some trends and general thoughts on design for your consideration:
Reproduction claw-foot and skirted tubs are resurrecting an early-19th-century stand-alone style.

The most common type of tub is the drop-in tub. Drop-in tubs leave the tub surround (or countertop of the tub) and skirt open for limitless design possibilities.

The skirt can match the flooring for a free-floating look or can be covered with wood paneling embellished with columns and molding for a dressier, more traditional look.

Polished slab stones are wonderful choices for contemporary bathtub skirts.

Tub placement is important to great design. Tubs are often separated from the shower. A favorite option is to place the tub in front of large windows with wonderful views.