Modern Bathroom Vanity Update
Give an old vanity a fast makeover with fresh paint and repurposed door knockers.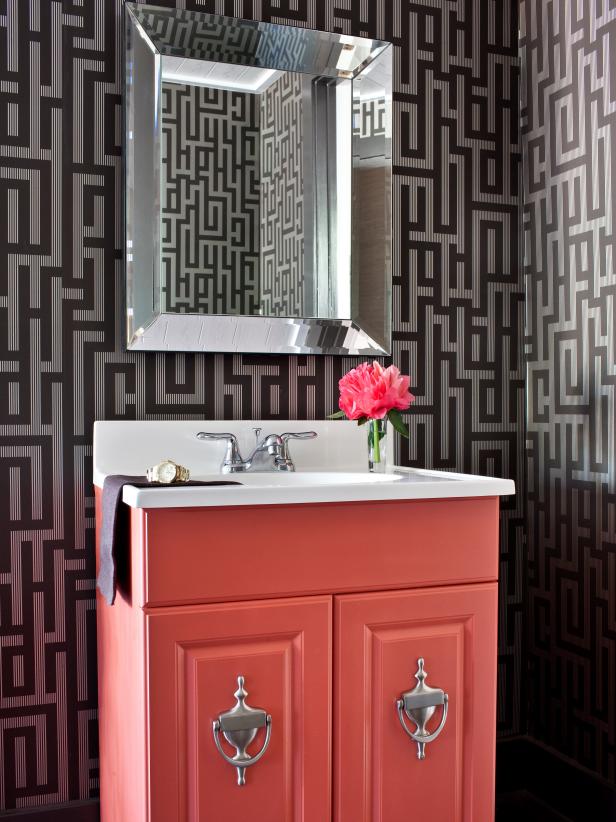 Stylish Bathroom With Graphic Wallpaper and Salmon-Colored Vanity
Designer Brian Patrick Flynn painted this small bathroom's vanity a bright orange-pink hue to contrast with the neutral colors of the graphic wallpaper. Elegant door knockers take the place of traditional cabinet knobs for a one-of-a-kind look.
solid metal front door knockers
basic white or wood bathroom vanity
screwdriver
wood filler
putty knife
semi-gloss enamel paint
paintbrush
paint sprayer
screws
nuts
tape measure
pencil
medium-grit sanding block
drill
drill bit
wrench
Remove existing door pull with a screwdriver. Using a putty knife, fill the hole with wood filler. Once wood filler has dried, sand lightly with medium-grit sanding block.
Spray two coats of bold color onto doors and base. As necessary, use brush to paint details.
Use tape measure to determine center point of door, then mark with pencil.
Using pencil marks as guides, drill holes into door.
Place door knocker flush with front of door, then screw in place with the screwdriver. Add nut to screw on back of door, then tighten with wrench.