Drop-In Bathtub Design Ideas
Drop-in bathtubs are the most common design choice for bathrooms today because of the myriad ways in which you can personalize them to your style and taste.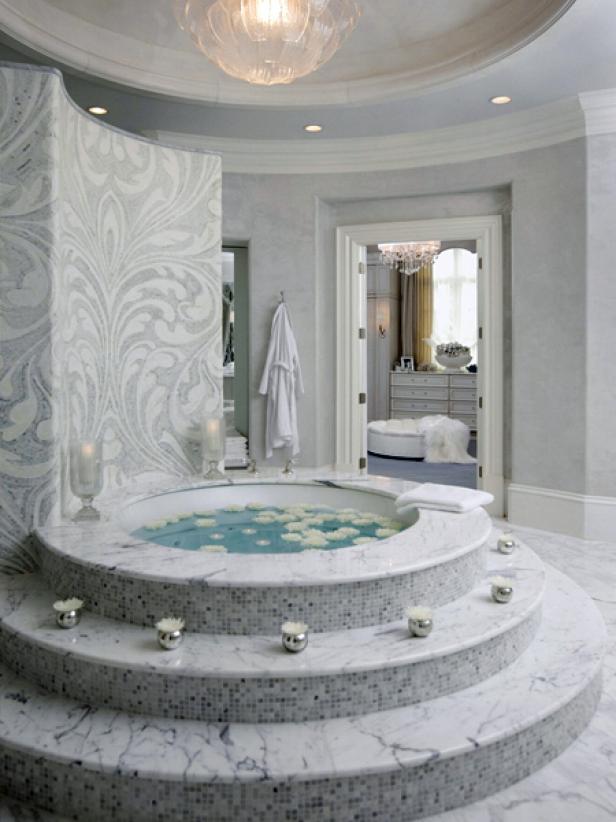 White Mosaic Bathtub
This transitional bathtub from designer Michael Habachy is finished in mosaic tile and topped in marble. It is accented by a decorative wall and coordinated marble flooring.
Drop-in bathtub design ideas appeal to lots of homeowners because of their versatility in design options. Because drop-in bathtubs are essentially just tub shells, this allows for limitless design possibilities for the deck and surround, and the units can be completely customized to your design tastes.
Most drop-in tubs have a finished rim and are made to fit right into the deck or custom surround. These tubs can be placed almost anywhere there is plumbing and space to build a deck structure to surround and support it. A rimmed tub has a finished edge that overlaps the deck; for a more sleek, continuous look, choose an undermount tub.
Undermount tubs are a type of drop-in tub that are designed for floor-level installation. Flooring such as tile covers the lip of the tub in this case. This gives a seamless look, because the floor tile runs right up to the edge of the tub, and you can step right in.
If you are planning an upgrade from a basic acrylic tub, you should spend as much time thinking about bathtub surround ideas as you do on choosing the bathtub itself. When budgeting for your new drop-in tub, remember that the surround is a separate expense from the tub itself, so take that into account.
The design ideas are endless, and you should take the time to look through books and visit home improvement centers to become familiar with the wide variety of styles available. For instance, the skirt, or front, of the tub can match the flooring for a seamless, free-floating look. Or the skirt can be covered with wood paneling to match the cabinetry for a dressier, more traditional look. Any kind of beautiful polished slab stones, such as marble, also make wonderful choices for contemporary bathtub skirts.
Choosing wood paneling rather than tile or stone will give your bathroom a more natural, casual feel. You can even add simple panels of beadboard or wainscoting to give it an upscale spa look. Wood finishes require a much smaller budget than expensive tile or stone finishes, but they still can look beautifully elegant.
If you want to get a large, grand drop-in bathtub, give it the royal treatment. Choose polished stone slabs or tile for the surround. When designing it, be sure to include at least one step to get in and out of the tub. Don't forget the faucet and fixtures. Bronze, brushed nickel or other high-end finishes will complete the overall look.
Settle on your personal taste and style and then design your drop-in bathtub surround to match. Consult with bathroom designers and professional contractors and installers. You'll soon have a stylish, relaxing oasis worthy of a magazine spread.
More Bathtub Styles and Options
Other Bathroom Styles for Your Home