Bathroom Color on the Quick
Need to inject some color into your bathroom but don't have time for a total redo? Try these quick color tips from interior designers.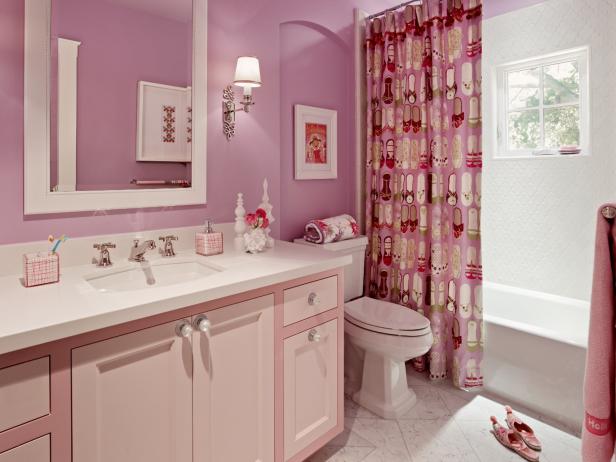 Pink Girl's Bathroom
This bold pink bathroom borrows colors from the custom-made shower curtain and places them throughout the rest of the space in carefully chosen accessories. A single vanity offers plenty of counter space for trinkets, as well as much-needed storage underneath.
Coddington Design, Scripps Networks, LLC
The toilet handle you have to jiggle a little, the shower doors that will almost instantly get mildewed unless you leave them open "just so," the slightly loose tile on the floor to the right of the sink? There are lots of irritating little bathroom flaws that we never seem to take care of and just learn to live with them instead.
But a bathroom without much color? That's something you should fix, says designer Cy Winship of Minneapolis. "You need colors you like to make you feel good in any room, and the bathroom, even a small powder room, should not be neglected."
Luckily, says Winship, there are dozens of ways you can add color without ripping out tile floors or walls, installing new tubs, sinks or toilets. And they come right back out of the bathroom if you need to move them to another room or another place.
"There's nothing wrong with a colorful bath rug, but why stop there?" says LaDonna Pare, a franchise owner for Interiors by Decorating Den in the Bowling Green, Ky. area.
Pare and Winship share these ideas for adding quick — and easy to change — color to the bathroom:
Winship and his partner moved into a 1907 home in Minneapolis, housing a 1970s bath, all dark brown and mustard and Mediterranean plastic, with walls of floral Masonite, he remembers. The two were working so hard on so many other rooms, Winship did a quick-change in this one, turning to collage artist Matisse for inspiration.
"I painted over the Masonite with a really good primer and then I decoupaged tissue paper in vivid colors over it — indigo blue, sunny yellow, even some silver tissue paper. It looks luminous, freckled, almost like water. Above the shower stall, I did much brighter colors and I sealed it all with a water-based polyurethane."
While Winship applied his decoupage directly to the wall, his "simple French" look would work just as well applied to foam core or poster board, framed or not, and then hung on a bathroom wall for a splash of color you could change out whenever you want.
"Paint the walls, or if they're mostly tile, paint the ceiling!" says Winship. "If the color doesn't work, you can paint it something else." And should you need to sell the house later, and believe the accepted wisdom that only white walls are appropriate in "For Sale" bathrooms, you can spend an afternoon painting it back. Or for just a minimal change, paint a frame and hang it on the bathroom mirror with Velcro.
Buy colorful, off-the-shelf window treatments and shower curtains, or consider custom. "That way you can pick pretty fabric that goes with your color scheme and coordinate it to look nice with something on the wall," says Pare. "There are lots of options when you go the custom route." If you have one of those bathrooms with the rare empty wall, consider tacking a bright, batik bedspread to cover it, hanging straight down or in easy folds.
"Use the top of the toilet for bright, fun items," says Winship. He, for example, placed a bright yellow vase on the toilet tank that picked up other colors in the bathroom and holds corn husk flowers he got on vacation. He also decoupaged fake vases on the wall behind the tank and says his Ugly Duckling bathroom is now his favorite room of the house.
"Put a piece that's really fantastic, really pretty over the toilet," says Pare, "because once that door closes, people definitely spend some time looking around and getting an impression." Unless the art's going to be in a central bathroom with lots of traffic, "moisture's not such a worry," she says. "But if you're placing art somewhere moisture might get to it, opt for something that's not that expensive."
The bathroom's also a great place for those bright posters and large prints you never know what to do with, says Winship. "You know, the ones you keep around but you think are too expensive to mat and frame? Buy an inexpensive poster frame and hang them in the bathroom. No one cares what the frame looks like there, and if the moisture gets to one and it ripples, you can switch it out."
He recommends haunting estate and garage sales for bathroom art. "That's where you find that weird art like those little oils Aunt Martha painted. Think, 'Oh my gosh, there's a clown with a knife in his hand! Let's buy that and put it in the bathroom.' It's nice to see something to make you giggle in the morning."
Of course, even the zaniest art should have at least one element that picks up other colors in the room, says Pare.
And what should those colors be? Often, you're limited by the hard-and-fast items in the room, like the '60s style pastel tiles, says Pare. "When you add other colors, they'll have to complement, but the right selection can update the design and downplay the colors you don't like." Today's popular chocolate-brown accessories, from towel racks to curtains, for example, give old-style pastels a fresh look, says Pare.
The Pantone "color palettes" that are released each year can give you good ideas for bathroom color, "and I love them," says Winship. "Next year they'll come out with a whole new set and those will be out."
Instead, says Winship, "choose what you like." But he's got a few caveats. "Peach looks like a bad '80s hotel room," he says. "We're not over it enough to laugh at it yet."
The light in the bathroom should also influence your decision. "Really dark colors can be fabulous, but you have to make sure the bathroom gets enough natural light, or put in some other lighting, if you want to use them. Otherwise, the effect is just dark, and you need to be able to see to shave and put on makeup."
The idea of looking at yourself in the mirror with these colors framing you brings up another issue. "Even when it's just extra color, you shouldn't put anything in your bathroom that will make you look ghastly in the morning, like lime green — a mistake I've made before—and yellow, unless it's a real warm shade."
"More than anything," says Winship, "remember that it's your house. The color you choose should express who you are, unless it's peach."
Pantone Color Palettes
www.pantone.com