Make room for a kitchen island in the smallest of spaces with these design ideas.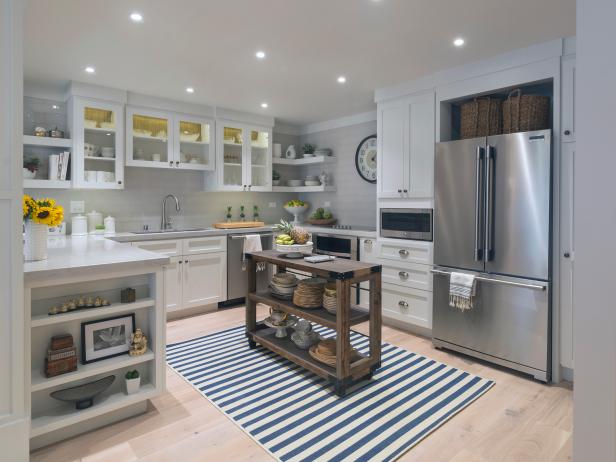 Small Kitchen Space with Plenty of Storage Options
A place for everything and everything in its place is the design motto of this elegant country kitchen. With lower cabinets on three sides of the space, upper cabinets scattered throughout and a rustic, storage island, this small kitchen has plenty of storage space to keep the homeowners organized.
By:
Caroline Shannon-Karasik
A small kitchen design doesn't have to result in a recipe for disorganization and too little counter space. In fact, the addition of a kitchen island can provide extra storage room and a place for food preparation, making the space more manageable.
When designing the kitchen layout for a small space, it is important to thoroughly consider the size of the space you will be working with in order to find a kitchen island that will be efficient. Decide on where you will be placing the kitchen island and how tall you would like for it to be.
Home goods stores are ideal for choosing ready-made kitchen islands, like a butcher's cart, that will easily fit into a small kitchen space. But repurposed items, like a small desk, bookshelf, dining table or crates can also make an interesting, unique kitchen island. Simply choose the item with which you will be working and top it off with your desired surface, like a stainless steel countertop. Bookshelves or openings in crates can be used for storing kitchen items, like appliances and cookbooks.
Depending on available space, you may have room for a kitchen island with seating by squeezing in a stool or two on one side. If you only have room for one, then consider purchasing a seat that can be easily moved when you need to use the island for other purposes.
More Kitchen Island Design Ideas
Other Kitchen Island Designs