Brush up on retro kitchen cabinet ideas, and get ready to add a midcentury modern touch to your kitchen design.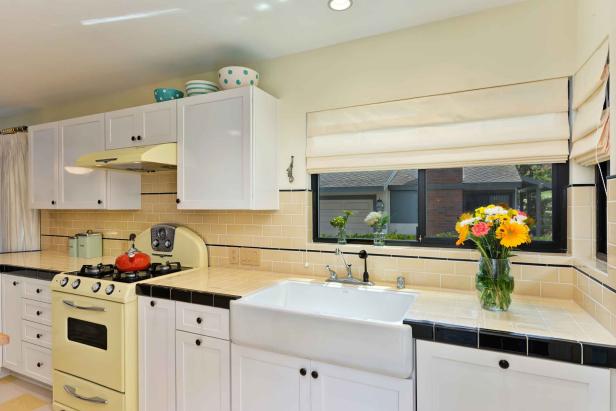 Retro Yellow Tile Countertop and Backsplash With Black Trim
New windows and the yellow tile countertop and backsplash each come with black trim, offering a bit of a modern edge to this retro style kitchen. The stars of the space are the brand-new retro-inspired stove and sink, which help complete the 1950s feel of the space.
Jackson Design and Remodeling
If you want to add a sleek, classic-but-contemporary design to your kitchen, you may want to consider retro kitchen cabinets. Calling them retro is even something of a misnomer, as these cabinet styles tend to appear in some of the most modern kitchen designs.
One of the most popular retro kitchen cabinet styles is midcentury modern. This design movement was marked by efficient, angular, sturdy construction, as well as artistic touches like flowing curves and geometric shapes.
Midcentury modern style cabinets are available in a variety of materials, colors and designs from many home improvement, design and furniture stores. They're often characterized by a sleek, seamless look, understated and with minimal adornments or design flourishes. Hardware for retro kitchen cabinets tends to follow a similarly understated approach.
Another approach for retro kitchen cabinets is to emulate the classic style of the post-war kitchens of the 1950s. Often marked by the sleek, retro-futuristic angles and exaggerated curves of space-age design, another trademark of these retro kitchens is the use of bold, bright, high gloss colors, particularly in shades of red and green. Additionally, backsplashes and floors often display geometric patterns that offer a contrast to the sleek design of cabinets and appliances.
Other Kitchen Cabinet Styles
More Kitchen Cabinet Ideas