Get all the info you'll need on pantry storage, and browse inspiring pictures to get you ready for your pantry project.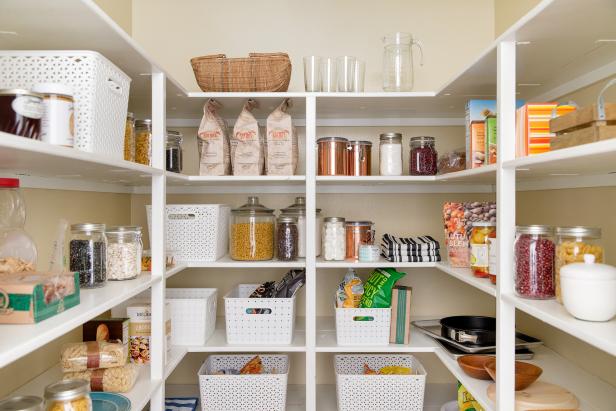 Walk-In Pantry
Additional storage is available in the adjacent walk-in pantry that includes shelves with white woven plastic storage baskets in different sizes for smaller items, and plenty of space for everything from boxes of cereals and bottles of water to paper products and extra serving plates.
Photos: Christopher Shane/Styling: Elizabeth Demos
A kitchen pantry can be an oasis of organization or a chaotic, time-consuming headache. Browsing these kitchen pantry storage ideas will help you create a kitchen storage space that's both efficient and stylish.
The first thing to consider when contemplating pantry storage is space. If you've ever tried to find a food item or cooking supplies in a disorganized, overflowing pantry, you know that creating efficiency in what's usually a tight space is an essential element of pantry storage design. Some innovative ways to approach the space issue include pull-out or rotating drawers that allow easy access to the back of the pantry. You might also consider a full folding door system that allows the whole pantry to expand and collapse.
Another thing to keep in mind when contemplating pantry storage is that your pantry doesn't have to be located in a dark, musty, unused closet adjacent to the kitchen. Think about using existing wall space to create a "built in" pantry, or exploit rarely used lower drawer space for a convenient pull-out pantry.
One thing to keep in mind when designing your pantry storage is that drawers or shelves that don't pull out or rotate should be shallow. This helps you avoid the problem of having food items stacked in the back of the pantry where they're inaccessible. If the drawers or shelves are somewhat narrow and shallow, food items will always be front and center, both easily viewable and accessible.
Other Kitchen Pantry Ideas
Kitchen Pantry Inspiration