No matter the decor, a Mediterranean kitchen design will offer a variety of textures and colors.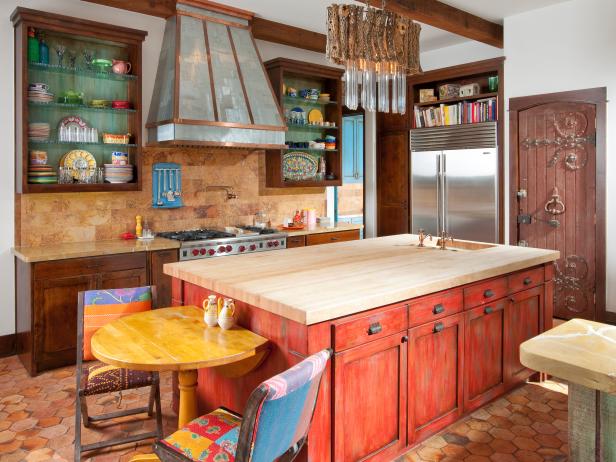 Eclectic Kitchen With Distressed Red Island
A large island with a butcher-block countertop is a grand focal point in this spacious eat-in kitchen. Its distressed red finish adds country flair to the room's eclectic Mediterranean ambiance. The galvanized range hood is flanked by open shelves with an artful collection of dishes. A yellow pedestal table with two chairs at the end of the island offers a comfy place to dine or socialize.
By:
Caroline Shannon-Karasik
The Mediterranean kitchen is best accented with the spicy, rich colors that are often associated with that region. Taking inspiration from the various countries and climates that border the Mediterranean Sea, this kitchen design is anything but boring.
A classic Mediterranean kitchen might feature muted tan, beige or cream walls that mimic the neutral tone of sand. After a wall color is chosen, bold accents and intricate designs begin to make their way into the kitchen space with bursts or blue, red, green, orange and yellow throughout the room. Cabinets, countertops and flooring are typically understated in shades of white, tan or light-colored wood and stone, making room for a more unique style in other aspects of the kitchen design.
Choose pops of color when selecting kitchen accents—from larger elements, such as a kitchen island base, to smaller items such as throw rugs, dishes and glassware. For instance, a Mediterranean kitchen style might pair a distressed teal wood kitchen island with white countertops, cherry wood cabinets and a white tiled backsplash. It's these surprising design elements that make a Mediterranean kitchen beautiful in its own right.
More Kitchen Design Ideas