Explore options for kitchen classic cabinets, and prepare to create a timeless cooking space in your home.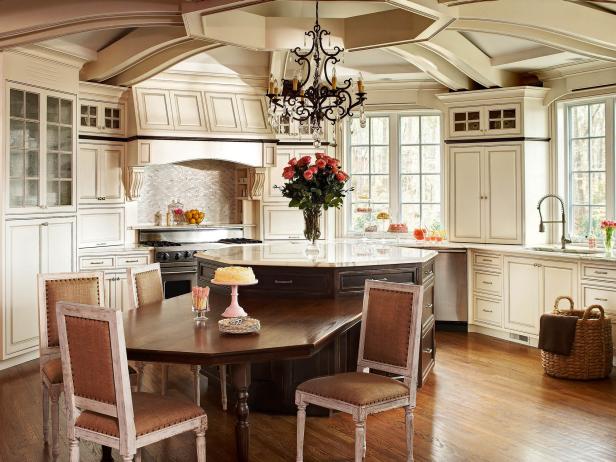 Kitchen Classic Cabinets
This octagon-shaped kitchen is anchored by a large island and attached kitchen table. The mix of finishes keeps the classic kitchen fresh and interesting. A crystal chandelier and white marble countertops add elegance to the inviting space. Cabinets that extend to the extra-deep countertops keep clutter and small appliances out of sight.
Whether you find yourself torn between styles or just want a flexible kitchen space that allows you to combine different designs, kitchen classic cabinets may be a great option for you.
Kitchen classic cabinets are the blank slate of kitchen design—they're no frills, no fuss, but they allow for other styles to combine seamlessly. In addition, they let you express your style and personality through any number of additive design flourishes.
In terms of materials, kitchen classic cabinets tend to be constructed from wood. It's the most traditional cabinet material, and it suits this classic style well. Similarly, the color palette for kitchen classic cabinets is generally white to cream.
One of the great advantages of kitchen classic cabinets is that they can significantly improve a home's resale value—because they're somewhat style-neutral, a prospective buyer is less likely to consider them a 'non-starter' or a negotiating point.
That said, there are many style touches you can add to kitchen classic cabinets that will add a bit of life and personality. Consider contrasting colors when choosing floors and countertops—dark hardwoods for floors and grays or blacks for countertops work well. Simple, classic details like crown molding or glass for doors can also add visual appeal and interest.
Other Kitchen Cabinet Styles
More Kitchen Cabinet Ideas