French Country Kitchen Cabinets
Get all the info you'll need on French country kitchen cabinets, and create an elegant kitchen design in your home.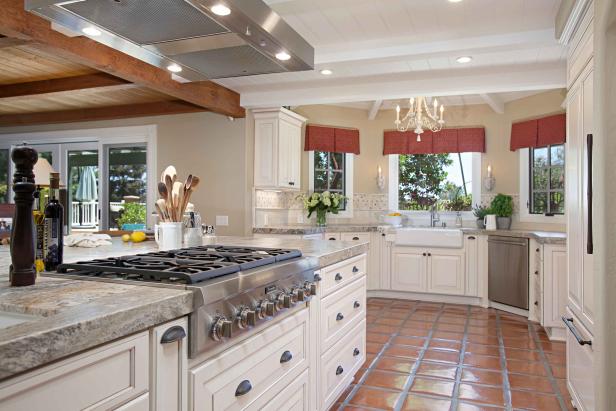 French Country-Inspired Kitchen With White Cabinets
Beautiful white cabinets pair with warm terra cotta tile floors in this French country-inspired kitchen. A cooktop is incorporated into the large island, which provides ample storage space.
Jackson Design and Remodeling
If your goal is to create a kitchen that's both elegant and welcoming, French country kitchen cabinets may be the style for you.
Characterized by intricate craftsmanship and refined but lived-in style, French country kitchen cabinets offer a unique twist on country kitchen style.
One of the trademarks of French country kitchen cabinets is "furniture style" features. The designs of these cabinets often incorporate moldings, intricate arches, glass-paned doors and other flourishes that hint at classic French furniture styles. Substantial, elegant hardware often completes the design.
Wood surfaces may be slightly antiqued or distressed to pair the elegance of the design with a welcoming, lived-in look.
Finally, metals and other contrasting materials may be paired with natural woods to give French country kitchen cabinets an ageless, antique feel. Copper and bronze design elements are common, hinting at a historical design that has evolved over time and incorporated many diverse styles.
Other Kitchen Cabinet Styles
More Kitchen Cabinet Ideas