Consider these environmentally friendly countertops when designing your new kitchen surface area.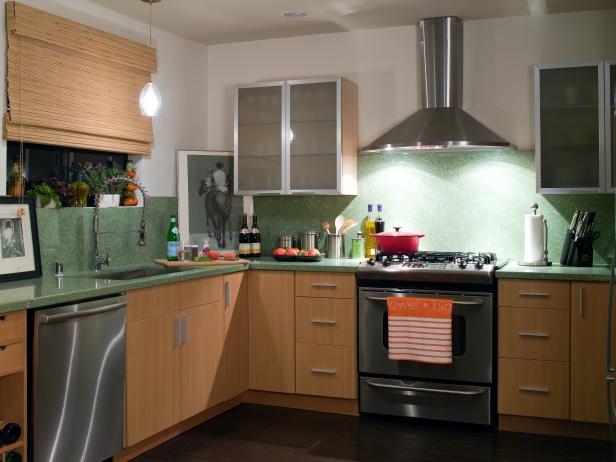 Contemporary Eco-Friendly Kitchen
Stainless steel appliances, hardware and accents make this kitchen feel fresh and contemporary. Recycled countertops give the space a pop of color and an eco-friendly touch.
By:
Caroline Shannon-Karasik
If environmental issues like sustainability and low impact are high on your priority list, then you might want to consider eco-friendly countertops when designing your kitchen. Green countertop surfaces can be made from a number of materials, including recycled glass, paper, plastic and tree pulp, in addition to sustainable bamboo.
Recycled glass is not only an eco-friendly option, but it can be made to look like stone countertops, using a mix of colored glass pieces. Recycled glass countertops are available in tiles, concrete and resin, depending on the material that will best suit your kitchen area. Glass countertop tiles are a good option if you are seeking a do-it-yourself option that will add a bit of flair to your current countertop.
Richlite paper-based countertops are a great alternative to stone and plastic surfaces. They are composed of pulp from trees that are harvested in sustainable forests with closely managed environmental mandates such as habitat conservation. They come in a variety of colors and options and are mostly stain-, scratch- and heat-resistant.
Complete your eco-friendly kitchen by choosing bamboo cabinets and flooring, in addition to a kitchen island made from a repurposed item, like a desk, dresser or old barn doors.
Other Kitchen Countertops
More Kitchen Countertop Ideas