Concrete Countertops Increase Kitchen Options
Make a splash in the kitchen with the distinctive use of concrete.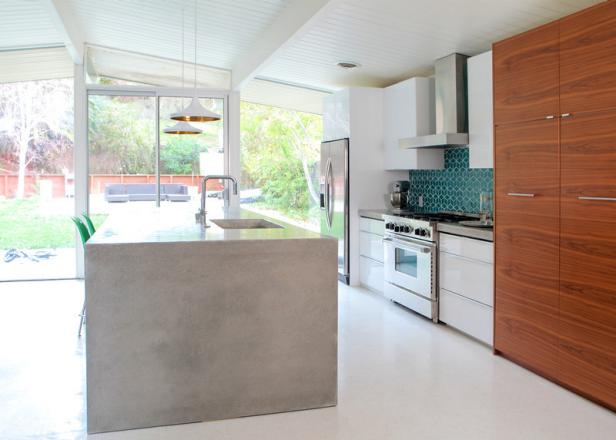 Modern Kitchen With Concrete Countertop
"The concrete counters act as a grounding material and since we DIY'd them, it was a cost-effective way to install new counters," Nepacena notes. "My husband and I formed and poured our concrete countertops for the kitchen. It took quite a bit of trial and error, including a number of unusable slabs in the early stages," she relates. "Our last slab came out near perfect (seven slabs later!), but we embrace the imperfections of our countertops knowing we created them ourselves."
Since the kitchen is the hub of culinary creativity, more homeowners are moving away from the manufactured look of laminates and choosing materials that are as inimitable and timeless as a treasured family recipe. Countertops made from concrete are the latest trend du jour in kitchen interiors. Discriminating homeowners are discovering that this versatile, moldable medium can be handcrafted into a distinctive surface that expresses their individuality, design preferences and even their cooking style. (Note: If you're open to other materials, you might also want to consider engineered stone and recycled glass countertops.)
A Bold Choice

"The clients I work with feel that the current crop of countertop choices — granite included —are too ordinary, passé or inadequate to satisfy their particular vision for their kitchen," says Jeff Girard, founder of FormWorks, Raleigh, N.C., and president of the Concrete Countertop Institute, a training facility offering hands-on instruction in concrete countertop fabrication. Girard has seen the demand for concrete countertops skyrocket, especially among homeowners eager to participate in the creative process. Residential kitchen and bath remodels represent a large portion of his work.

"Concrete countertops are not simply sidewalk slabs slapped onto cabinets," Girard explains. "These are carefully crafted, highly engineered slabs that are processed to achieve a high degree of fit and finish."
Most concrete countertops are precast in molds built to the customer's specifications so they can be formed, cured and finished under controlled conditions. However, some fabricators prefer to cast the countertop onsite, setting the mold on top of the base kitchen cabinets and then filling it with concrete. Regardless of the casting method used, these are not cookie-cutter creations. Every casting is custom-made and thus inherently unique.

Concrete countertop makers often develop their own signature looks by using proprietary mix ingredients, casting techniques and surface treatments. Many are artists by trade and will collaborate with homeowners, architects and interior designers on ideas that will add to the character and individuality of the final product. The options for personalizing concrete countertops are endless. Here are just a few of the possibilities:
Incorporate curves and angles. Customize the color to match another kitchen design element, such as a tile, a swatch of fabric or a favorite piece of china.
Add sparkle with aggregates or glass chips — even fiber-optic lighting.
Incorporate personal mementos, such as bits of broken dishware and bottle fragments excavated from the backyard of an old home.
Integrate built-ins: sinks, drain boards, soap dishes and trivets are all easily integrated into concrete countertops and, in many cases, are also cast from concrete.
Concrete can be earthy and natural, with a tactile quality not found in synthetic or stainless-steel surfaces. Because each concrete countertop is hand-cast, it exhibits subtle variations in color and texture. Concrete countertops can also be adorned with botanical imprints from real leaves or embedded with colorful stones, seashells and even fossils.

The environmental benefits of concrete also appeal to homeowners — especially those who are using eco-friendly cabinet designs. Concrete is an eco-friendly alternative to petroleum-based synthetic products and nonrenewable natural materials such as quarried stone. Some concrete countertop makers incorporate natural minerals and recycled materials into their creations, such as fly ash (a byproduct of coal production), metal shavings, plastic regrinds, recycled glass and scrap wood chips.
Because of the time and craftsmanship required to build a concrete countertop, the price tag can be high, from about $65 to $125 per square foot, depending on the degree of handiwork involved, according to Concrete in the Kitchen, published by The Concrete Network.

"Concrete countertops — like any other custom handmade product — command premium prices," Girard says. "They are very labor-intensive to produce, and the quality is entirely dependent on the skill and craftsmanship of the maker."
But for the homeowner in quest of an artistic, one-of-a-kind countertop that transcends the commonplace, concrete may be well worth the premium.