Get all the info you need on stylish black kitchen cabinets, including tips on materials and shades.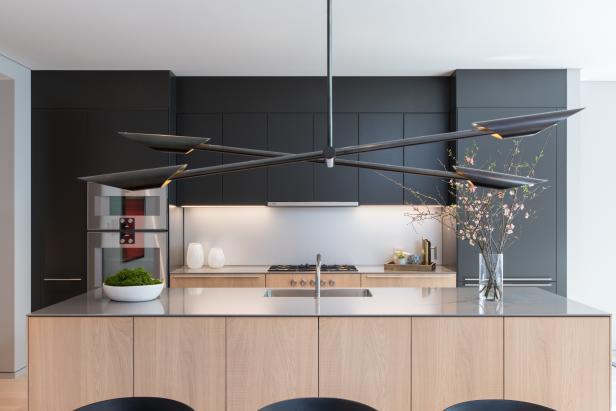 Modern Kitchen With Matte Black Cabinets
That dramatic design continues into the kitchen, where black cabinets create a cool visual contrast to the white walls. A modern island centers the space and gives the owners a station for meal-prep.
Whether you're installing brand-new kitchen cabinets or updating the look of your existing ones, you may want to consider a bold style choice: black kitchen cabinets. Because most kitchens primarily feature lighter colors, black cabinets can provide a striking and attractive contrast.
And remember that black doesn't have to mean darkest midnight or ink black—most paint manufacturers now offer a wide variety of black hues, many with interesting tones that almost cross over into gray. The color and style of the rest of your kitchen, and how bold a statement you want to make with your cabinets, will likely determine the shade of black that's right for your kitchen cabinets.
Another thing to consider if you've got black kitchen cabinets in mind is the cabinet material. Black shouldn't be thought of as an exclusively modern color, but it does work well on angular, crisp cabinet styles made of laminate materials. A softer black, sometimes with a slightly weathered look, can also work great if your cabinets are more traditional—especially when contrasted with light tones on walls and countertops.
Other Kitchen Cabinet Colors
More Kitchen Cabinet Ideas