Smart Storage for Kids' Rooms
Kids are natural collectors of toys, books and stuff. Learn storage and design tricks to cut the clutter.
As long as you're taking the time to plan adequate storage for your child's room, it's wise to think about how that storage will adapt as his or her needs change. For example, a cubby system with soft bins on the lower shelves is ideal early on because it allows a crawling baby or toddler to access toys with ease and just as appropriate later when the same slots can hold sturdier boxes of action figures or cars.
Transitional Closet Systems
Look for a system with adjustable shelves that can move up and down or out as the size of your child's clothing changes. When your baby is small, you may want to use the lower portion of the closet to hold a dresser, bookshelf or extra toy storage — but plan ahead so it can accommodate a second rod for additional clothing storage in the future.
Even the best-executed closet can't force kids to keep their things neat. But the easier you make it to put things away, the more likely they are to do so. Think shelves and bins, not drawers and cabinets; hooks, not hangers; and curtains, not doors.
Kids' Closets: Clothing and Toy Storage for Boys and Girls
See All Photos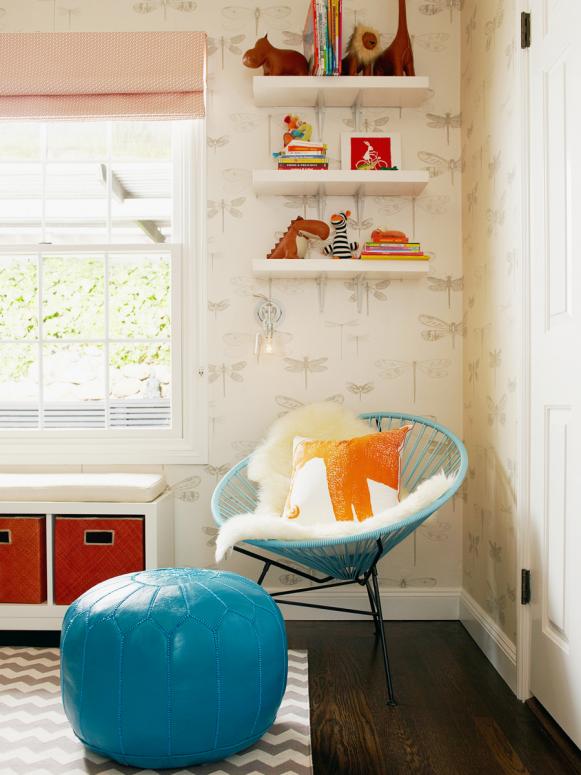 Neutral Kids' Bedroom With Blue Ottoman and Whimsical Wallpaper
Photo courtesy of Niche Interiors
Wall-mounted shelving makes the most of vertical space and helps keep essentials easy to access. Instead of crowding the surface of your changing table with wipes, cotton swabs and more, arrange them in low-sided bins on shelves hung nearby. The space above a dresser or desk is another great spot for shelving. Use these for displaying artwork now or favorite collections as your child ages. "Kids are natural collectors," says Susanna Salk, designer and author of Room for Children. "But all those collections can look like clutter unless you plan a way to display them attractively."
What type of shelves should you choose?
Floating shelves, which have no visible supports, are one popular option. They're easy to install and have a clean, modern look that doesn't compete with the objects displayed on them.
Choose a more traditional shelf-and-bracket system. You can buy basic L-brackets at any hardware store, or look for something a bit more decorative for a personalized look. "Sometimes I buy a bracket system but not the shelves," says Houston-based decorator Christie Chase. "I'll get wood shelves cut to fit, then paint them a bright color for a more custom effect."
Ready-made bookcases are a great storage option. Look for sturdy construction and adjustable shelves. Shelves deep enough to store oversized picture books, and boxes or bins for toys are best for younger children. Older children may prefer shallower shelves that paperbacks won't get lost on.
Whichever type you choose, take the time to secure the bookcases to the wall with a furniture anchoring system to prevent dangerous toppling.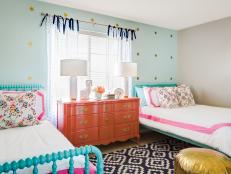 Follow top designers' tips and tricks for selecting the perfect color palette for your kid's room. Plus, their favorite color combinations for boys', girls' and gender-neutral rooms.