Add shelves to your laundry room to turbocharge the space's storage capacity.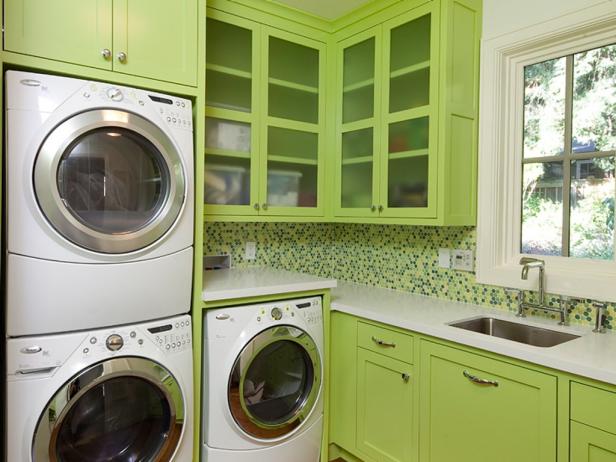 CI-artistic-designs-for-living_green-laundry-washer-kitchen-window-shelves_4x3
Use bold color to make a statement. This laundry room by Artistic Designs for Living is a great example of how color can make a spectacular impression. The lime-green paint ties all of the cabinetry together while making the space look fun and inviting.
Adding shelves to your laundry will go a long way toward turning even a small space into a functional area for work and storage. You can choose from a wide range of options, depending on your needs, decorating tastes and budget. Laundry room shelving can take many forms, from custom built-ins with decorative trim to simple wire mesh systems that can turn any wall into a supercharged storage space.
Your top priority, particularly if your laundry space is small, is to maximize the use of all of your vertical space. Install shelves up to the ceiling, and store little used items, such as seasonal and holiday decorations, on the top shelves. Keep a folding step stool tucked in a corner and pull it out when you need to take down these items.
If your remodeling budget is limited, you can install shelves yourself. Home improvement stores offer shelving systems that can usually be installed during a weekend. You could also build a simple supply shelf that slips over the washer and/or dryer, or just repurpose a bookcase to hold laundry and other cleaning supplies as well as canned goods and other pantry items.
If your laundry room doubles as a mudroom or side entry to your house, consider adding a hall tree with shelves. This extra storage area for shoes, backpacks and other items will help keep family members from dumping their things on the floor when they get home.
For a finished look, paint wooden shelves a favorite color. Installing adjustable shelves will give your storage space more flexibility as your needs change. If your budget limits you to the more utilitarian look of wire mesh shelves, you can still add style with colorful, labeled containers, or put smaller items in clear plastic containers that allow items to easily be seen. Fasten a drape to the front of shelves to add color and keep items hidden from view.
Shelving doesn't have to be just on walls and above your washer and dryer. Setting your appliances atop sturdy shelves not only increases your storage space, but it also raises the height of your washer and dryer, easing strain on your back when you bend over to load and unload.
If fastening shelves to your walls isn't an option, try a standalone bookcase. Save money by perusing thrift stores and yard sales. A metal kitchen shelf is another good option, particularly if you have a lot of heavy things to store; large units can hold several hundred pounds.
Other Ideas for Laundry Room Organization and Storage
Other Laundry Room Design Ideas