Laundry Room Makeover Ideas
If your laundry space needs an upgrade, you have many options available.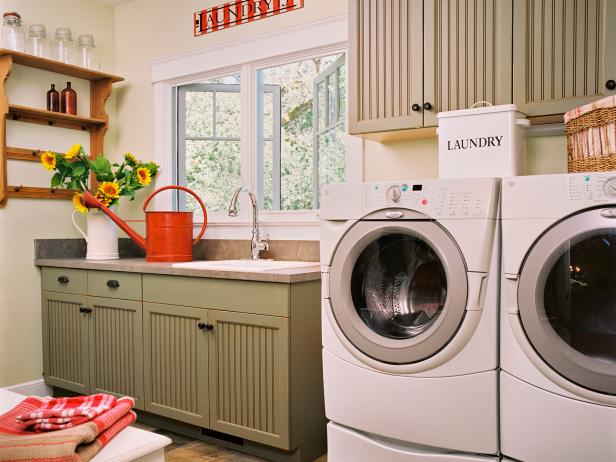 DP_Jane-Ellison-country-style-laundry-room_4x3
Laundry rooms can often become a catchall for shoes, coats, backpacks, mail and anything else that can quickly get dropped off at the door. But these "chore rooms" don't have to be merely industrial spaces; they can be just as clean, organized and designer-worthy as every other room in the house.
Looking to make over your laundry room? If the space where you clean your clothes needs a facelift, there are many ways to freshen your laundry room's look, as well as to create a system that gets it organized.
A makeover for your laundry room could be as simple as a new hamper system or as elaborate as tearing down a wall. If your budget limits what you can do, consider brightening the space with color via paint or wallpaper and upgrading your storage containers or shelves. If you have cabinets, consider painting them a new color. Plain shelves can be dressed up with painted wood trim or a fabric drape.
Ask yourself if you're making the best use of your vertical space; sometimes even a small shelf can make a big difference in the look and storage capability of your room.
Would moving your washer and dryer to another part of the room create more space? If it's time to purchase a new washing machine and dryer, consider whether a stacked set will meet your laundry needs and open up floor space. Sometimes the best solution to build an efficient laundry room isn't to create a larger room but to make the best use possible of a small space. Your first step might be to sort through the clutter that has accumulated before determining how much space is needed.
If your budget allows it, replacing wire mesh shelves with wood shelves or cabinets will upgrade your look. If construction is an option, is there a wall that can be removed or moved to help create the space you want?
One popular trend is to move your laundry center out of the laundry "room" to another part of the house. Many homeowners prefer to do their laundry closer to their bedrooms, so they aren't lugging their clothes from one end of the house to the other. Those who enjoy spending time in the kitchen may want to include their laundry appliances in that space, or in a mudroom. If your project will include a large master bedroom suite, adding a laundry center to your walk-in closet or dressing area can add unparalleled convenience. Some larger homes add a secondary laundry area upstairs. If all of your family members sleep upstairs, a laundry center tucked in a hall closet makes it easy for even young children to fold and put away clothes that are still warm from the dryer and free of wrinkles.