Finish the Box: Basement Walls, Ceiling and Flooring
Get tips for choosing materials and finishing a basement, from floor to ceiling.
Basments in Depth
Find ways to make the most out of your basement space.
Tempting as it may be, don't get the idea for a new basement space and rush downstairs with a hammer and nails. Some careful preparation and planning is required for a successful job.
Before you start, do your research. Because of moisture, insulation and lighting issues, basements require more than a basic knowledge of construction. And if you decide to hire a contractor to manage the project, you'll need to know how to manage your contractor, keep to a schedule and track expenses.
Take a step back and consider the following: energy efficiency, building materials and the specific issues associated with installing walls, flooring and ceilings in a downstairs space. And don't worry. We'll help you sort it all out.
Consider Efficiency First
Improving energy efficiency in a basement can be tough, especially if your basement is poorly insulated or has moisture issues. But creating an energy efficient space can address both of these problems, making for a more livable room and more money in your pocket.
To make your basement energy efficient, seal gaps between the framing and the masonry and around pipes going to the upper floors or outside. You can use caulk and spray foam. Insulating the rim joist, the board above the foundation wall that supports the floor joists, will block air leaks in and out of the home. This can help curb condensation.
Extruded foam insulation can be glued to foundation walls to reduce heat transfer and serve as a moisture barrier. Check for leaky ducts and seal them with mastic or foil-backed tape before hiding them behind framing or ceilings.
Basement Planning: What You Should Know
Choose Building Materials
Much of your building material options will depend on local building codes and whether you can frame a wall directly to the foundation walls. Any wood that touches a basement wall or floor should be pressure-treated so it won't easily rot it if gets wet.
Avoid building materials that can absorb water. Moisture- and mold-proof products are available, from cement-core insulated wall panels to waterproof flooring to moisture-proof crowns and trim molding.
Building a wall on the floor and raising it into place in a basement can be difficult. Many experts advise using a "stick framing" method of installing the top and bottom 2x4s first, then cutting each stud to size and toenailing them in place. This allows custom cuts of studs to accommodate uneven floors and for you to frame around obstructions. You can often build a wall inches away from the insulation, allowing an air gap that can help insulate your space.
For walls longer than 8 feet, subtract 3/4 inch from each stud location so drywall will fall in the center of studs and not fall short.
Frame around ductwork, support columns and obstructions like plumbing cleanouts, to leave access for them. That seemingly ill-placed ductwork could be framed to include a hiding place for a motorized roll-down home theater screen or projector, says Scott Varn of Harmony Interiors, a custom electronics firm. Framing around ducts can be an opportunity for incorporating decorative beams.
Use them to make a "tray" ceiling that's recessed, with a duct concealed on one side and an identical soffit on the other. It's a good idea to allow some room for pipe chases along walls where water and waste exit your house.
Drop ceilings provide a finished look while allowing access to pipes and valves located above head. Drop ceilings make routing wire fairly easy. If you plan to finish the ceiling with drywall or a material that won't allow access, frame around any plumbing valves. Leave an access hole in the drywall or other material, and cover it with an air grate.
Install Basement Flooring
We're sorry, there seems to be an issue playing this video. Please refresh the page or try again in a moment. If you continue to have issues, please contact us here.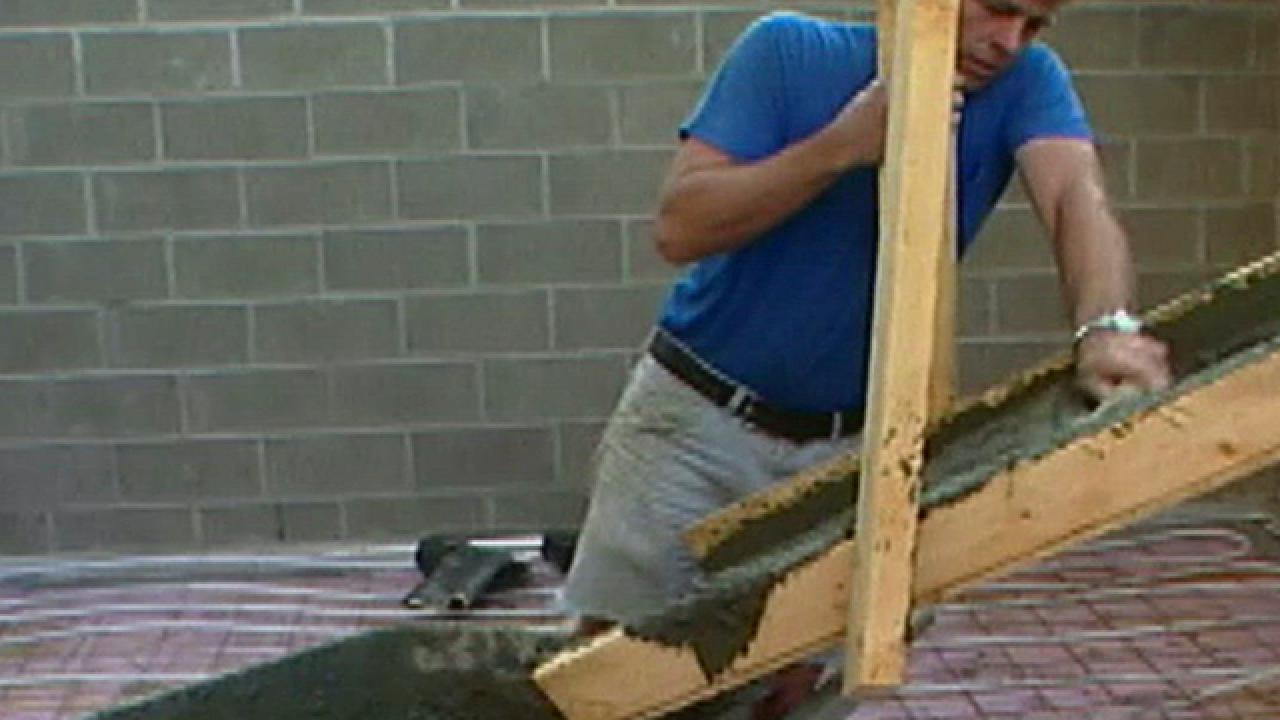 It's best to use waterproof materials for your floors. Laminated flooring is a popular choice. Beware: Laminate floors will have to be taken up if you have flooding problems, as the joints can absorb water and pieces can warp. Use a "floating floor" that snaps together, rather than one that adheres to the subfloor.
If you have enough headroom, 8 feet or more, you can put furring strips or 2x4s to raise the floor, especially if you have a drain that can be covered with a hatch. "A subfloor of plywood or another material other than concrete will make you feel more comfortable," Scott says.
And with any wooden or laminated floors in the basement, allow for expansion along the sides during humid weather. Some materials can extend 1/4 inch to 1/2 inch or more.
From media rooms to home offices to bars, get tips on transforming your basement.