Gather information on guest bathrooms so you can create a welcoming and efficient bath space for your home.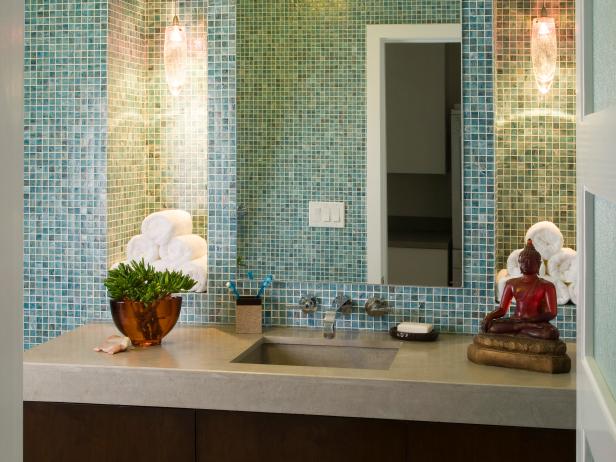 Contemporary Bathroom With Aqua Tile Backsplash
This guest bathroom features a gorgeous aqua tile backsplash. Two tiled niches on either side of the mirror provide storage space for towels and glass pendants give the space a soft glow.
Guest bathrooms can give you the perfect opportunity to create a bold entertainingly designed space that's welcoming for visitors to your home. These baths are often unbound by the constraints of other rooms, since they tend to stand alone in hallways or near guest bedrooms (which also present opportunities for bold design choices).
Before you approach style questions for your guest bathroom, you'll want to determine the layout. If space is an issue, consider a three-quarter bath containing a sink, toilet and stand-up shower. Most guests won't be taking the time to luxuriate in a bathtub, so this efficient design can give them all they need in a small space. Additionally, guest bathrooms generally don't require as much storage space as other baths in the home might, since guests won't be storing large quantities of bath accessories and linens over long periods of time.
Once you've decided on a layout for your guest bathroom, it's time to design. There's no requirement to go bold in a guest bathroom, and proximity to other areas of the house, like a living room or a guest bedroom with a particularly distinct design may make you want to continue a different style thread into the guest bathroom. However, if your guest bathroom is somewhat standalone, you can certainly experiment with bold colors and patterns, wallpaper and unique furniture and fixtures.
A guest bathroom should be welcoming and comfortable. However, you also want your guests to feel entertained and have fun, and the design of their bath space can contribute to this overall goal.
More Bathroom Styles for Your Home