10 Pieces of Lawn Art That Make Us Giggle
There's no place like gnome, where silly lawn statues, planters and other accessories add some grins and giggles.
Keep in mind: Price and stock could change after publish date, and we may make money from these links.
Those pink flamingoes are so yesterday. Show the neighbors what you've got with trendy lawn art that triggers a laugh. Here are 10 of our fave pieces for outdoor fun.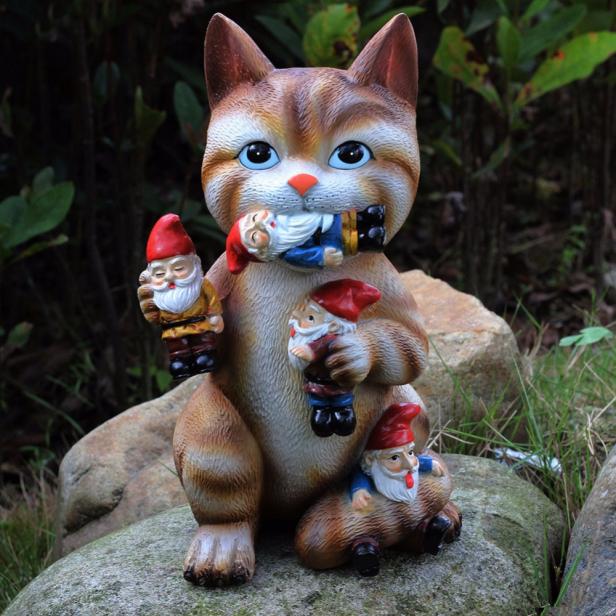 If you've had enough of those ubiquitous garden gnomes, this one's for you. If you think garden gnomes are cute—well, maybe you'll like the cat. This tiger-striped kitty is lightweight and stands 5 1/2" tall. The manufacturer guarantees he won't bite humans while he thins out the gnome population in your yard. BUY IT: AliExpress, $34.99
Buy It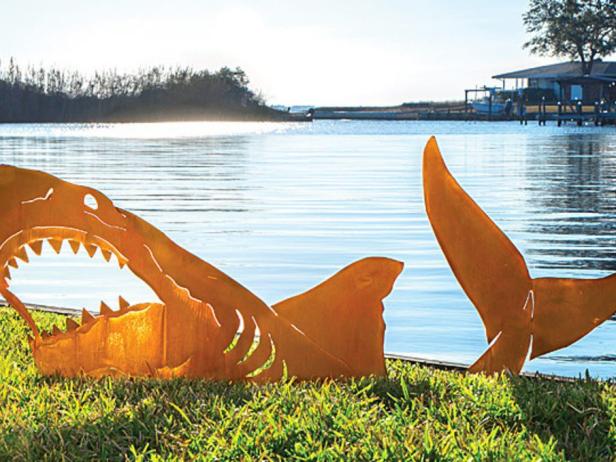 You're gonna need a bigger boat—er, lawn. This Jaws-some land shark, made in Arizona from hand-cut steel, measures 37-1/2" long. He comes with mounting brackets and lawn stakes, so you can pose your finny friend by a pond, on a beach or in a "sea" of grass. His bright patina darkens as he ages, but his fierce look won't lose its bite. BUY IT: Uncommon Goods, $180
Buy It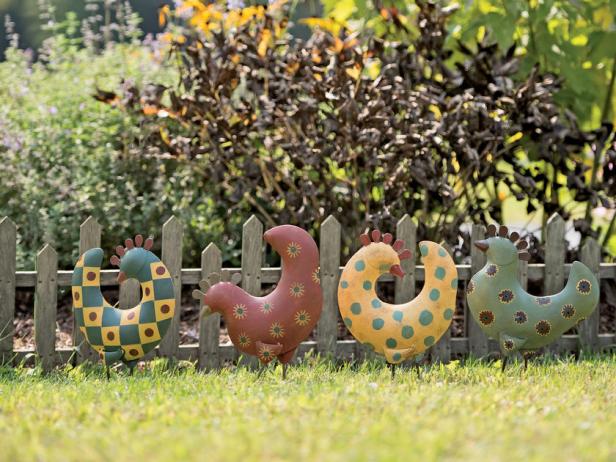 Think funky folk art. These cheerful chicks are individually handpainted and sold in sets of two, as Marvin and Matilda or Pete and Pat. Installed outdoors, they will gradually weather to an attractive, rusty finish. Three-inch ground stakes are included. Let them strut along a fence or roost atop a bale of straw for a touch of whimsy. BUY IT: Gardener's Supply Co., $39.95
Buy It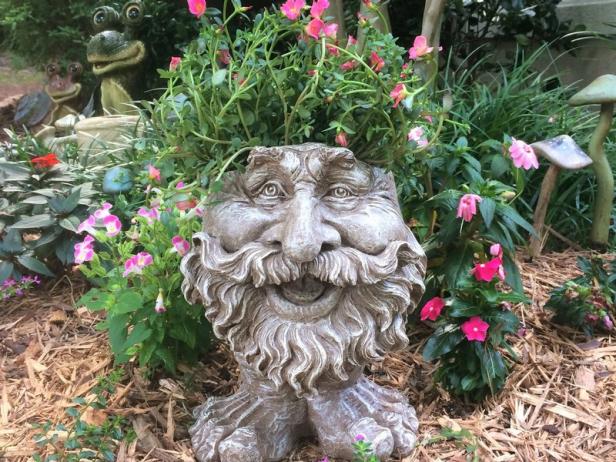 You could fill your yard with a family of Muggly the Face planters, which look like hippies, biker babes, grumpy old men, bulldogs and more. Ole Salty, made of distressed plastic and resin, has a weather-resistant UV coating and comes in antique white or a stonewash finish. Drop in a pot of your favorite ferns or flowers or plant in him directly. BUY IT: Wayfair, $56.99
Buy It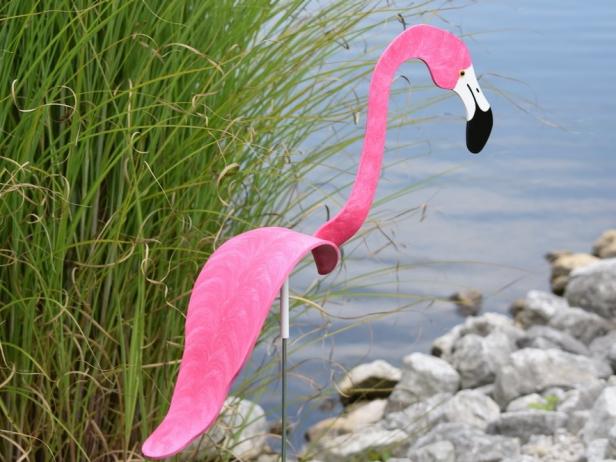 If you can't beat those plastic pink flamingoes, join 'em. This hot pink bird on a galvanized garden stake has a hinge that lets him dance and dip in the wind. Better still, he has a flock of handpainted friends that can join him. Choose from orange, green, yellow, blue, lavender and other eye-catching colors. They're made in the USA from UV-resistant PVC. Buy It: Christmas Tree Hill, $51.95
Buy It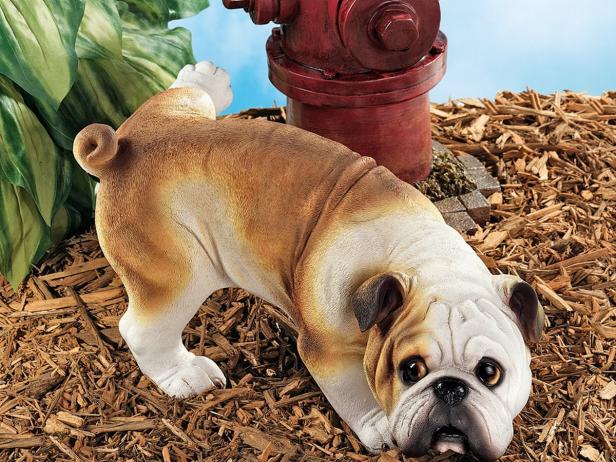 Better a faux fire hydrant than your prized roses, right? This resin pug is a good dog who wants his owner to know he's sorry, but he had to answer nature's call. The fire hydrant can be purchased separately in a metal or designer resin version, or you can place Fido beside a tree. BUY IT: Hayneedle, Dog $32.90 and Fire Hydrant, $38.90
Buy It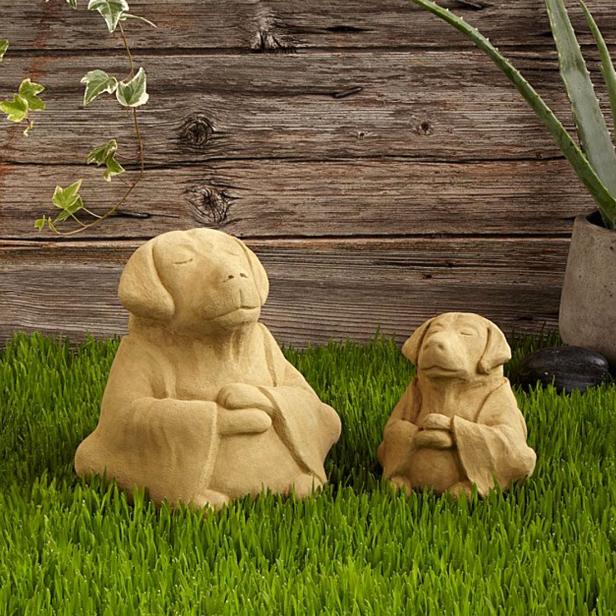 If you prefer well-bred pups, opt for a couple of Zen dog garden statues. Handmade in California from sealed cement, they'll remind you to meditate and smile. Chinese characters on the back of their robes symbolize a dog's loyalty to his owners. This pair will never dig holes in your yard, but you'll dig having them there. Available in two sizes. BUY IT: Uncommon Goods, $33 - $63
Buy It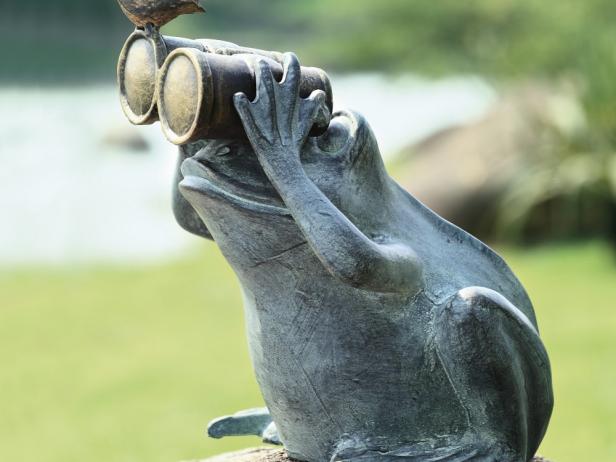 Sometimes you can't see the forest for the trees—or the bird for the binoculars. Froggy and his feathered friend are outdoor-safe; just sit them on a flat surface near a water feature or in a bed of flowers and foliage. This adorable amphibian has a green-blue patina and stands 13-1/2" high. BUY IT: Wildlife Wonders, $175
Buy It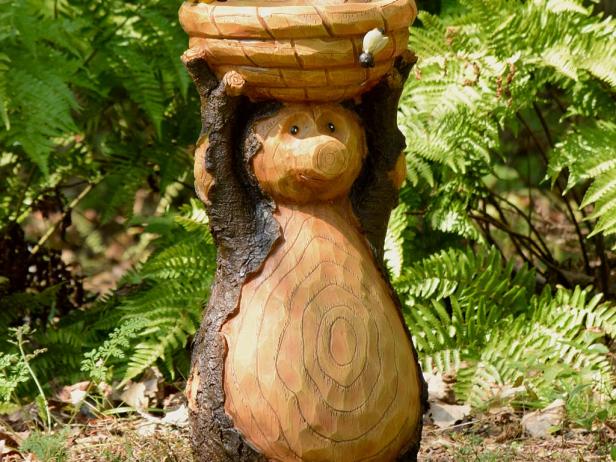 Don't worry if you spot this bear in your backyard. The big-bellied bruin hangs around only to hold a birdbath for visiting wildlife. Although he looks like he's carved from wood, he's made of long-lasting, all-weather resin. The bowl of the birdbath is shaped like a beehive; two curious honeybees buzz around it. BUY IT: Plow & Hearth, $129.99
Buy It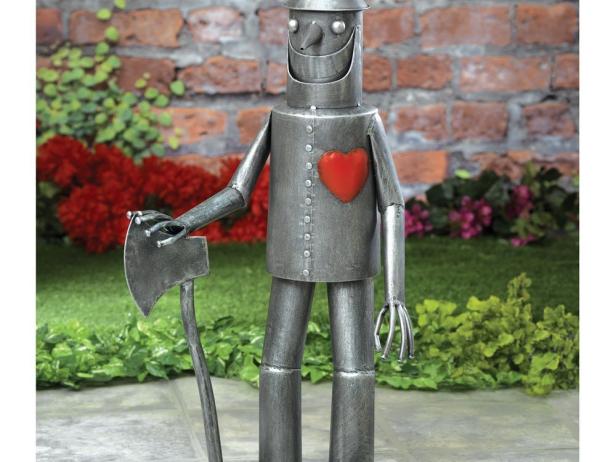 This tin woodman has a lot of attitude and a big heart. At just over 30" tall, he's made of soldered iron and comes complete with an ax and funnel-shaped hat. Bring him indoors or let him stand guard in your garden. He also looks right at home beside a woodpile. BUY IT: Amazon, $79.98
Buy It