See how one New York couple enlarged their living space by turning a small underused patio into a beautiful lounge area.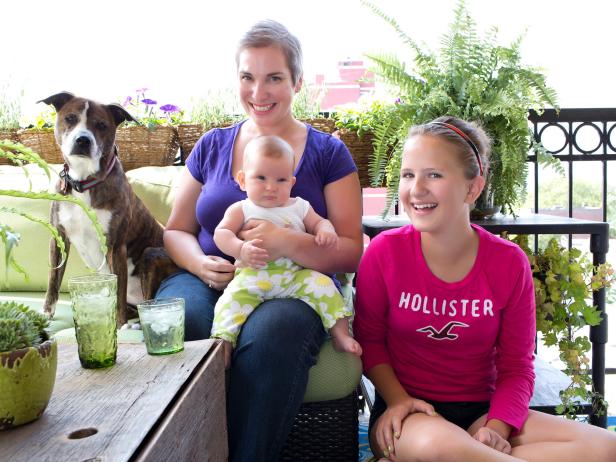 Family With Dog on Outdoor Patio
Sarah Raskin, pictured here with Emily, baby Orly and their dog, Scout, loves the new patio created by designer friend Brian Patrick Flynn.
Sarah Raskin, pictured here with Emily, baby Orly and their dog, Scout, loves the new patio created by designer friend Brian Patrick Flynn.
In the fall of 2011 I visited my friends Sarah Raskin and John Kerl at their Brooklyn, N.Y., home, a fifth-floor two-bedroom, two-bathroom apartment in a six-story building built in 2009. After cocktails over cheese and crackers, the couple gave me a glimpse of one of the property's biggest selling points: a 9-by-10-foot covered patio with a stellar view of Manhattan. Although the extra 90 square feet of living space was a major plus, neither Sarah nor John knew how to make the most of it.
Sarah notes, "We love being outside, and we loved the idea of spending time on our patio, but we felt pretty limited by the space. Building code prohibited us from having a grill. We don't exactly sunbathe. So we set up a small metal bistro table and chairs and would sometimes have dinner while looking at Lower Manhattan. But the setup wasn't really comfortable, and we knew that we weren't taking full advantage of the space. We wondered if there was a way to make it function more as a living room, where we could hang out in addition to dining al fresco when the weather was nice."
Determined to give them an outdoor area for lounging, reading, hosting guests and hanging out with newborn daughter, Orly, and John's tween daughter, Emily, I decided to design the space just like an indoor living room, except strictly incorporate materials meant for indoor-outdoor use. Although I was excited to turn the lackluster space into something fresh, fun and functional, dealing with the stucco building's flesh-toned exterior and the beige, tan and peach tile flooring made the process much trickier.
The first step in the transformation was to introduce a bright, new cheery palette. Since the majority of the space's existing beige and tan color scheme comes from its dated flooring, it was important to cover it and then introduce brand-new colors with an indoor/outdoor area rug. Sarah was especially happy to say farewell to the patio's lackluster tile and overall lack of color, stating, "On the one hand, the tan stucco exterior is just awful. So blah! On the other hand, it was a good neutral base that wouldn't clash with whatever design we pursued, which is great because we wanted to liven up the environment with color and John's newfound love of container gardening."
After searching online, my team and I came across a graphic transitional 8-by-10-foot acrylic rug (which is mildew- and moisture-resistant) featuring shades of citrus green and deep blue. Since the interior of the couple's apartment is decorated in green, it was an excellent way to unite the interior and exterior. Once laid in place, the tile was hidden almost completely from view, turning focus to the rug's color and pattern.
Next on the list: space planning. Since the interiors were lacking in entertaining space, the best use of the covered outdoor patio was for lounging -- with a strong emphasis on comfort. "Our bistro table and chairs were fine for just us and just dinner, but they weren't comfortable enough for extended lounging. And they were too bulky to have enough of them to have other people over. We thought about an outdoor sofa but weren't really sure how to make it work with the sliding glass doors and air conditioning vent," Sarah adds.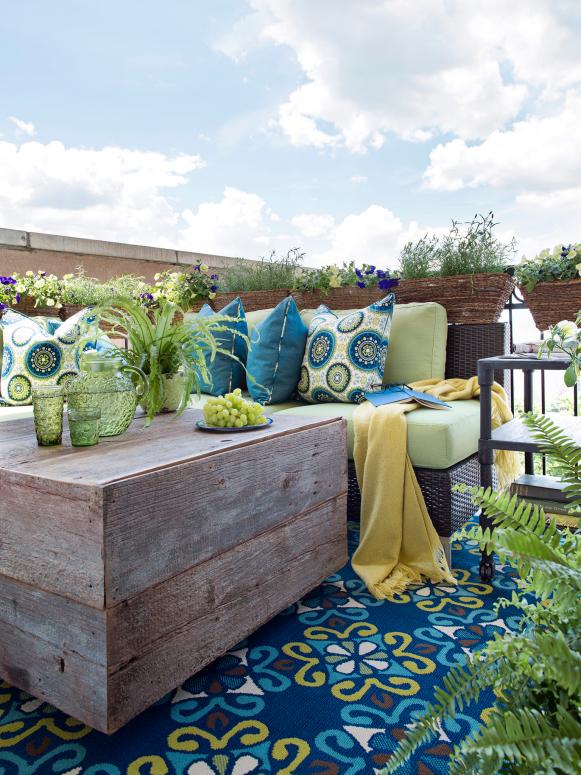 Eclectic Outdoor Sitting Area
Colors in the graphic transitional 8-by-10-foot acrylic rug unite the apartment's interior and exterior spaces.
Colors in the graphic transitional 8-by-10-foot acrylic rug unite the apartment's interior and exterior spaces.
To make the most use of the square footage by adding seating for up to seven, the key design element was a 7-by-8-foot L-shaped sectional. While it seems counterintuitive to use large pieces in small spaces, it's something most interior designers suggest doing, as long as the pieces are balanced with other elements in scale. Choosing a sectional sofa for an urban apartment with tight doorways and corridors presented a problem that eager homeowners often face. Our top two choices were made of solid L-shaped bases, but we realized they wouldn't actually be able to make it to the covered patio, so we started our search all over.
A few days later we discovered a modular outdoor sofa system that wasn't necessarily suggested for use as an L-shape, yet due to its many configurations could be made into one. Since each piece measured 36-by-38-inches deep, the sofa was able to fit into the elevator, through the halls, into the apartment and out to the covered patio. Once the sofa was out of the box, it simply took adding bolts and washers to attach the legs with an Allen wrench. With the celery-green cushions in place, the sofa coordinated perfectly with the area rug, so much so that the flesh-toned exterior of the building became almost unrecognizable.
Anchoring the sectional with the right coffee table was next on our list. Since space was at a premium, especially on the covered patio, it was important to find a patio coffee table with integrated storage. Sarah adds, "Every square inch of storage space inside our apartment was already accounted for. We simply couldn't put anything on the patio that couldn't remain on the patio, but we knew that some components of the design would benefit from being stored at some times, like during big rains or windstorms. We didn't want to muck up the aesthetic with big, ugly plastic tubs, but we had no idea what other options were out there."
In order to add enough surface area for snacks and drinks and also offer sufficient storage room for throw pillows, serving trays and outdoor drinkware, my furniture designer friend, Dan Faires, and I put our heads together to create something custom that wouldn't compromise style for durability. By creating a 40-by-40-foot table from reclaimed barn wood with a removable top and casters, we were able to provide ample space to store pillows and drinkware inside something weatherproof, and also ensure that the table was easy to move around for cleaning purposes.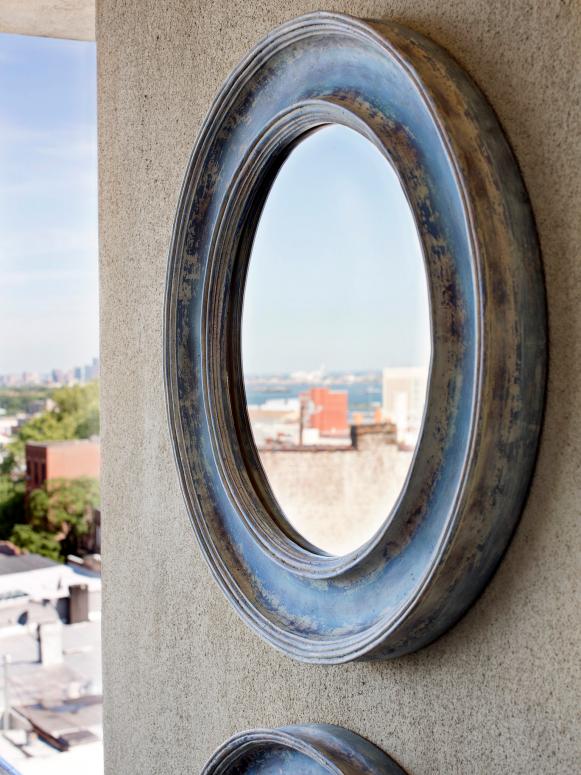 Patio Mirrors
A pair of rustic mirrors reflect the view of Manhattan, making the patio feel larger than it is.
A pair of rustic mirrors reflect the view of Manhattan, making the patio feel larger than it is.
With the three main design components tackled, we turned to a few more designer tricks for maximizing the space and its gorgeous view, adding life and making it feel slightly larger than it is. First, we installed a pair of rustic round blue-gray painted mirrors along the exterior wall to reflect the view of Manhattan, making the scene visible from almost every vantage point of the sectional sofa. Next, we added another layer of visual interest with custom throw pillows and seat and floor cushions made from indoor-outdoor fabric, tying the colors of the rug to the celery-green sofa cushions. To bring life into the space, we installed woven-grass planter boxes along the covered patio's railing and filled them with an assortment of annuals and grasses. As the plants grow, they'll provide Sarah and John with some measure of privacy from neighboring patios.
Lastly, we added ambience to the space with a planter that also provides diffused lighting. "The planter-light is exactly the kind of piece that makes me glad we worked with a designer," says Sarah. Normally I would have walked right by a piece like that, thinking it was too modern for our aesthetic. But placed in the context of the patio design, I see how functional and even neutral, design-wise, it is." Since the space is often used for socializing, proper lighting was key. This way lighting was added and the decorative element of potted greenery wasn't sacrificed.
With the project complete, Sarah and John are now getting more use from the covered patio. The space not only acts as an extra living room but has given John's daughter, Emily, a new chore she fully enjoys. "Emily is primarily responsible for taking care of the plants, and she kind of likes doing it," says Sarah. "A fun chore? What a win-win!" And with the colorful, comfy new space getting as much use as the apartment's actual living room, Sarah is still confused as to what to actually call it. "I find myself referring to our 'indoor-outdoor living room,' as if they're not separated by a wall, windows and a sliding glass door. But it really does feel like we enlarged our living room by turning the adjacent patio into a lounge area. Just don't tell our landlord our living room grew by 90 square feet or he may jack up the rent."