Vern's Design Tips: The Longest Yard
In episode seven, the Design Stars work as a team to make over a 10,000-square-foot backyard. See what Vern says they did right, did wrong and how he could have done it better.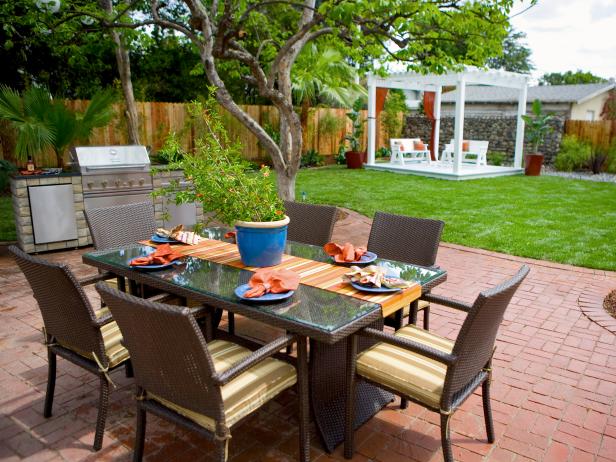 Backyard for Outdoor Dining
According to designer Genevieve Gorder, this space is nice but could be even better. "Adding scale with the size of plantings and using planters would create a lot more visual variety and really give the perimeter of the space the power that it deserves."
This week's challenge showcases the growing market for outdoor living. Increasingly, people are spending free time with family and friends outdoors, which has meant that interior designers across America — including our Design Star contestants — have to familiarize themselves with how to design great outdoor spaces. The additional hosting dimension this week is the final component that will really help to separate our remaining contestants. Although phenomenal design ability is the most important quality for a Design Star contestant to possess, and being able to execute their vision is crucial, explaining their design (in an understandable and enjoyable way) to our home audience in an engaging fashion ?is the final ingredient to ultimately winning the competition.
Antonio, Dan, Lonni and Torie pulled off a dramatic transformation this week. This yard is substantial in size, and the program incorporating a dining area, living area, pool and playground — not to mention a water feature and a plethora of landscaping — is incredibly ambitious. Among the very smart things that occurred in this transformation is the clear delineation of all of these areas through proper space planning. Every member of this young family has an area that has distinctly been catered to them, and it is incredibly evident that our designers invested in the wants and needs of the family when pulling together their design plan. Additionally, this backyard space is capable of entertaining all kinds of events, from children's events to adult dinners, all possible in this transformation.
Perhaps my favorite thing about what our designers accomplished this week is the balance between soft grassy areas and practical hardscaped zones. Although grass is not wonderful to put outdoor dining furniture on, it is an essential part of making an outdoor space visually relaxing and gives the children plenty of area to run around and engage in more active pursuits. The team clearly provided for this important feature while still ensuring that benches, tables, pool loungers and an outdoor bar all had a sturdy area to inhabit.
The incorporation of a new pavilion lends needed structure and architecture to the backyard and defines this zone, nicely situated adjacent to a reclaimed water-feature wall, as an adult area for relaxation, reading or contemplation. It is unfortunate that the team ran out of resources and hung two limp drapes from the otherwise beautiful pavilion. Outdoor drapery is wonderful and significantly softens something structural, further defining an area and giving it a true "room" feel, but the team needed eight panels to cover all four sides. If you run out of money, leave the panels off and keep the pavilion clean and neat. With only two panels hanging, this project looks halfway done.
The lounge seating in this area, although nicely matched to the pavilion, doesn't scream comfort. Deep seating with cushions and throw pillows, along with an outdoor rug and accessory tables, would have helped this feel less rigid. This same concept of lending architecture to the space would have also helped the pool area. Tall outdoor planters could have modulated the space and visually elevated small, inexpensive plants to significant status. Instead, the pool area seems a bit on the barren side with occasional pieces of lounge furniture scattered sparsely around this significant square footage. Rather than spending valuable time and resources toward the removal of the brick hardscaping around the pool, followed by time and resources dedicated to the installation of the new concrete hardscaping, I wish the team had left the brick in place and expanded the hardscaped area just enough to allow furniture to sit properly. This saved money and time could have been allocated toward planters, plants, additional furniture and accessories that would have given this outdoor area a little extra punch.
Although the accessorizing seemed like an afterthought, the significance of the foundation that the team put in place can not be denied. Antonio, Dan, Lonni and Torie all put their best foot forward for this family, and the results demonstrate that they paid close attention to all of their specific needs. Each of these dynamic personalities has so much to offer when it comes to design, but at the end of the day, the judges had to balance their contribution to the overall effort with their hosting abilities to determine who remains in the competition to become HGTV's next Design Star.