Tips for determining the health of a tree.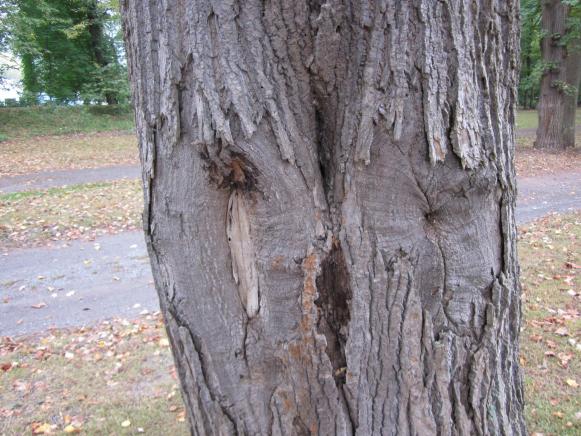 Callus Forming Around Trunk Wound
A tree can self-heal bark damage by forming what's known as a callus. On this tree, you can see the callus on the left trunk. It forms a thick, woody-looking edge around what's visible of the exposed trunk wood. The right trunk callus has nearly closed over the original wound. When you see callus forming, your tree is on its way to healing. Make sure it has adequate fertilizer and water during the growing season so it can direct energy toward callus formation.
Q. Carpenter ants are crawling in and out of my oak tree and there's a little pile of sawdust. The tree is also dropping small limbs. Is the tree in trouble?
A. Carpenter ants don't kill trees, but they burrow into decayed wood in order to build nests. They don't create the openings, but they take advantage of wounds, cracks, knots or holes where excess moisture has penetrated the inner wood and decayed it. The ants are evidence of decay, not the cause of it.
Dead or decaying wood in a tree doesn't necessarily mean that the tree has to come down. Some trees can live a long time with internal decay. But if you care about the tree – and/or the tree could pose a hazard to life or property – you should have a certified arborist examine it.
There are a number of tests that can be done; some arborists offer a resistograph, a test that measures the extent of decay by drilling into the tree. The test isn't inexpensive – it can run up to $300 depending on the size of the tree and the number of sample points – but the test can help you decide whether your tree needs to be removed or if it's likely to live for many more years.