This tropical evergreen shrub is a versatile plant that can adapt to a variety of gardens.
In Zones 10 and warmer, firebush is a colorful tropical evergreen shrub with tubular red-orange flowers. Plants can grow to 10 feet tall. The flowers are attractive to hummingbirds. Great in full sun and a well-drained soil. Versatile in the garden either in mixed containers or as a specimen or in mass. Hardy as a perennial to USDA Zone 8, where it displays bright-red fall foliage and dies back to the ground in winter. Where it's perennial, expect heights of four to five feet.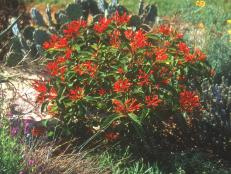 This evergreen shrub works well in a perennial border or in a butterfly garden.