Candice's Design Tips: The Longest Yard
In episode seven, the Design Stars work as a team to make over a 10,000-square-foot backyard. See what Candice says they did right, did wrong and how she could have done it better.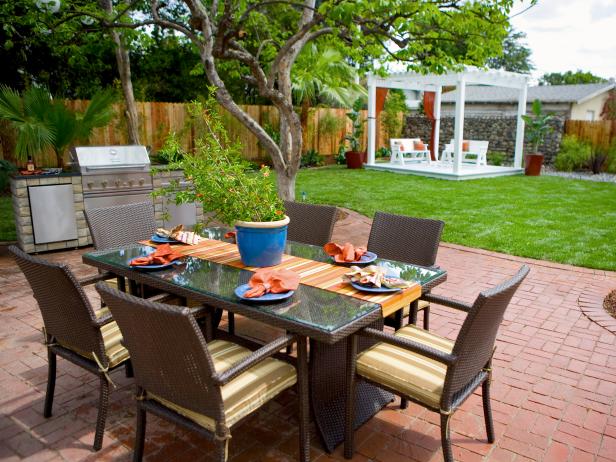 Backyard for Outdoor Dining
According to designer Genevieve Gorder, this space is nice but could be even better. "Adding scale with the size of plantings and using planters would create a lot more visual variety and really give the perimeter of the space the power that it deserves."
You've made it through six challenges that have not only tapped your creativity but also your patience and perseverance. You're tired, almost at the end of your rope and then you learn the details of your next challenge: to redesign and landscape a backyard the size of Texas. If I were a Design Star producer I would be extra cautious starting my car after this week.
First up, congrats to the entire team for simply finishing this massive project. Landscape design is one thing, but the physical process of landscaping is beyond exhausting. I'm sure our team has a newfound respect and admiration for all of the talented and hard-working landscape pros out there. I've marveled on many occasions at how an 'ordinary' home can be elevated to 'extraordinary' by talented landscape designers whose plans are executed by gifted and hard-working landscape contractors.
On the plus side, the Design Star team has transformed this dirt pile of a yard into a multi-functional oasis. It really has something for everyone: a gazebo for lounging beside the restored and reinvented water feature, an alfresco dining and barbecue area, and a play area for the children nestled in the shade of mature trees.
Although the exterior world of landscape design may seem like foreign territory to interior designers, design is design with many of the same principles and elements — scale, repetition, pattern and proportion apply no matter what the design discipline. I suspect that this team may have been overwhelmed by the task at hand and, in that, neglected some of these basic design principles.
First and foremost, this is a huge yard and design elements need to mirror that scale. Small, immature plantings are lost in a yard this size. Groups of plantings in oversized "statement" containers would have more impact with the container further enhanced by the addition of architectural trellis shapes that create the visual illusion of volume or full mature plantings.
One of the most powerful unifying forces in any large area is repetition, and on that front this yard seems disjointed. I like the gazebo (a bit too costly for an everyday pre-fab unit) but it seems out of character with the rest of the elements. A white, tented, poolside cabana would speak the gazebo's language and also push that all-important scale button. Likewise, white wooden dining furniture, accented with red cushions, would seem a perfect marriage.
A low, 18"-high stone wall where the concrete pool deck meets the lawn would break up the horizontal expanse of this yard. It would also do double duty as a long, casual seating surface for large pool parties.
The concrete pool deck is functional, but a lost opportunity to showcase creativity. Concrete tints, surface etching or even an abstract pattern of embedded stones would have shown uniqueness and played an important supporting role in establishing the pool as the key focal point in this backyard.