DIY Upcycled Sweater Wreath
Don't throw away your old, worn-out sweaters. Make a big mug of hot cocoa for a crafty night in and turn them into a cozy DIY upcycled sweater wreath for the holiday and winter season.
The holidays are a time to cherish and celebrate with friends and family. What better time to show off your crafty side than when you're with the people you care about the most? Add a little cheer to your home this holiday season with this unique, DIY upcycled sweater wreath.
We're sorry, there seems to be an issue playing this video. Please refresh the page or try again in a moment. If you continue to have issues, please contact us here.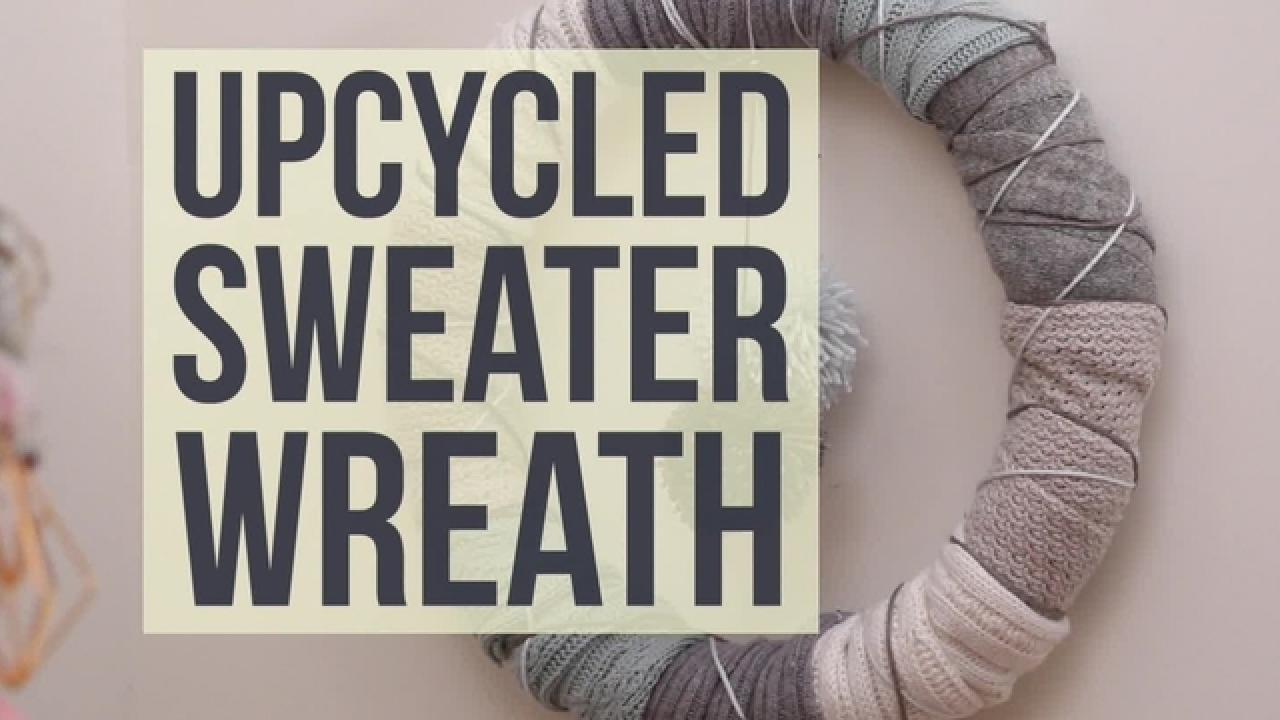 old sweaters
scissors
foam wreath form
Cut Strips From Old Sweaters
Gather old and unwearable sweaters. Lay each one flat and cut vertical strips up the center (Image 1 + 2).
Pin the Sweater Strips in Place
Get out your foam wreath form (Image 1). Begin wrapping a sweater strip around a foam wreath and use a U-pin to keep it in place (Image 2). Keep wrapping it around the wreath and use a second U-pin to hold down the end (Image 3).
Repeat with all of your fabric until the wreath is covered, overlapping the strips to create a warm and cozy texture (Image 1 + 2).
Add Yarn to Your DIY Upcycled Sweater Wreath
Take out your yarn (Image 1). Tie yarn onto the wreath and wrap it around in a random pattern (Image 2). Repeat with the second color of yarn that matches your sweaters. Tie off and trim the excess (Image 3).
Tie on yarn pom-poms to hang down into the center of the wreath (Image 1 + 2).
Make super cute, no-sew pom-poms in a jiffy with these tips and tricks.
Hang your completed DIY upcycled sweater wreath on your wall for a cozy decoration this holiday season.
We've rounded up 20 cool, clever and beautiful wreaths that are perfect to set the stage for the holidays but look stylish all winter long.
Make an elegant, oversized (but lightweight!) holiday wreath by wrapping faux greenery around an embroidery hoop and upcycling plastic pots into antique bells.
Craft the look of a C9 light bulb wreath your neighbors will adore. All you need is a little paint, some clear bulbs and a good Christmas playlist.
This unique Christmas tree forest pom-pom wreath only uses a few supplies, but creates a cozy and festive addition to your holiday decorating.