Turn an Unused Fire Pit Into a Custom Game Table
Easily craft this colorful game board top to give an unused fire pit year-round functionality by turning it into an outdoor coffee table that's great for entertaining guests or family game time.  
3/4" thick plywood
(4) 1x2 furring strips (to trim out sides)
3/8" sisal rope
drill
1/2" drill bit
utility knife
circular or chop saw
blue, aqua, white and coral exterior paint
dropcloth or tarp
paint rollers
1" foam paint brush
painter's tape
tape measure
straight-edge ruler
pencil
eye and ear protection
hammer and nails (or nail gun)
Measure the top of your fire pit and add 2-3 inches to the measurements so the game table top will overlap a bit on all sides. Take your measurements with you to the hardware store and have them cut your lumber to size. For our game table top, we had 3/4" plywood cut into a 34-1/2" square (Image 1). To give the top a finished edge, we had the 1x2 furring strips cut to the following dimensions: 2 pieces at 34-1/2" long and two pieces at 36" long (Image 2). You'll also need 10 game pieces – which are just 3x3 squares cut from a scrap board (Image 3). Note: The hardware store may charge a small fee to make these cuts for you.
With hammer and nails, attach trim to the plywood board's edges. Attach the shorter pieces first and make sure the edge is flush (Image 1), then add the longer pieces (Image 2).
Next, paint the entire game top in a solid blue exterior paint. This not only looks good, it also protects the wood from elements like heat and moisture (Images 1 and 2).
To create the tic-tac-toe grid, start by taping off a 20" square box in the center of the board, leaving an even border on all sides (Image 1). On the painter's tape, make a mark at the 6" and 14" measurements on each side (Images 2 and 3). Using a straight-edge ruler, draw lines connecting your marks to create the grid (Image 4).
Next, with the aqua paint, using the 6" and 14" marks as a guide, freehand lines with a 1" foam paint brush to create the grid (Image 1). It's okay if the lines aren't perfect, that's part of the handmade charm. Once paint has thoroughly dried, remove the tape (Image 2).
Instead of Xs and Os, go with colorful blocks. Paint half of the 3x3 game pieces white and the other half coral.
Pull a tape measure across the sides where you want to place the handles and make a mark at 16" and 20" (Image 1). Be sure to keep your marks 2-1/2" out from the board's edge (Image 2). This where you'll drill holes for the rope handles.
Using a 1/2" drill bit, drill holes at the marks (Image 1). Dust off and touch up with paint as needed. Next, cut the rope into two 12" sections. Tape off one end of the rope with painter's tape to make pushing it through the hole in the plywood a bit easier. Knot the other end of the rope and push the taped end up through the hole and down again through the other (Images 2 and 3). Remove tape, then knot the rope under the board to secure it. Add the game pieces to the board and you're ready for game time (Image 4).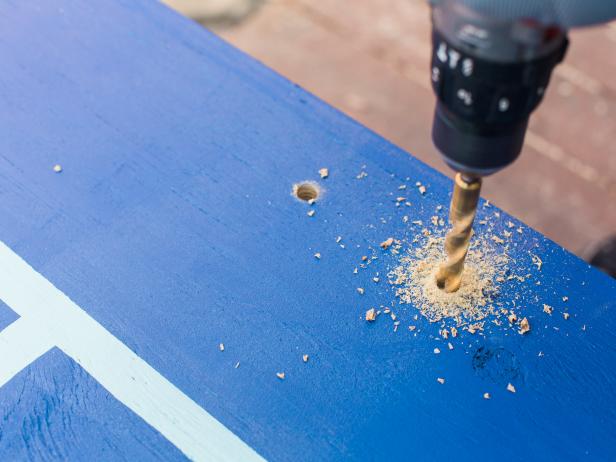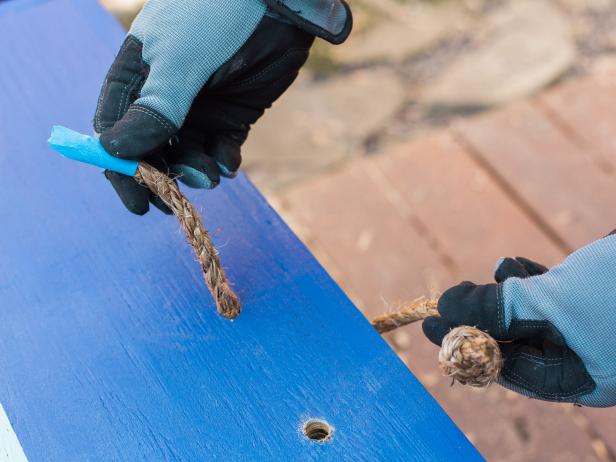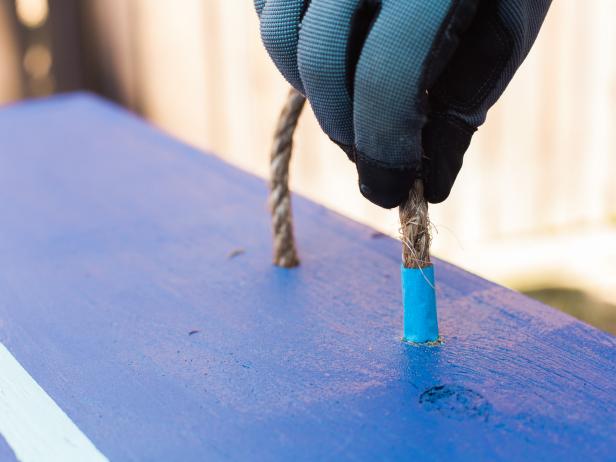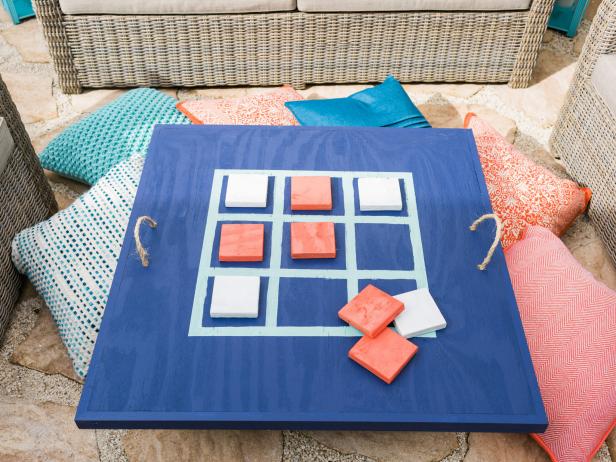 © Rustic White Photography, LLC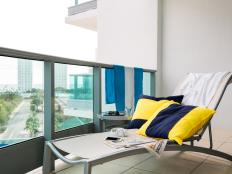 These easy-to-sew DIY throw pillows are a splashy way to add a little nautical style to any outdoor space.