Stationary Toppers and Fabric-Covered Cornices
Create the illusion of added height with this window treatment project.
Want a bigger window on the world? You can make it look that way with cornices. And for extra elegance, add stationary toppers.
tension rods
fabric
lining
measuring tape
tassels
fusible interfacing
iron
hot-glue gun and glue
decorative trim
1x6-inch board
miter saw
staple gun
¼-inch luan plywood
drill
circular saw
hammer
nails
quilt batting
L-brackets
sewing machine
sewing needle
thread
1. To make the stationary toppers, iron fusible interfacing to the back side of the decorative fabric. Cut the topper to the exact size needed plus an additional 3 inches to fold over at the top for the rod pocket. Use a straight stitch to secure the pocket in place.
3. To make a fabric-covered cornice, use a miter saw to cut three pieces of 1x6 to the necessary dimensions to build a three-sided frame. Cut the front face out of luan plywood with a circular saw. Attach the frame pieces with nails after drilling pilot holes.
5. Staple the lining on the inside to cover the rough edges. Secure L-brackets to the wall and attach the cornice.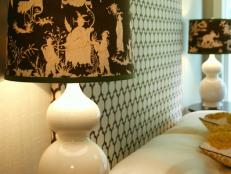 Give a tired lamp a fresh, high-end look by covering the shade with trendy fabric and ribbon.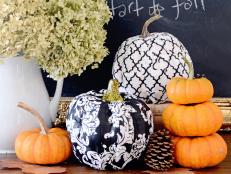 Turn faux pumpkins, leftover from Halloween, into a stylish centerpiece for your Thanksgiving table. Choose graphic designs and unexpected colors to make a statement in your seasonal arrangement.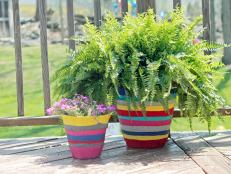 With a few strips of outdoor fabric, turn a basic, inexpensive planter into a colorful statement piece for your deck this summer. The bright stripes are best accented by a whimsical fern or palm tree.