The gift that keeps giving — our seed-starter kit is a thoughtful handmade gift for the green thumbs on your list.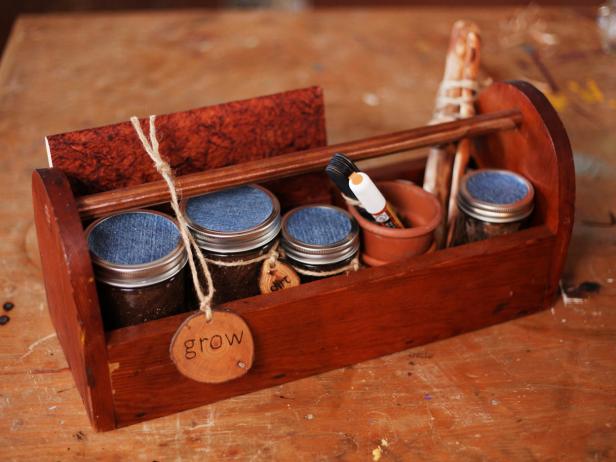 Seed-Starting Kit
The green thumbs on your list will appreciate this handy caddy filled with potting soil, pots, an assortment of seeds and other necessities for getting a head start on spring planting. Make a gift to nurture their green thumbs with our step-by-step instructions.
canning jars with lids
two branches cut to 12" length: one 1-1/4" and one 1/2"
wooden tool caddy
seed-starting mix
various seed packets: herbs, vegetables, flowers
small clay pot
peat pots and pellets
popsicle sticks
chalk marker
chalkboard paint
hot glue gun and glue sticks
sandpaper
durable fabric, such as denim
journal
embellishments such as wood tags
permanent marker or wood-burning tool
Fill jars with seed-starting mix and peat pellets. Attach durable fabric to lids with hot glue then jars. Create wood tags by slicing tree limbs, add lettering with a permanent marker or wood-burning tool.
Whittle both sticks to a tapered end and sand smooth. The larger dibble can be used to make a hole in soil, the smaller will be handy for gently pressing a seed into the soil.
Spray popsicle sticks with chalkboard paint and write names of seeds with chalk marker.
Add clay and peat pots, assorted seed packets, filled jars, dibbles, plant markers and a journal to the caddy. Embellish with a handmade wood tag.