These FAQs and tips from HGTV Magazine staffers will help you tackle any project.
Q: Exactly how much paint should I buy?
A: Estimate 1 gallon for every 350 square feet (slightly smaller than the size of the average family room), but you'll need almost double that if you're applying two coats  ––  for example, if you're painting over a dark color and don't use primer. You'll also likely need an extra coat of paint for textured surfaces, such as brick. Another reason to get more than you think you'll need: The exact color of paint can vary if it's mixed at different times, so the shade you buy this Saturday might be slightly different from the same shade you buy a few days later when you realize you're short.
If you're taking a break from your paint job—even if it's overnight—stash paint-covered rollers and brushes in a plastic bag tightly sealed with a twist-tie or rubber band. They'll stay moist until you start working again.
Sara Peterson, editor in chief
Q: Do I really need primer?
A: Not if you're using a paint-and-primer in one. But if you're buying regular old paint, you'll get better results if you apply a coat of primer before adding color. Primer, a light-color base coat, smooths and seals walls, blocking future stains and laying the foundation for a streak-free paint job, especially on raw wood, drywall, metal, and masonry. In fact, for these surfaces, many pros prefer primer over paint-and-primer in one because combo formulas can cost more and often require two coats anyway. Have primer tinted gray or the color of your topcoat if you're making drastic color changes—like going from red walls to light blue   ones—to better hide the old hue.
Grease and other stains can prevent paint from sticking to walls. So before painting, give the surface a quick wipe-down with a rag dipped in soapy water or a mix of three parts water to one part bleach.
Jennifer Berno, style/home director
Q: Should I trash a paint roller or try to clean it?
A: Most roller covers are cheap enough that you can treat them as disposables. But if you'd like to limit waste, you can clean them with a hand-powered brush-and-roller spinner (about $15 at home improvement and paint supply stores). Slip the paint-soaked cover onto the spinner's rotating head, and pump the handle; centrifugal force whirls off clingy paint. Rinse the roller in soapy water, then repeat a few times. To avoid splatters, do the spinning in a 5-gallon bucket outside or in the garage. Stand the roller up vertically to dry.
Use paint conditioner! Add about 1/2 pint of it to a gallon of paint—it will eliminate brush lines, giving you a much smoother finish. I always use it when I'm redoing wood furniture. Find it at paint stores for around $10.
Jessica Dodell-Feder, senior editor
Q: Should I use oil-based or latex paint?
A: Latex paint is the go-to standard for almost every interior and exterior household painting project, from kitchen cabinets and walls to siding and furniture. It dries fast, so you can do multiple coats in one day, and it cleans up easily with soapy water. Older formulations of latex were considered less durable than oil-based paint, but that's no longer the case. These days oil-based paint is being phased out by many consumer brands, since it's mainly used for specialty jobs most homeowners wouldn't tackle, like painting rusty surfaces that can't be cleaned.
My trick for perfect spray-painting: Hold the can an inch or two to the side of your project, start spraying, and then continue spraying an inch or two beyond your project. You'll get the most even, drip-free results.
Jodi Kahn, lifestyle editor
Q: Will dark colors make a room feel smaller?
A: No. Despite what you may have heard, deep shades can actually help a tiny space feel more expansive. Since dark colors recede, they can make walls appear farther back than they actually are. And a dark shade applied to a ceiling can make it seem higher by creating an illusion of infinity—think of the vastness of the night sky.
Q: What do you do with leftover paint?
A: Store it. Dump it. Donate it.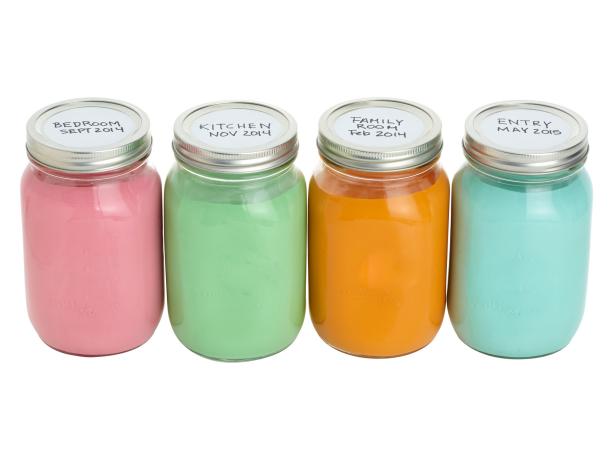 Leftover Paint in Mason Jars
What to do with leftover paint, and how to store it
Store It
If you have more than a quart left, store the paint in its can in a cool, dry spot where temps won't dip below freezing. Wipe the can's rim, then cover its mouth with plastic wrap, tap down the lid with a hammer or mallet, and stow upright. If you have less than a quart, decant it into a small airtight container, like a glass jar. Label the lid with the date and the room(s) where you used it. Stored latex paint can last up to 10 years.
Dump It
While oil paint is typically considered hazardous household waste and must be dropped off at a waste-handling facility, latex paint can often be left curbside. Before you get rid of it, mix in sand or kitty litter. Once it dries out, put the can with your trash or recycling. Just check your community's disposal guidelines—some areas want you to bring latex to drop-off sites, too. For a list of sites by state, go to paintcare.org.
Donate It
Stuck with a gallon or more of paint you can't use? Try reaching out to an organization such as a community theater group, a high school drama department, or your nearest location of Habitat for Humanity's retail store, ReStore. Or place an ad on Craigslist or freecycle.org. If that doesn't get any takers, register with netpaint.org, which will notify you when a nearby group requests free paint.