Personalized Boy's Easter Bucket
More practical than a basket, this personalized bucket can be used year-round to hold small toys.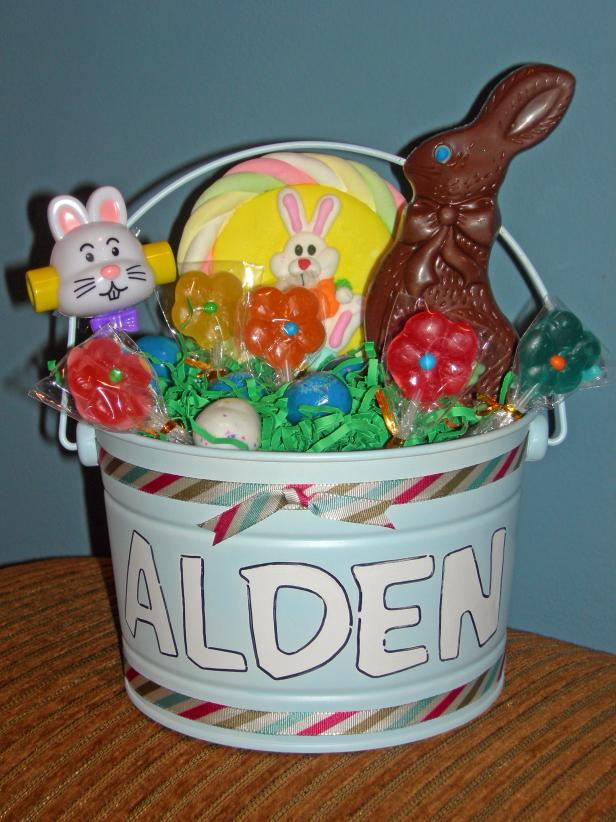 Monogrammed Boy's Bucket
More practical than a basket, this Easter bucket can be used year-round to store small toys or taken to the beach or on picnics for toting snacks. Adding the child's name is especially great for small children because it helps with name recognition, and in multi-child families, personalized buckets will eliminate confusion (and possible arguments) over which treats and toys are whose
metal paint pail (available at craft or hardware stores)
white spray primer (specifically for metal)
blue spray paint
alphabet stickers (available in craft and scrapbooking stores)
fine-detail paintbrush
black permanent marker
green shredded paper
striped ribbon
scissors
fabric glue
candy and small toys to fill bucket
1. Spray pail, inside and out, with white primer. To avoid drips, several thin coats are best. Note: Make sure to get a solid, even coat of white as this layer will later be visible as the letters. Allow primer to thoroughly dry — overnight is ideal.
2. Place alphabet stickers on pail, pressing firmly on the edges of each sticker to prevent paint bleeding under. Tip: This part is a bit tricky; don't "burnish" the stickers into place as they will need to be removed in a later step.

3. Spray pail with blue paint, being careful not to overspray and create drips. Applying multiple thin coats is best. Allow paint to thoroughly dry.
4. Carefully remove the stickers. If blue paint has bled under the stickers, spray a bit of primer onto a disposable surface and touch up the white letters with a fine-detail paintbrush.
5. Outline each letter with a permanent marker. Finally, glue ribbon around the top and bottom bands of the pail and fill bucket with green shredded paper and Easter treats.