Create a one-of-a-kind bar set as a thoughtful handmade gift for the beer lover in your life.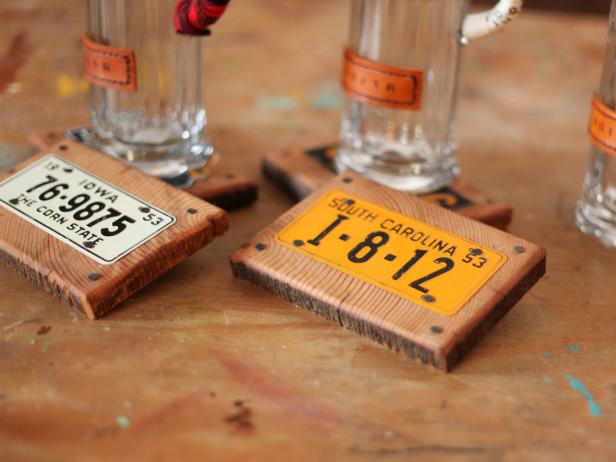 Personalized Bar Set With Rustic Coasters
Treat the beer lover in your life to customized glassware, funky license-plate coasters and a handy wall-mounted bar tool holder. They'll toast to your thoughtfulness in giving such a personalized gift. Get step-by-step instructions.
4 beer mugs with handles
material for wrapping handles
small piece of leather cut to desired size for glass tags
leather stains
assortment of small stencil letters
waterproof contact adhesive
waterproofing spray
4" x 6" wood post
wood stain and sealer
miniature license plates
small cork or felt pads
drill
hammer
carpet tacks
rubber band
wall-mount bottle opener
leather tool belt pocket
1/2" screw post
soldering iron and solder
Wrap each handle in your desired material; good choices are leather, fabric, metal mesh or wire. As you wrap, securely attach material with waterproof adhesive. Tip: If you are using fabric or leather, treat with waterproofing spray before attaching. If using wire, use solder as the adhesive and embellish with more solder for a welded look.
Embellish leather tags as desired with stains and lettering. Let dry, then apply waterproofing spray or sealer.
Attach leather tags to mugs with waterproof adhesive being careful not to apply adhesive to the tag's corners where any excess glue would be visible. Secure with rubber band while glue fully cures.
Cut 4" x 6" post into 3/4-inch-thick sections; stain and seal.
Once wood stain has fully dried, attach miniature license plates with carpet tacks and finish off with cork or felt pads on coasters' bottoms to prevent scratching.
Attach bottle opener to leather tool belt pocket using 1/2-inch screw post to create a unique, wall-mounted bar tool holder.