Go eco-chic with this easy-to-create necklace that features a charming miniature bird perched atop a handmade wire nest and natural branch.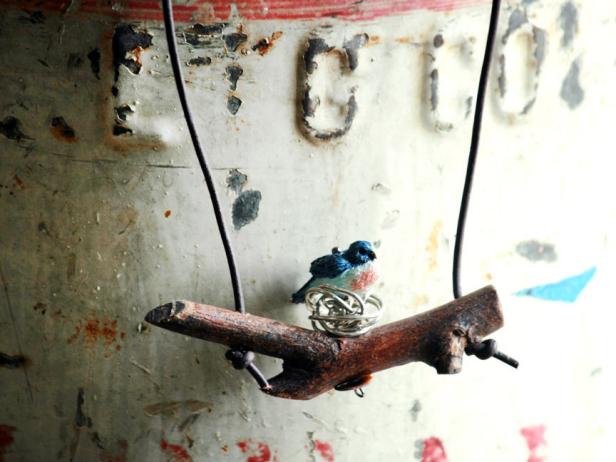 Handmade Woodland Necklace
Woodland-inspired accessories are all the rage. Create this trendy (and downright cute!) necklace with a branch from the backyard and a few inexpensive materials. Get started on one now with our step-by-step instructions.
1/4-inch diameter branch that has an offshoot
anvil pruners
miniature bird (found at a hobby store with the miniature dollhouse supplies)
20-22 gauge wire
1/16" drill bit
leather, jute or ribbon cording
head pin
necklace clasp
wood stain or stain/wax
sanding block
Using anvil pruners, trim branch to 2-1/2 to three inches long.
Sand branch to remove any rough places then apply a light coat of wood stain or stain/wax.
Carefully drill a hole through the center of bird using 1/16-inch drill bit.
Using the same drill bit, drill a hole through branch where bird will be attached.
Create bird's nest using a 10-inch piece of wire. Simply twist, turn and tuck wire ends to create a nest shape that will accommodate the bird.
Slide head pin through bird, nest and branch. To secure, add a small bead to the bottom then trim and curl end of head pin.
Drill holes on each end of branch using a slightly larger bit to accommodate the cording.
Knot Cording Then Add Clasps
Knot cording under branch to secure ends and add closing clasps of your choice.