Make Your Own Floral & Herb Incense
Cleanse your home with a floral and herb bundle. They smell amazing lit or unlit and make great gifts that can last for years. Bonus: We're also showing you how to gold leaf a fire-safe bowl to catch any falling embers or ash as you walk around your space.
DIY Floral + Herb Incense
04:47
Cleanse your home by making a floral and herb bundle to burn.
sage
rosemary
assortment of flowers
organic embroidery thread
twine
bowl
gold leaf + adhesive
sand
floral snips
scissors
brush
washi tape
Begin by collecting fresh herbs and flowers from your garden or supermarket. Next, cut the stems to similar lengths and place them in easy-to-grab piles. Pro Tip: Sage, rosemary, miniature roses, lavender, baby's breath and flower petals will dry well for this project.
Grab a generous handful of fresh herbs, keeping the stems as flush as possible to the bottom of your palm. Build up a bundle by layering the flowers on top of the herbs, making the bundle as thick or thin as you'd like.
Cut a long piece of embroidery thread and tie around the stems of the bundle (Image 1). Avoid using any kind of synthetic string. Wrap the thread around the stems several times. Since the bundle will shrink when dry, wrap very tightly to keep everything intact. Next, wrap the embroidery thread spiraling tightly from the bottom towards the top (Image 2). Then spiral down in the opposite direction, crisscrossing the thread. Finally, secure the thread by tightly tying a knot with twine, tucking in any excess (Image 3).
Allow the bundle to dry for about two weeks in a cool and dark location like a closet that isn't used often. The bundle will be fragile and stiff to the touch when it's is completely dry.
Use a piece of washi or painter's tape to section off areas of the bowl that won't be covered in gold leaf. Following the instructions on the packaging, use a paintbrush to apply a thin even layer of gold leaf adhesive on the bottom portion of the bowl. Let adhesive dry until tacky. Generally, the adhesive will become translucent when tacky.
Lay sheets of gold leaf onto the adhesive, press and remove backing (Image 1). For easier application, cut the sheets into smaller pieces. Brush off any excess with a soft paintbrush (Image 2).
Add sand to the bowl to help extinguish the incense and catch embers.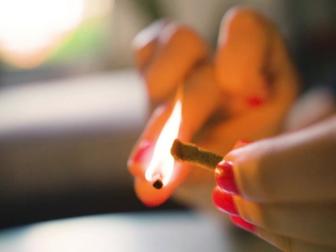 Andrew and Dennis create incense that smells just like a fireplace.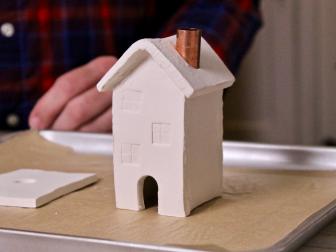 The Crafty Lumberjacks design an incense-burning house out of oven-bake clay.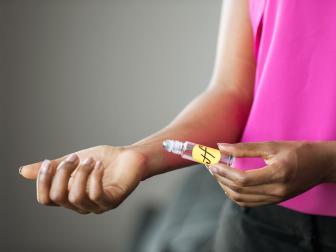 Got stress? Try these all-natural essential oil roller blends.