Make Pressed-Flower Coasters
Skip the bouquet this Mother's Day, and give Mom a set of pressed-flower coasters instead.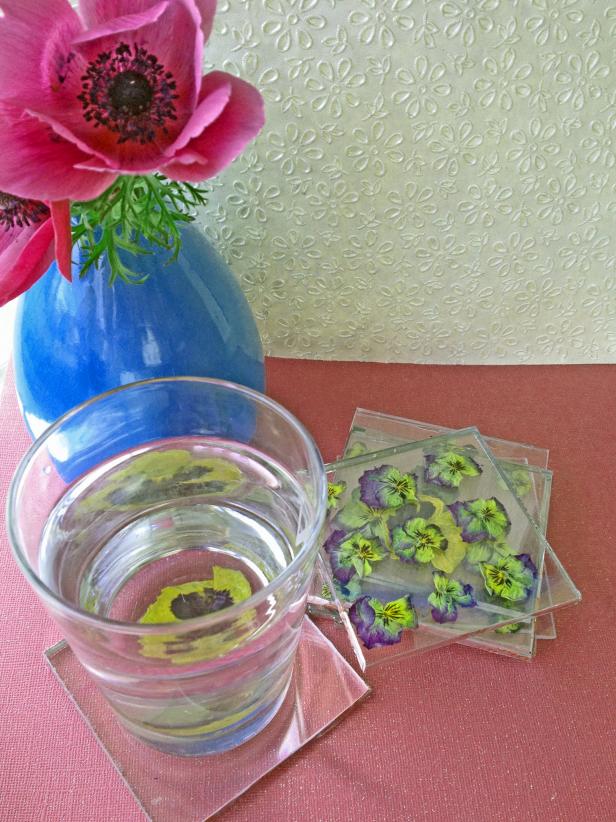 Pressed-Flower Coasters
Make glass coasters with pressed flowers this Mother's Day.
Before you get started, go to your local home improvement store to get glass cut into 3 1/2-inch squares. Many times, they will use scrap pieces of glass at a discounted price.
3 1/2" glass or Plexiglas tiles (two for each coaster)
pressed flowers of your choice
clear-drying glue
rubber band
3/8" wide silver-coppered foil tape
scissors
Wipe the glass with glass cleaner and a dry cloth to get rid of any smudges. Dry-fit the pressed flowers until you get your desired look.
Carefully handle the flowers or use tweezers, and apply a dab of glue to the back of each flower with a small glue bottle tip or toothpick (image 1). Adhere the flowers to the glass (image 2), and allow to dry.
Place a second tile on top, sandwiching the flowers. Place a rubber band around the two tiles to hold them together. Wrap foil tape tightly around the edges of the glass tiles to seal them together. Rub the tape with your finger or use another blunt object to create a tight seal.
Note: The tape doesn't create a watertight seal. To clean the coasters, wipe with a damp cloth or paper towel.