Make a Rustic Twig Table Runner
Bring an organic touch to your Thanksgiving table by creating a beautiful runner made of twigs. Kids will love scavenging for twigs in the yard, and assembly is easy enough that they can help craft it, too.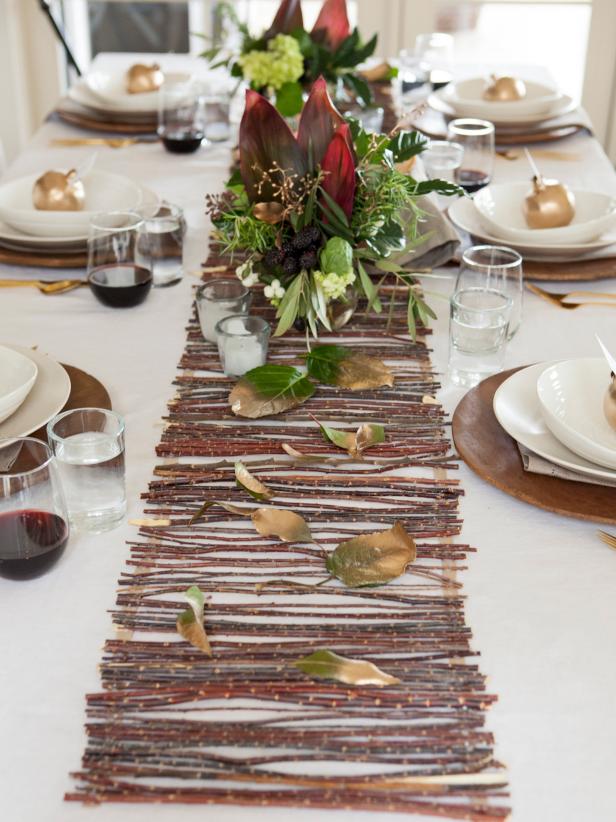 Create A Twig Table Runner
This rustic table runner for your Thanksgiving table is a great project that can involve the kids. As a bonus, it also gets them outside. Send the kids off on a mission to hunt down branches with straight sections that can be attached together using a glue gun and a neutral-colored ribbon. Alternatively, you can purchase faux branches and remove the leaves for this nature-inspired table runner for your dinner table. Incorporate tree leaves to add to the organic feel of the runner.
real or faux straight branches, with leaves removed
wire or small brush cutters
neutral-color cotton fabric trim or ribbon
ruler
scissors
hot glue gun
Measure and cut branches into 12-inch pieces (Image 1). Ribbon will form the base of the runner; measure your table and decide how long of a runner you need then cut two pieces of ribbon to desired length (Image 2). Tip: Lay ribbon and twigs on the floor or an extra-long tabletop for a flat work surface.
Lay twigs perpendicular across ribbons so ends are touching each ribbon (Image 1). One at a time, attach twigs to ribbons until the runner's desired length is reached. Allow natural variation in spacing for an organic look. Clean by picking away any hot glue residue. Place runner in the middle of your table, and be prepared for compliments (Image 2). Tip: To store your finished runner, just roll it up and place in a cool, dry place so you can reuse it year after year.