Make a New Basket Look Old for Vintage-Style Storage
Boost the charm factor in your kitchen, living room, bedroom or any room in your home with this easy upcycle that takes a new basket from blah to beautiful.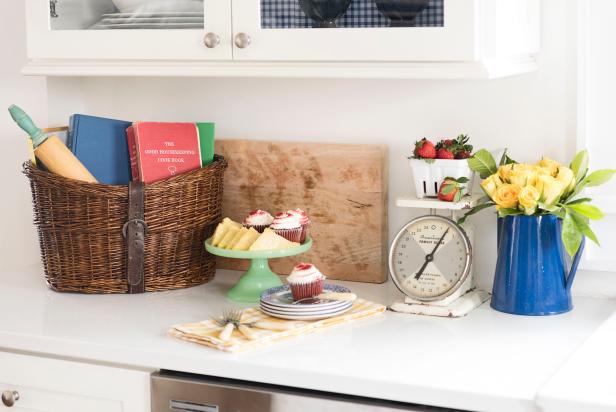 Farmhouse Kitchen Filled With Vintage Finds
Give a new basket old-school charm with a leather belt and dark stain, then use it to handily corral cookbooks in your kitchen.
Sarah Busby; Styling by H. Camille Smith
large basket (we repurposed an old Easter basket)
heavy-duty shears or multipurpose scissors
spray wood stain
old leather belt
bull clips
super glue
brass tacks
hammer
felt pads
optional: wood shim or the end of a paint stirrer
Using heavy-duty shears, cut the woven loops securing the handle to the basket, then slide the handle out and discard (Images 1 and 2).
Protect your workspace with a disposable tarp or dropcloth. Following manufacturer's instructions, thoroughly shake the spray stain can and apply an even coat of stain to the basket's interior and exterior from all angles. Note: Allow the stain on one side of basket to dry before flipping over to cover the other side. Also, if more than one coat is necessary, allow basket to fully dry between coats.
Place belt, with buckle visible, on basket's front to determine placement (Image 1). Using heavy-duty shears, cut off excess belt at the basket's top and bottom, leaving about 2" on each end to secure it (Image 2). Note: Save the leftover leather belt for future projects.
Starting at the top, wrap the cut end of the belt over the basket's rim and glue to the basket's inner edge with super glue. Clamp in place with a bull clip (Image 1). My basket had a slightly raised rim along the bottom so it was necessary to fill this area in to ensure the belt would stay securely attached. So, I first glued on a thin piece of wood (the end of a wood shim) to fill in the gap, then glued and tacked the belt's end into place (Image 2). Note: No need to clamp this end as the tacks will keep it in place while the glue dries.
Add Felt Pads and Display
Finally, add felt pads to the basket's bottom to prevent the basket from scratching any surface (Image 1). Proudly display your new/old basket in the kitchen corraling cookbooks and other kitchen essentials (Images 2 and 3) or use it in any space for decorative storage.