Make a Chain of Thanks for Thanksgiving
Turn giving thanks into a game. Print out our free printable template, attach to twine and ask your Thanksgiving guests to write down what they're thankful for, then take turns reading the sentiments aloud during dinner.
kitchen twine
paper cutter or scissors
4 sheets of metallic card stock
hot glue gun and glue sticks
double-sided tape
pens, pencils or markers
Download Template and Cut Out Strips
Print the template attached above onto four sheets of card stock (Image 1). Use paper cutter or scissors to cut strips along template guidelines (Image 2).
Heat hot glue gun. Add a line of hot glue to back of paper strip (Image 1) then press twine along line of hot glue (Image 2). Add a small piece of double-sided tape to one end of strip (Image 3) then fold over to meet taped side and press to seal (Image 4). Repeat with remaining paper strips, adding a paper strip about every five inches, alternating colors as you go.
Display completed chain on a flat surface with assorted pens, pencils or markers. Invite guests to write what they're thankful for on blank sides of chain links.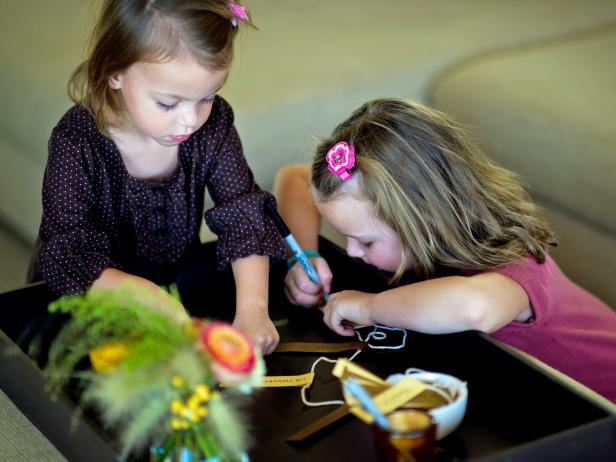 Making a Thanksgiving Paper Chain