How to Tie a Monkey Fist Knot
HGTV Magazine shows you step by step how to make this intricate knot design.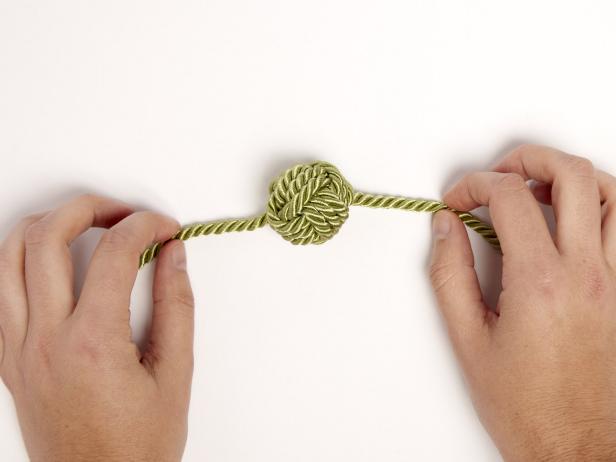 Completed Monkey Fist Knot
Learn how to make this monkey fist knot from HGTV Magazine.
Monkey fist knots may look complicated, but our simple instructions make them easy to create. Once you learn the technique, there's a lot you can do with them. The steps here show you how HGTV Magazine editors made small decorative knots to add to the bottom of a rope-wrapped chandelier.
Marko Metzinger/Studio D (Crafting by Ashley Page Norton)
For the lamp base: Wrap a 25-foot-long, 5/8-inch-thick three-strand cotton rope around a 5-inch-diameter foam ball (instead of your fingers, as shown in the example below). Use straight pins to hold the rope in place temporarily as you work. When the foam ball is wrapped completely, pull the rope taunt and seal the ends with hot glue. Tuck the ends under to conceal them.

Cut a piece of cord 5 feet long. Wrap the ends of the cord with tape to keep them from fraying.
Wrap the cord around your fingers three times, as shown.
Wrap the cord three times around the three loops you created in step two.
As you complete the third loop, poke the cord through the center of the first set of loops.
To make it easier to wrap the next set of loops, reposition the cords on your thumb and index finger, as shown. Wrap the cord three times around the second set of loops. This will require you to pass the cord through the first set of loops.
Carefully remove the loops from your hand and tuck a hard object, like a ball or a die, inside the center, as shown.
Pull on the ends to carefully tighten each loop so that the object in the center is secure and completely hidden inside. The process is similar to tightening the laces of your sneaker.