Sew a sink skirt to hide unsightly storage with these simple steps.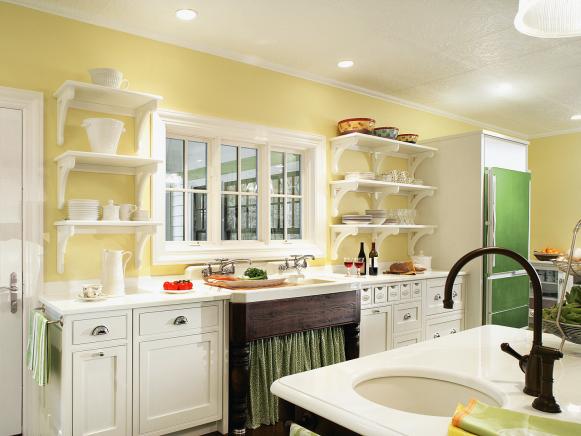 Yellow Cottage Kitchen
Pale yellow stars in this cottage kitchen by designer Regina Bilotta. Prim white cabinets and white open shelves dotted with dishware ensure that this charming kitchen feels tidy, light, and airy.
fabric
hook-and-loop tape
sewing needle
thread
scissors
tape measure
1. Cut fabric to the desired dimensions, allowing for side seams and a bottom hem.
2. Sew pieces together for the necessary width, and sew side seams and a bottom hem.
3. Run two lines of basting stitches along the top, and gather the fabric as desired.
4. Sew a narrow, flat band of fabric to the top, and stitch one side of hook-and-loop tape to the band.
5. Attach the opposite side of the hook-and-loop tape to the sink/cabinet and press the skirt in place.