How to Paint Kitchen Cabinets
Follow these steps from HGTV Magazine to create this fun DIY painting project.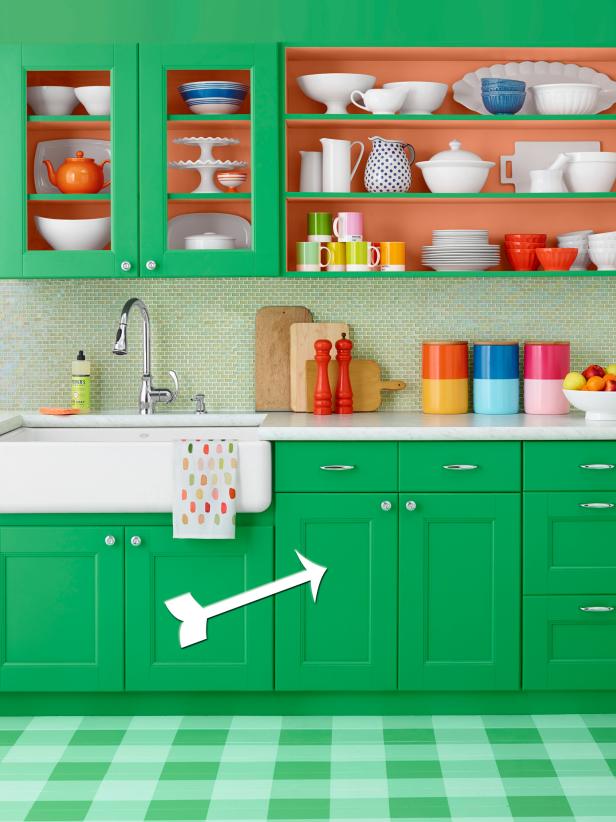 How to Paint Kitchen Cabinets
HGTV Magazine shares this how to exclusively online
David A. Land (Styled by Matthew Gleason)
screwdriver
marker
painter's tape
sponge
all-purpose heavy-duty cleaner
wood filler (if necessary)
drill
sand paper or sanding block
vacuum with brush attachment
tack cloth
primer
paint brush
Empty your cabinets, unscrew any doors, and remove any drawers. Label where each one goes with a marker and painter's tape (put the tape in a discreet spot, like where the hinges were). If you're reusing the hardware, label it and store it in a bag.
Wipe down all the surfaces you're going to paint with a sponge and a cleaner that strips the wood of grease and dirt, such as Savogran TSP-PF all-purpose heavy-duty cleaner.
If you're planning to replace the pulls or knobs with new ones placed in new spots, fill the holes from the original hardware with wood filler, and let dry. Drill new pilot holes. Sand the wood, then vacuum up any dust using a brush attachment. Wipe everything down with a tack cloth.
Prime all the wood, working in long, steady strokes in the direction of the wood's grain.
Tape off the shelves' edges and any surrounding wood with painter's tape, then paint the interiors of the cabinets and shelves. Let dry.
Paint the doors, drawers, and cabinet frames a color that contrasts with the paint you used for the interiors. Let dry.
Reinstall the doors, drawers, and hardware.